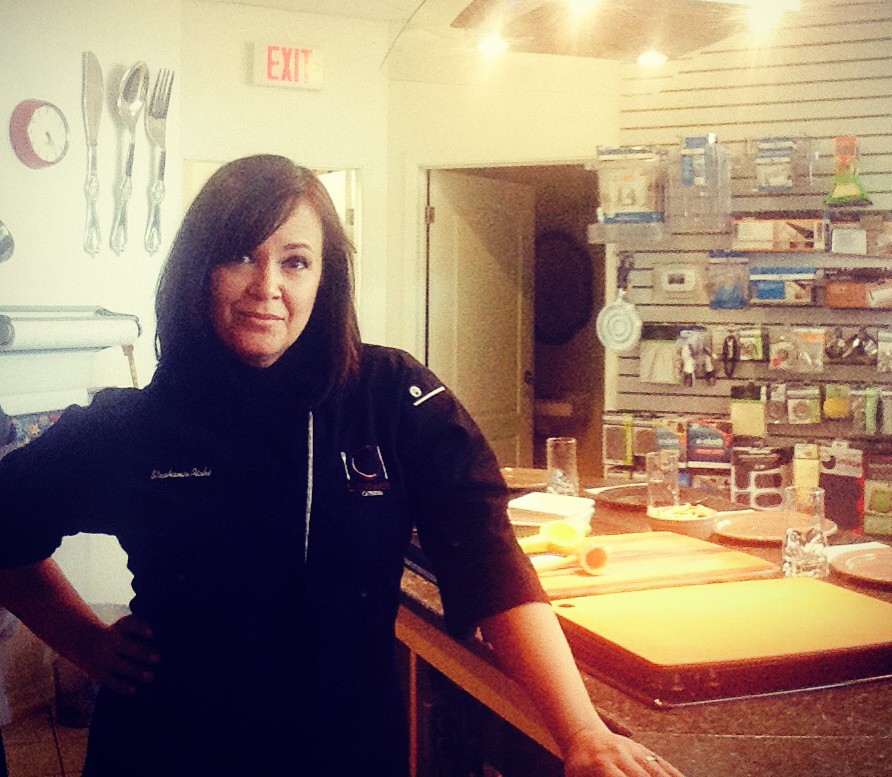 Winter & Spring 2018
THE REVIEWS ARE IN!
"The night was better than I could have hoped for. Stephanie was great fun, I'm looking forward to the next opportunity I have to book again."   Amie M.

"I recently had the wonderful opportunity of attending an event hosted by Stephanie. The recipes Stephanie chose were absolutely delicious and beautifully presented. The evening was even more of a success due to Stephanie's winning personality. I'm looking forward to the next one!"     Kim Gagné

"Hi Stephanie. Thank you so much for coming into my home and cooking with the Ladies. What an exceptional evening. The food choices were superb and delicious. It was so easy on my end and the Ladies had a lot of fun! We all enjoyed the pitching in to make the awesome dishes- thanks again for a wonderful evening. I look forward to hosting another cooking class. Thanks so much."    Lesley Lainsbury
---
For The Love of Lamb    $ 75.00+HST      Monday, March 26th, 2018
Just in time for Easter! There are so many ways to prepare this versatile meat that you will wonder why you haven't been enjoying it more often. We will focus on a tender shoulder cut for a Lamb & Onion Curry, the shank for a Moroccan Lamb with Chickpeas & Dates and a show-stopping Mustard-Crusted Leg of Lamb.
---
Global Tacos    $ 75.00+HST      Monday, April 9th, 2018
Discover a whole new world of tasty tacos! Come out and learn a variety of internationally inspired flavours—from spicy Korean beef to Thai-style chicken to south-of-the-border Baja shrimp. Learn how to take Taco Tuesdays to a whole new level! Recipes include Thai Spiced Chicken Wrapped in Lettuce Leaves with Creamy Peanut Sauce, Bulgogi Beef Tacos with Kimchi Slaw and Baja Grilled Shrimp Tacos with Avocado Crema.
---
Portuguese Cuisine   $ 70.00+HST      Monday, April 16th, 2018
If you were to visit Portugal and have a traditional Portuguese Grandma as your gastronomic guide, she would feed you a variety of rich and flavourful dishes. Cod fish ("bacalhau") will be a staple no matter where you go, but we will add in some other favourites – Caldo Verde (Potato & Kale Soup), Pork & Clams Cataplana, and the classic Pastel de Nada (cream tart).
---
Game Birds    $ 75.00+HST      Monday, April 23rd, 2018
Learn how to cook quail, cornish hen and duck. We will prepare and sample Spice-Rubbed Quail, Citrus-Roasted Cornish Hen and Duck Leg Confit with Apple & Cranberry Port Sauce.
---
Seafood Basics    $ 75.00+HST      Monday, April 30th, 2018
The seafood counter is full of fresh fish and seafood and you are wishing to taste them all…but how do you cook them? Join me for a tutorial on the basics to get you started on your seafood-loving journey – prepping, grilling and frying calamari, prepping and oven-roasting a whole fish, and preparing a traditional clam bake.
---
African Cuisine    $ 75.00+HST      Monday, May 7th, 2018
African cuisine styles vary so greatly from coast to coast that you could sample something different just about every day. Come and join us while we sample zesty and unique dishes from across the African continent. Recipes will include East African Grilled Shrimp, North African Goat Curry, West African Vegetable Stew and some homemade Chapati so you can soak it all up!
Check back soon for online registration!
---
Jamaican Cuisine    $ 70.00+HST      Monday, May 14th, 2018
Come out and learn to create traditional French favourites using classic techniques for everything from caramelizing to braising. Recipes include Onion Soup Au Gratin, Chicken Chasseur (Chicken in Hunter Sauce) and a divine Dark Chocolate & Orange Mousse.
Check back soon for online registration!
---
Sweet & Savoury Soufflés   $ 70.00+HST      Monday, May 28th, 2018
Are you scared of trying to make a soufflé? There is no need to fear when you know the little tricks to making these light-as-air dishes that have wow'd guests for years! Recipes will include: Sweet Corn and Cheddar Soufflé, a Make-Ahead Crab Soufflé and a Simple Mixed Berry Soufflé just in time for summer.
Check back soon for online registration!
---
Sushi Party   $ 75.00+HST      Monday, June 4th, 2018
Sushi is about subtle combinations kept simple: seasoned rice, seasonal fish at peak freshness, slightly roasted seaweed and just a hint of flavouring from sauces and condiments. In this fun class, you'll learn the art of hand rolling and discover secrets for selecting fresh fish that best showcases its flavour in sushi. Recipes include: Sushi rice, Spicy Tuna Rolls, California Rolls, Vegetable Hand Rolls
Check back soon for online registration!
---
Don't forget that private classes are possible for groups of 8 or more!
Click here to book your private class!
To register for PUBLIC CLASSES – please contact Kitchen Bits at:
(705) 674-3743
or online at: