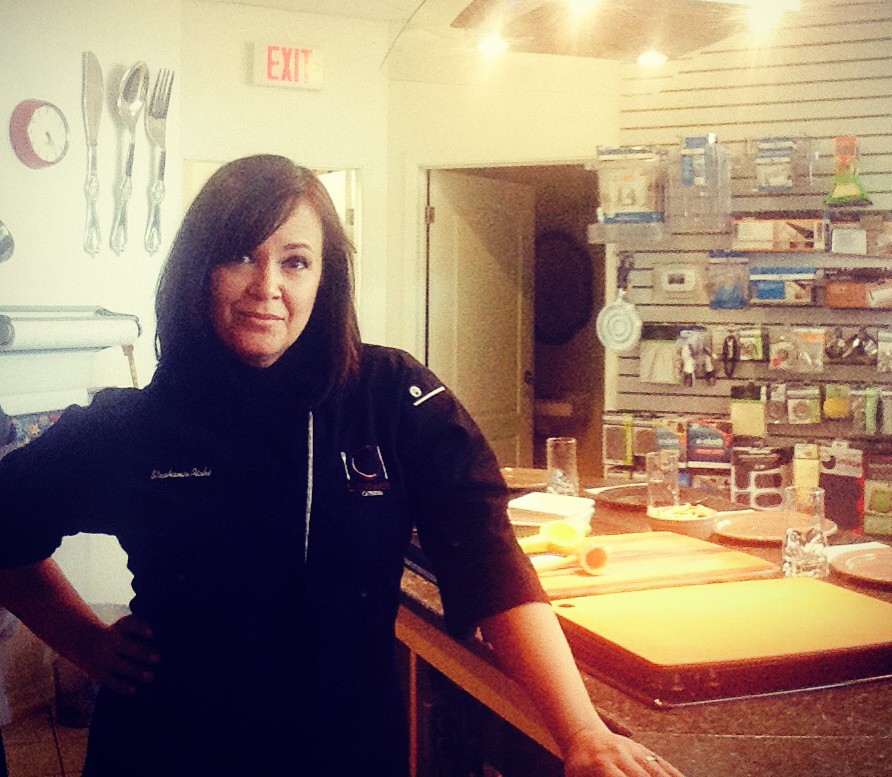 Spring 2017
THE REVIEWS ARE IN!
"The night was better than I could have hoped for. Stephanie was great fun, I'm looking forward to the next opportunity I have to book again."   Amie M.

"I recently had the wonderful opportunity of attending an event hosted by Stephanie. The recipes Stephanie chose were absolutely delicious and beautifully presented. The evening was even more of a success due to Stephanie's winning personality. I'm looking forward to the next one!"     Kim Gagné

"Hi Stephanie. Thank you so much for coming into my home and cooking with the Ladies. What an exceptional evening. The food choices were superb and delicious. It was so easy on my end and the Ladies had a lot of fun! We all enjoyed the pitching in to make the awesome dishes- thanks again for a wonderful evening. I look forward to hosting another cooking class. Thanks so much."    Lesley Jowsey
---
Girls Night Out: Deliciously Healthy      $ 70.00+HST     Thursday, April 27th
Invite your girlfriends to learn how to make a variety of delicious dishes using super-healthy ingredients like quinoa, legumes, raw veggies, fresh fruit and more. Recipes include: Carrot & Orange Blossom Salad, Dill & Feta Quinoa Salad, Cannellini Bean, Pancetta & Swiss Chard Soup and a Triple Orange Sorbet.
Click here to reserve your seat online!
---
Hawaiian Poke      $ 70.00+HST     Monday, May 1st
The new favourite dish that is sweeping North America is the refreshing poke bowl from Hawaii. This simple and addictive Hawaiian dish has been around for centuries and is basically Hawaii's favourite food and for good reason – it is healthy, delicious and unique. Recipes will include: Classic Tuna Poke, Salmon & Avocado Poke and Poke with Pickled Radish & Spicy Ponzu.
---
A Taste of New Orleans      $ 75.00+HST     Thursday, May 4th
Join Stephanie for a culinary tour through the rich Creole and spicy Cajun flavours of New Orleans cuisine. You will learn techniques for perfectly cooking a gumbo and basic flambé skills with the quintessential New Orleans dessert: Bananas Foster. Recipes include Hush Puppies with Homemade Remoulade Sauce, Shrimp and Sausage Gumbo and the classic Bananas Foster.
---
Cast Iron Cooking      $ 70.00+HST     Monday, May 8th
Cast iron pans are not just for cooking over open flames when camping. Their ability to retain consistent heat has made cast iron a must-have for chefs in all cuisines around the world. Join us to learn how to use it, clean it and cook with it – and make it your new favourite tool. Recipes include: Skillet Mushroom & Spinach Lasagna, a Shrimp, Sausage & Rice Skillet and Rosemary Pork Chops with Quick-braised Cabbage
---
Brunch for Mom      $ 70.00+HST     Thursday, May 11th
You could always prepare eggs and toast for Mom this Mothers Day – but why not surprise her with something new? With a few new twists to the classics, these recipes will spoil your Mom on this important day. We will prepare a Greek-style frittata, caramelized bacon, a Stuffed French Toast, and a twist on Eggs Benedict.
---
Perfect Pork      $ 75.00+HST     Monday, May 15th
Everything is better with bacon – and ribs and pulled pork…and every other part! Join Stephanie for a celebration of pork and why it is so loved by everyone around the world. Recipes include: Coffee-BBQ ribs, Sesame Root Beer Pulled Pork, and Braised Pork Belly with Stone Fruit
---
Sweet & Savoury Soufflés    $ 70.00+HST     Thursday, May 18th
Are you scared of trying to make a soufflé? There is no need to fear when you know the little tricks to making these light-as-air dishes that have wow'd guests for years! Recipes will include: Sweet Corn and Cheddar Soufflé, a Make-Ahead Crab Soufflé and a Simple Mixed Berry Soufflé just in time for summer.
---
Tuscan Vegetarian    $ 70.00+HST     Thursday, May 25th
Come out and learn how the Tuscans showcase vegetables in their simple and delicious traditional recipes. It doesn't always have to be about the protein! Recipes will include: Ricotta and Spinach Ravioli, a classic Panzanella salad, Penne with "Sugo Finto" (Vegetable Ragu).
---
Dim Sum Workshop    $ 70.00+HST     Monday, June 19th
These small bite-sized portions of Chinese flavour were once served in carts to diners in Cantonese restaurants and traditionally, these savoury treats are eaten as breakfast. Come and learn the art of steaming and frying and sampling a new way to have brunch! Recipes include: Steamed Shrimp Dumplings, a Pan-fried Pork Dumpling and Classic Vegetable Spring Rolls.
---
Flavourful Local Fish    $ 75.00+HST     Thursday, June 22nd
Northern Ontario may be well known for its fishing – but we may be getting bored with just the simple wrapped-in-foil-over-a-fire cooking technique. Join Stephanie as she prepares 3 new recipes with our local catch: Cajun-crusted Northern Pike, Trout Grenobloise and a Whole Bass Baked with Mustard and Herbs
---
Iconic Australian Dishes   $ 70.00+HST     Monday, June 26th
Discover the multicultural flavours of Australia! Come out and learn about the history of some of the countries most well-known dishes and why they have been so popular over the centuries. There is more than just grilling on the "barbie". Recipes include: the Australian Meat Pie, a Sweet Potato and Chive Damper (Bread) and Mini Pavlovas with Fresh Berries
---
Don't forget that private classes are possible for groups of 8 or more!
Click here to book your private class!
To register for PUBLIC CLASSES – please contact Kitchen Bits at:
(705) 674-3743
or online at: