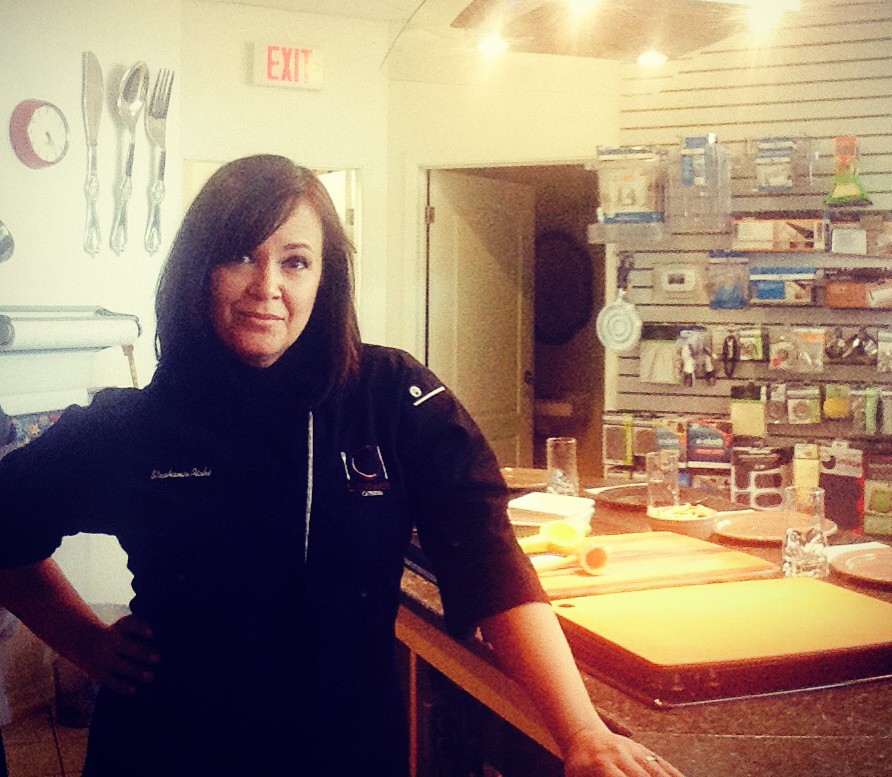 Winter 2017 – 2018
THE REVIEWS ARE IN!
"The night was better than I could have hoped for. Stephanie was great fun, I'm looking forward to the next opportunity I have to book again."   Amie M.

"I recently had the wonderful opportunity of attending an event hosted by Stephanie. The recipes Stephanie chose were absolutely delicious and beautifully presented. The evening was even more of a success due to Stephanie's winning personality. I'm looking forward to the next one!"     Kim Gagné

"Hi Stephanie. Thank you so much for coming into my home and cooking with the Ladies. What an exceptional evening. The food choices were superb and delicious. It was so easy on my end and the Ladies had a lot of fun! We all enjoyed the pitching in to make the awesome dishes- thanks again for a wonderful evening. I look forward to hosting another cooking class. Thanks so much."    Lesley Lainsbury-Jowsey
---
Seafood Basics     $ 75.00+HST      Monday, December 4th
The seafood counter is full of fresh fish and seafood and you are wishing to taste them all…but how do you cook them? Join Stephanie for a tutorial on the basics to get you started on your seafood-loving journey – prepping, grilling and frying calamari, prepping and oven-roasting a whole fish, and preparing a traditional clam bake.
Click here to register online!
---
Sexy Moroccan Cuisine     $ 70.00+HST      Monday, January 15th, 2018
Moroccan cuisine is an artful blend of different cuisines and influences from other cultures who have visited and left their mark over the country throughout the centuries. With Middle-Eastern, French and Mediterranean-inspired flavours, Moroccan dishes can always excite the palate! Recipes we will cover include L'Hamraak Garagh (Pumpkin Soup), Moroccan-Braised Short Ribs and Mantecados (Cinnamon Cookies).
Click here to register online!
---
Fragrant Thai Flavours     $ 70.00+HST      Monday, January 22nd, 2018
Who needs takeout when you can easily create delicious, authentic Thai dishes at home? Join Stephanie to learn how to combine aromatic herbs and spices with seasonal ingredients to create the flavours that make Thai cuisine uniquely delicious. Plus, she will share her secret for steaming rice like a pro! Recipes include: Crunchy Thai Salad, Thai Chicken Basil Soup, Thai Grilled Salmon with Green Curry and Steamed Jasmine Rice.
Click here to register online!
---
Italian Regional Cuisine     $ 75.00+HST      Monday, January 29th, 2018
A virtual and sensory tour of several Italian regions. Hear the stories, taste dishes from Stephanie's favourite towns and learn about the ingredients and food styles that make each region distinct. Bagna cauda, Polenta with Parmesan and Olive Oil Fried Eggs, Risotto with Pumpkin and Red Wine and Mille Foglio.
Click here to register online!
---
Fresh From The Mediterranean    $ 75.00+HST      Monday, February 5th, 2018
Join Stephanie for a culinary trip to the Mediterranean to learn how to combine fresh herbs and traditional ingredients like lemon, yogurt and olive oil to create a menu that's sure to satisfy. You will also learn techniques for making flatbreads from scratch, marinating and grilling chicken, creating homemade tzatziki sauce and a decadent cake. Recipes include: Warm Rosemary-Olive Oil Flatbread, Chicken Souvlaki Skewers with Tzatziki Sauce, Greek Village Salad with Pita Croutons, Polenta Olive Oil Cake
Click here to register online!
---
Celebrating Chinese New Year    $ 70.00+HST      Monday, February 12th, 2018
Join Stephanie to celebrate the Year of the Rooster with a menu of Chinese dishes that represent luck, happiness and fortune. Recipes include Pork and Ginger Dumplings with Sesame-Soy Dipping Sauce, Long Life Noodles with Chicken and Baby Bok Choy, Spicy Sichuan Shrimp, Chinese Long Beans with Chile and Garlic
Click here to register online!
---
Date Night: French Classics    $ 70.00+HST      Monday, February 26th, 2018
Come out and learn to create traditional French favourites using classic techniques for everything from caramelizing to braising. Recipes include Onion Soup Au Gratin, Chicken Chasseur (Chicken in Hunter Sauce) and a divine Dark Chocolate & Orange Mousse.
Click here to register online!
---
Don't forget that private classes are possible for groups of 8 or more!
Click here to book your private class!
To register for PUBLIC CLASSES – please contact Kitchen Bits at:
(705) 674-3743
or online at: