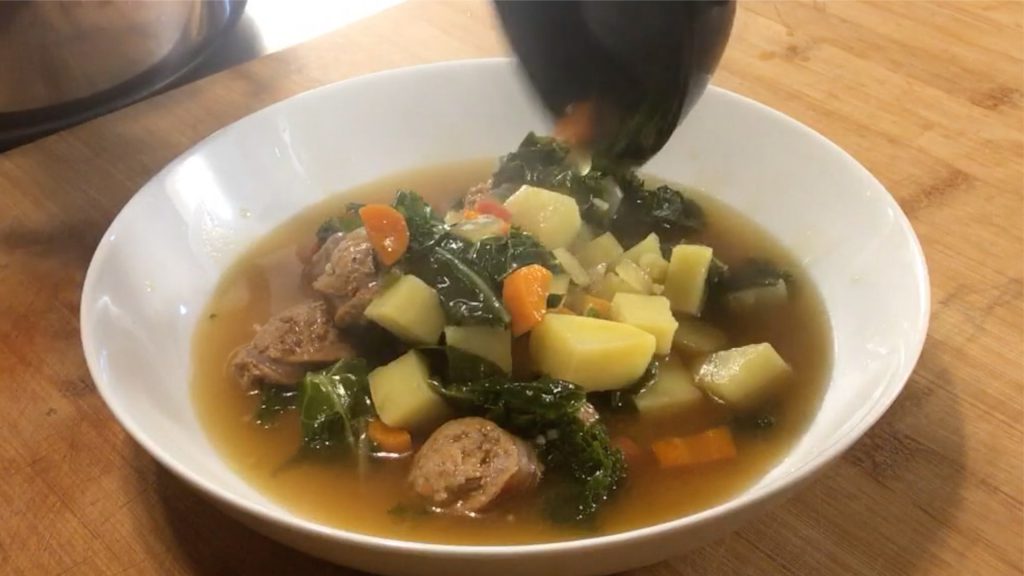 I am in the middle of packing for my upcoming trip to the south of Portugal and I am so excited to dive in to all of the classic recipes that I fall in love with on every visit.

Garlic, chorizo, clams, pork, piri piri...it is going to be one tasty week!

One of the reasons that I think I am so drawn to the Portuguese cuisine is how simple, yet flavourful every recipe is to create - and to eat!

The restaurants are mostly relaxed, casual and family-run, the recipes have been passed down for generations and there is always something slowly simmering on a stove somewhere while a football game is playing on a nearby television.

It's going to be a "big sweater-and-jeans" kind of week, as I sip on some locally made broth and sit on the sand by the ocean and think...

WHAT snow?!?
Caldo Verde
Makes 3-4 Servings
1/2 tbsp extra virgin olive oil
1/2lb fresh chorizo sausage
1 onion, chopped
1 clove garlic, minced
1/2 carrot, chopped
1/2 celery, chopped
1 yukon gold potatoes, peeled and chopped
5 cups low sodium beef broth (or to cover)
1 bunch kale, tough ribs removed, chopped
DIRECTIONS
In large soup pot, heat oil over medium-high heat and brown sausages on all sides. Remove to cutting board and cut into slices.
Add onions, carrot, celery and garlic to pot and cook, stirring for about 5 minutes or until softened. Add chopped chorizo, potatoes and stock.
Bring to a boil, cover, reduce heat and simmer for about 15 minutes or until potatoes are tender.
Add kale to soup and simmer uncovered for about 10 minutes longer or until greens are tender.