I have been asked several times over the years what it is like to have a tasting menu at a fine dining restaurant from another country.
I believe that many are nervous about trying something new, not knowing what they are ordering, or if the value will be worth it overall.
I dined at Alma Del Temple in the historic area of downtown Valencia, Spain, and was so impressed with the menu's simplicity and execution that I thought it would be a great example to share in more detail than just a simple review.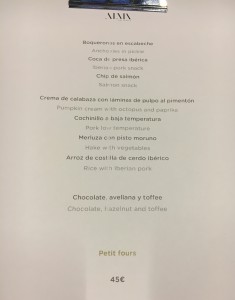 So, here is the actual menu from that night. For 45 euros (approximately $75 CDN) per person, here is what was served - and we devoured!
---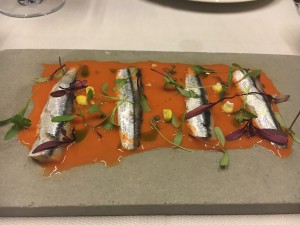 Boquerones en escabeche
Translated into English = "Anchovies in pickle"
Essentially, they were fresh anchovies that were simply marinated in a light vinaigrette and served on a light sauce. The acid in the marinade gave the little fish a much fresher taste. I could have ate another plate full of these!
---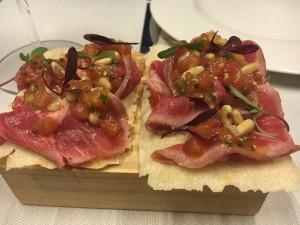 Coca de presa ibérica
Translated into English ="Iberian pork snack"
Similar to a carpaccio, the thinly sliced pork was very lightly marinated and seasoned and topped with a delicate fruity sauce and pine nuts. It was served on an ultra-light cracker for some crispy contrast in texture.
---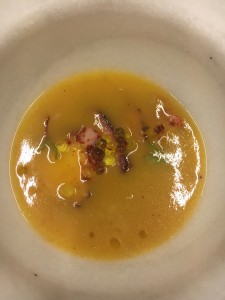 Crema de calabaza con láminas de pulpo al pimentón
Translated into English = "Pumpkin cream with octopus and paprika"
I am a sucker for pumpkin soup and was pleasantly surprised at how light this version was.  A few slices of octopus (that was the most tender I have ever tasted in Spain) was the star of the garnishes.
---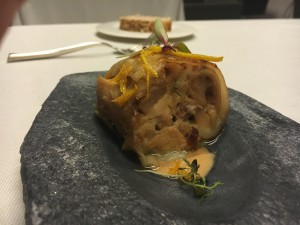 Cochinillo a baja temperatura
Translated into English = "Pork low temperature"
My favourite dish of the night! The skin was crisp and well-seasoned and the meaty interior fell apart with barely a touch of my fork. I am glad it was only a small portion, though. More dishes to come!
---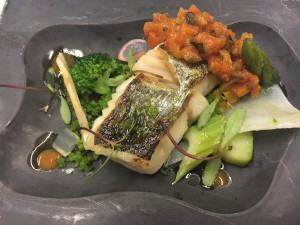 Merluza con pisto moruno
Translated into English = "Hake with vegetables"
Hake is a delicate (but not-too-pretty) fish that can be overwhelmed with any flavours that are too strong. Here is was served simply with a stewed vegetable-based sauce and a medley of mini blanched and sautéed vegetables.
---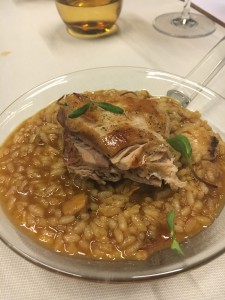 Arroz de costilla de cerdo ibérico
Translated into English= "Rice with Iberian pork"
Rice and pork are common fare in Spain, but this was the best "Sunday dinner" version that we have tasted. Classic roast pork sat on top of a loose risotto-style base. It was rich and flavourful!
---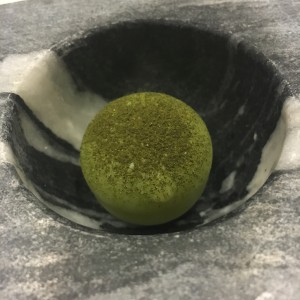 This little sphere was a gift from the chef before our dessert course. Using a molecular gastronomy technique, they created a sphere filled with a slightly tart-but-sweet apple-flavoured liquid. Taken in one bite, it was an explosion of flavour!
---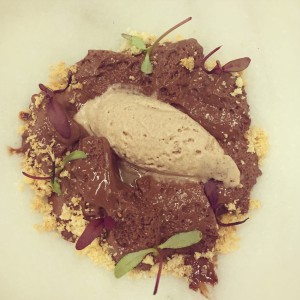 Chocolate, avellana y toffee
Translated into English= "Chocolate, Hazelnut & Toffee"
...and it was exactly what it was supposed to be. A scoop of ethereal hazelnut ice cream, surrounded by chocolate mousse and crunchy toffee grounds.
A sweet ending to a divine meal!
I hope that this showcased how great "simple" can be! Only a few ingredients on a plate, but changing up the presentation or the textures, can create something new and exciting.
Why not try to mix up one of your favourite go-to Sunday recipes?
---
Looking for a speaker for your next event or conference?
Cooking demonstrations, wine pairing events and lectures, travel talks and MORE...
She speaks with passion, insight and FLAVOUR!
To book an event or learn more, email us by clicking here