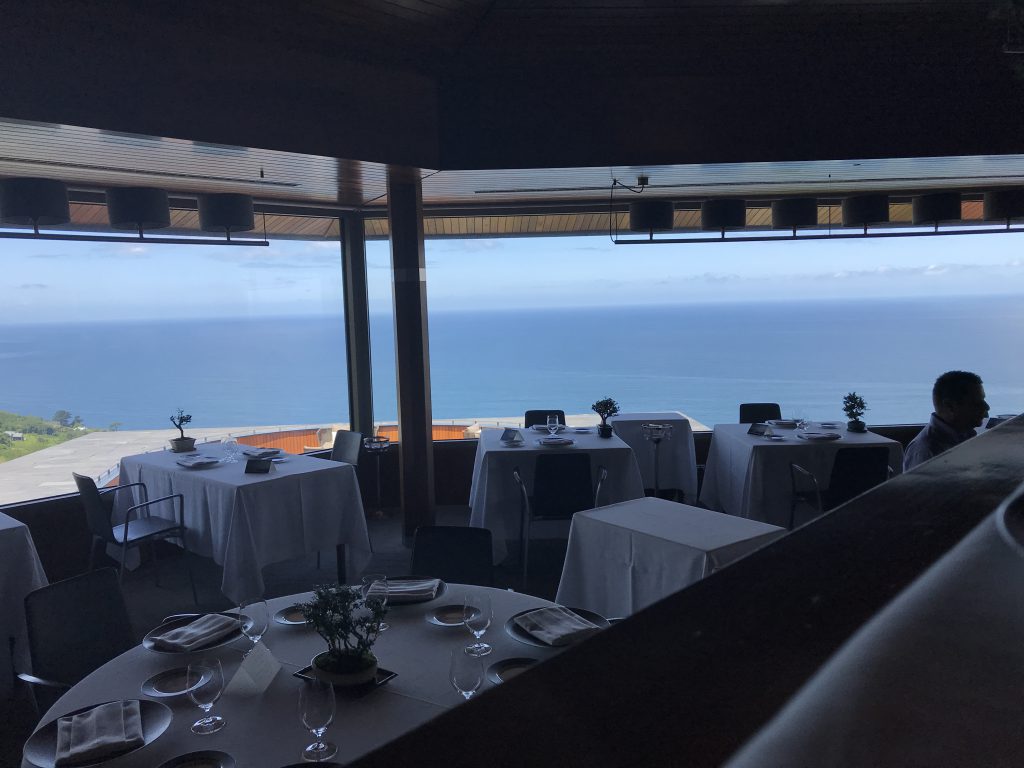 After my recent visit to three-Michelin starred Akelarre in Donostia/San Sebastián, I posted the pictures of each course on my social media feed, as promised.
As I expected, there were many questions about what each dish actually was, so I have listed below what we were served with a bit more of description than just the official title.
There are three menus to choose from at Akelarre - Aranori, Bekarki, Akelarre's Classics.
We chose Aranori as it was one of their newest creations.
I have combined both my own notes in italics (as I remember them) and those provided to me from the restaurant in the descriptions below.
Just To Begin
Bloody Mary
Small diced tomato, marinated in the flavours of a Bloody Mary with a foamy cream pillow.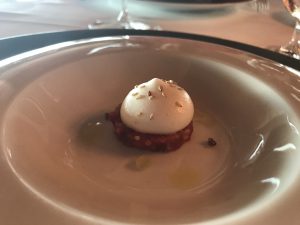 Fried Eggs with Potato Chips and Ham
It looked like they made a potato chip on a waffle grate and topped it with egg yolk and white purées and sprinkled with crispy ham bits...but not as easy to create as I just made it sound.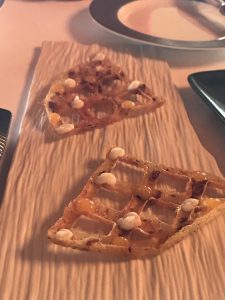 Shrimp Little Pillow
A fun, puffy spin on a classic shrimp cracker. Light as air and the flavour is definitely all shrimp.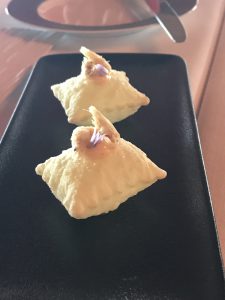 Three-colour Bread with Diabolic Butter
The thinly sliced, toasted bread was coloured with squid ink and beet (I believe). The butter is made from a combination of goat's milk and goat's cheese and is labelled with the symbol of the male goat - referring to the devil - hence the "diabolic" reference.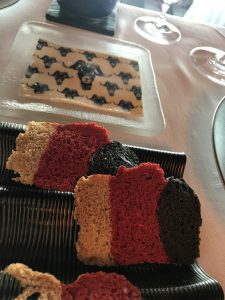 Black Pudding Cookie
A savoury crisp cookie topped with a purée of morcilla (Blood sausage). It looked just like all of those chocolate-covered shortbread you know and love.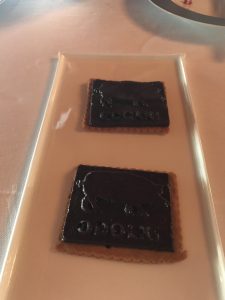 Main Menu
Egg with Caviar, Cauliflower Purée and Chive Butter
A delicate way of eating a teaspoon of good caviar.
The shiny waves that look like pasta were completely made of egg yolks only. The cauliflower purée was tucked underneath with the caviar being the focal point.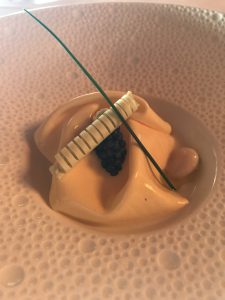 The Leaves and the Foie under the Rain
This is a light dish with a great variety of leaves, some of them are made with cold foie-gras. The dressing, in a rain way, is made with an infusion of aromatics, without olive oil or vinegar.
So impressive! The dressing (apple and ginger) was clinging to the leaves like raindrops and the foie gras was shaped into a leaf and hand painted. The texture of the foie with the rest of the salad gave it a lovely creamy balance,
Little Tear Green Peas in Flower with Marinated Egg Yolk
A flower made with egg, beet root and the very first green peas of the season.
The flower petals are egg white with the bright yolk just set enough to be stable. The young peas were fresh and still crisp enough to stand out when that yolk was broken into a flavourful sauce.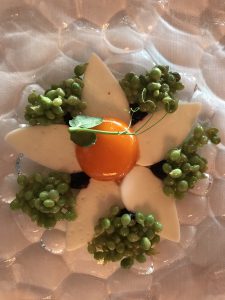 Green Broth Infusion, Scampi and Smoked Monkfish
Raw and smoked monkfish fillet, cut in thin slices. Scampi barely cooked. The little infusion bag made of ovulate with monkfish crisp and aromatic small herbs and prawn powder that melts when pouring the absolutely natural broth, in taste and colour.
A couple of things to point out and hard to capture all that was happening in this dish.The "infusion bag" made of ovulate and was filled with dried seasonings. It melted quickly in front of my eyes when the broth was poured overtop. The shrimp heads were cleaned and fried crisp to be able to be eaten whole like a crunchy "French fry", I was told.
Hake in Seaweed Steam, Plancton and Oyster Leaf
The hake is texture, but needs to have some flavour added, the seaweed and plancton make it.
Best fish we have had on this entire trip. Steamed in a broth of seaweed, it was set on a bed of herb "pearls" that looked similar to the peas from the previous course. We were told to taste the oyster leaf first so we can get the full experience...it really did taste like an oyster!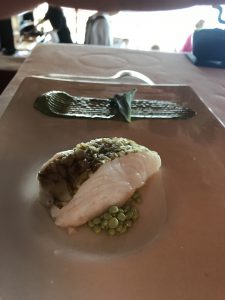 Squid as a Risotto, Butter Flower
Squid cut in Brunoise and less cooked. The flower melts and mixes with the Parmesan cheese, as we finish a risotto - but without any rice.
If you closed your eyes when eating this, you would think you were having a classic risotto with a bit of squid ink. The texture was similar and the addition of the "butter rose" with Parmesan completed the illusion.
Choice of One (1):
Roasted Suckling Pig, "Bone" and Iberian Emulsion
"Bone" - Iberian Emulsion, Garlic. To get a crispy and juicy texture, the baby pig is cooked in Iberian broth and finished in the oven. Start with the baby pig and take the filled bone with your fingers; continue with another bit of the Iberico emulsion. Finish tasting all together.
It is difficult to see on a white plate, but there is a white emulsion covering the bottom of the plate and the "bone" is edible and filled with a dark purée.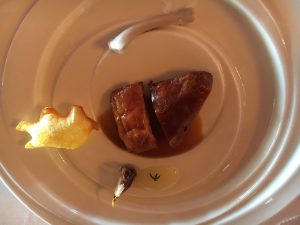 Spiced, Baby Veal Pojarski
Pojarski was a Russian innkeeper who used to make some minced crushed veal meat balls that Nicolas I Czar used to like. We have made our own recipe and we have added a spicy sauce.
Tender and warm, it was a comforting dish...but the description sounded like it would be hot-spicy, but it was warm spices only. That little "bone" was also completely edible!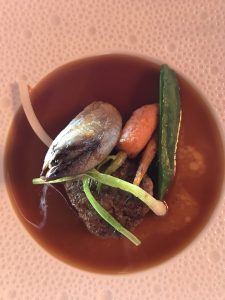 Refreshing of Citrus Fruits
Citrus, mints and basils in textures and temperatures that help cleanse the palate
If I remember correctly, our server said the main marshmallow was apple, the sorbet was lemon, the sauces were lime and basil and the zest was orange. It was very light and a unique palate cleanser...nice change from the classic sorbet.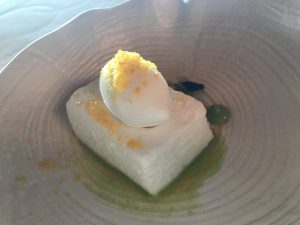 Idiazabal's "Burrata"
Like a "burrata" but with Idiazabal cheese. Eat in one bite.
A taste of a cheese plate was a twist on a traditional finish to a European meal. The sauce was a pesto and the red sauce was a spicy quince paste that was my favourite flavour at the end of the meal.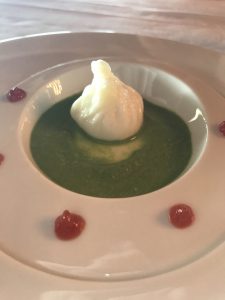 And as final thank you and farewell...
A proper, fine dining meal always ends with a few handmade chocolates/treats to share. I can always find room for a bite or two. 🙂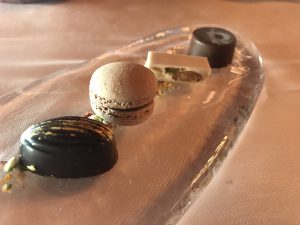 What a way to kick off a few days in San Sebastián! Every ingredient and placement had a purpose and all came together in such a delectable symphony.
It was worth the short drive out of the city centre and I encourage every visitor to treat themselves to one glorious meal like this one at Akelarre.