A long time ago, people didn't have the luxury of refrigeration.
They had to use other methods like packing meats in salt or canning cooked foods to keep what they had at their freshest for as long as possible.
The French have been using a method of adding fat (OK...a lot of fat) to store meats for months at a time.

One of the easiest-to-master methods is a traditional confit.
The seasoned dark meat of a duck is slow-braised in its own fat and then stored in strained or clean duck fat for at minimum of a couple of weeks before eating.
It makes for a super-tender cut of meat that can also be easily shredded and added to many other recipes.
Another method for preservation is in the recipe for a classic rillette.
Similar to a paté, the slow-cooked and salted meat (usually pork) is shredded and mixed with enough of the fat that it is cooked in to create a smooth, spreadable paste. To store for a season or two, a good, thick layer of fat is poured over top of the meat to cool completely and create a barrier between the luxurious spread and the elements.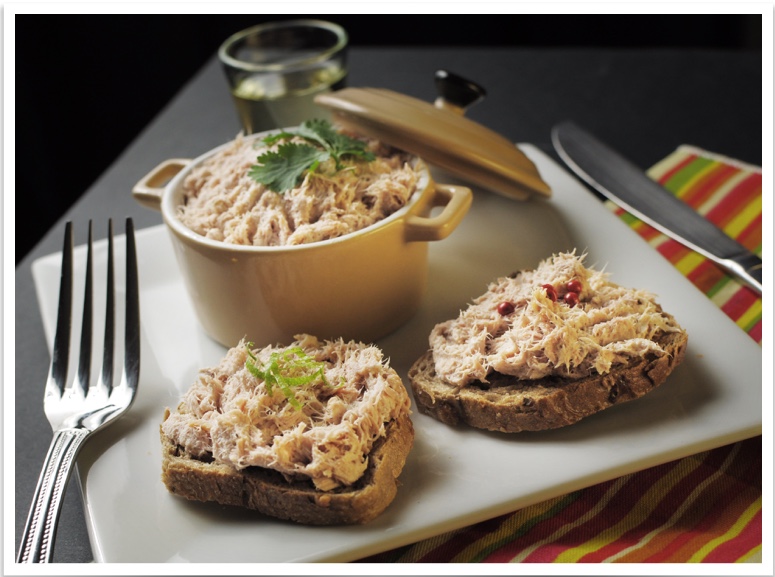 Why not bring a little French decadence into your weekend cooking?
Just close your eyes, enjoy every bite...and you may just forget about the fat used to make it...
Pork Rillette
2.5 lb Pork Shoulder
1/4 cup Brandy
2 Bay Leaves
2 tbsp Fresh Thyme, leaves picked
1 tbsp Sea Salt
10 Black Peppercorns
1 cup Lard
2 cups Chicken Stock
2 tbsp Fresh Parsley, Chopped
DIRECTIONS:
Cut the meat in to 1" cubes.
In a spice grinder, grind up the bay, thyme, salt and peppercorns.
Put the meat in a large bowl, pour over the brandy and spices. Mix well to combine. Cover and refrigerate for 8 to 24 hours.
Preheat oven to 225-250F.
In a heavy pot with a tight fitting lid, heat up a couple of tablespoons of the lard. Add the meat and brown lightly. Add the rest of the lard and let it melt. Pour in enough stock to almost cover the meat, cover bake in the preheated oven for about 3 hours, checking halfway through that there is enough liquid covering the meat. (If necessary, add a bit more lard or stock to cover.)
Remove the meat and allow to cool just enough to handle. Shred the meat with your fingers or with two forks and put it into a large bowl. Add the cooking liquid, 1 tablespoon at a time to the meat until the meat is good and moist, but not soaking. Add the chopped parsley and stir well. KEEP the remaining cooking liquid handy!
Pack the rillette into small ramekins, leaving about 3/4" headroom and put them in the fridge to rest and cool for about 30 minutes.
Meanwhile, strain the remaining cooking liquid through a fine mesh sieve into a bowl. The fat will settle on the top. Spoon this fat off into a separate bowl.
Once the rillette has set up well, pour this liquid fat over the surface of each ramekin. You want to cover the meat with about a 1/4" layer of fat enough to get a good seal.
Return the ramekins to the fridge, each covered with aluminum foil. As is, each should keep well for a couple of weeks. Once you break a fat seal, however, you will want to eat it within a couple of days.
Click here to download the PDF.
Duck Confit
Makes 2 Servings
2 duck legs,rinsed, patted dry
1 tbsp coarse salt
1/2 tbsp black peppercorns,crushed
1/2 tbsp Herbes de Provence
1 bay leaves,crumbled
4 cups melted duck fat
DIRECTIONS
Note: You can purchase duck legs and duck fat at most large grocery stores and butchers. 
Put the duck legs in a bowl and rub with salt, pepper, Herbes de Provence and crumbled bay leaves. Refrigerate overnight.
Rinse the duck legs well and pat dry. Preheat the oven to 300F.
Put the duck legs, skin-side up, in a medium Dutch oven. Pour enough melted duck fat over the duck legs to cover. Heat the duck fat to a gentle simmer on medium heat. Cover the Dutch oven and put it in the oven. Bake for about 2 hours or until the duck is fork tender.
Transfer the duck to a plate, strain the fat, and pour a layer of fat into a large baking dish. Put the duck legs on top and cover completely with the remaining fat. Cool completely. Refrigerate for at least 1 week and up to 2 weeks (to lessen the saltiness of the duck).
Preheat the oven to 350F.
Lift the duck pieces out of the fat, removing as much as possible. Heat a large sauté pan on medium-high heat and add the legs, skin-side down. Sauté the legs for 4 minutes on each side or until heated through and crispy.
Click here to download the PDF.