This article was originally written in 2014 for Legacy Catering's newsletter.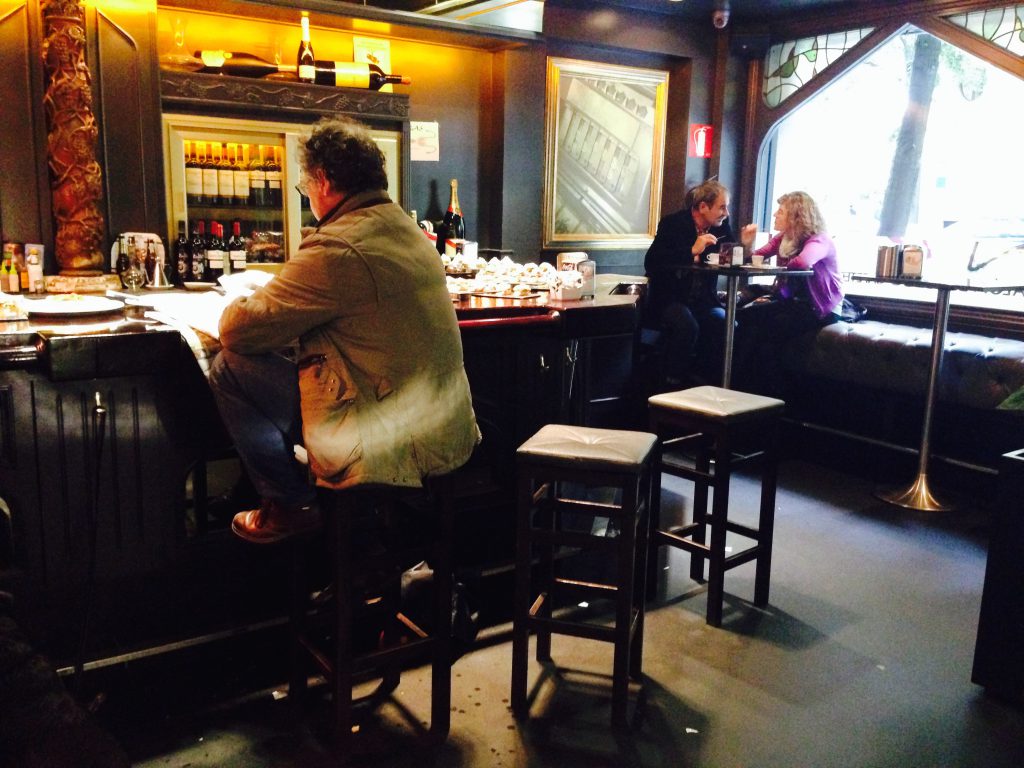 Starting our Spanish journey in Bilbao, was a tasty and visually stunning glimpse at our two weeks ahead.
Bilbao, Spain is in the very north - in Basque Country, alongside the Bay of Biscay with a view of the south-western part of France. Staying at the Hotel Meliá Bilbao in the centre of town, allowed us an easy walk to the famous Museo Guggenheim Bilbao and many of the downtown eateries and shops. Planning ahead, we researched several restaurants online to attempt to source out a perfect dining spot or two to give us a headstart in our gastronomic adventure. (See Travel Tips For Foodies for links to our online resources.)
Our prior reservation for La Viña del Ensanche was a smart move as it was the last table available in the bustling cafe on the Saturday evening. With a view of the lineups at the door, the all-ages crowd at the bar ordering jamón and tapas to go, we were surrounded by all of the sights, sounds and heavenly smells of all things Spanish. One of the walls is covered with postcards from visitors all over the world. These postcards are handed to diners when they leave with the hope that they will be returned with messages of thanks for the next visitor to read and admire. As for the food... The jamón at La Viña del Ensanche melted in our mouths like butter - hence the lineups at the door! As the house specialty, it can be ordered by the platter-full, as a part of a crostini-like tapa, or as a salty surprise inside of croquetas or other small plates.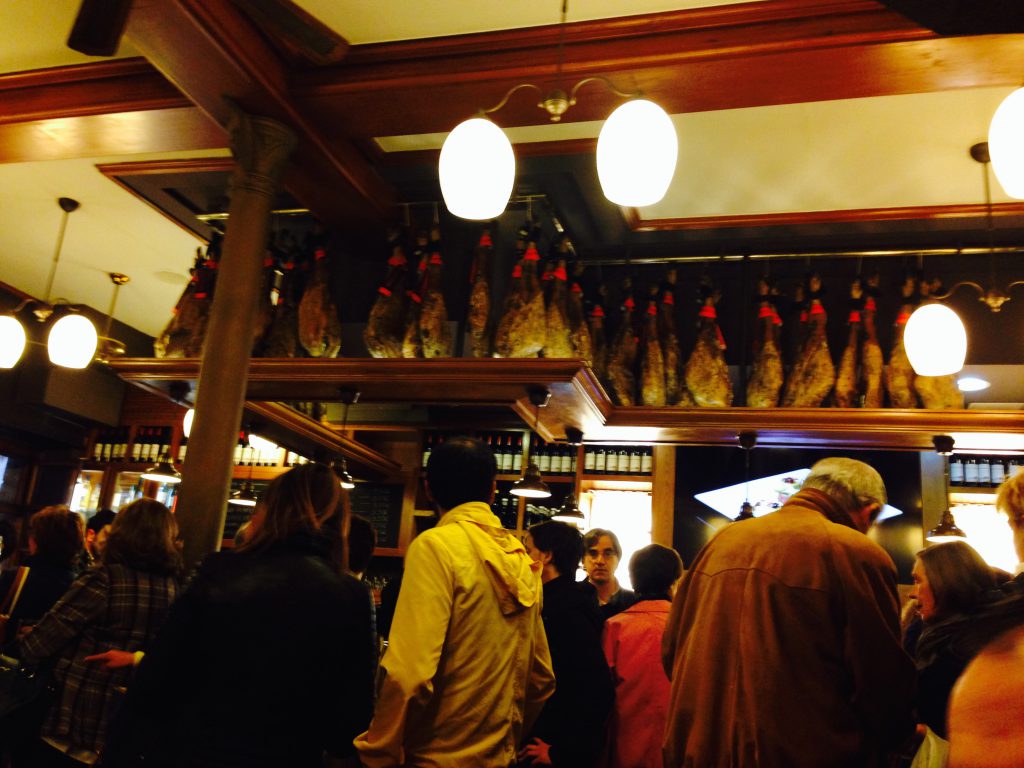 To round off our meal for the evening (and to add a little colour and veggies for our dietary needs), we chose the Tempura de Espárragos (Asparagus Tempura) and the Jamón Con Tomato (Ham with Tomato), a hands-on, kicked-up version of make-your-own garlic bread with ham and tomato.
After a long, much-needed sleep after the ham-laden meal, we set out on foot in the light rain to find the best coffee the neighbourhood offers. Bilbao isn't filled with tourists in late May, so the cafés are quiet serene with locals quietly reading newspapers or books and counter attendants filling the refrigerated display units with tapas to prepare for the rest of the day.
Spain isn't used to serving a traditional breakfast like us North Amercian's are used to. Their coffee is dark and rich, served with milk if you request it. Their late-morning snacks to choose from range from a tortilla española (potato omelette) to assorted cold tapas made with different combinations of cheese, vegetables, fish and jamón.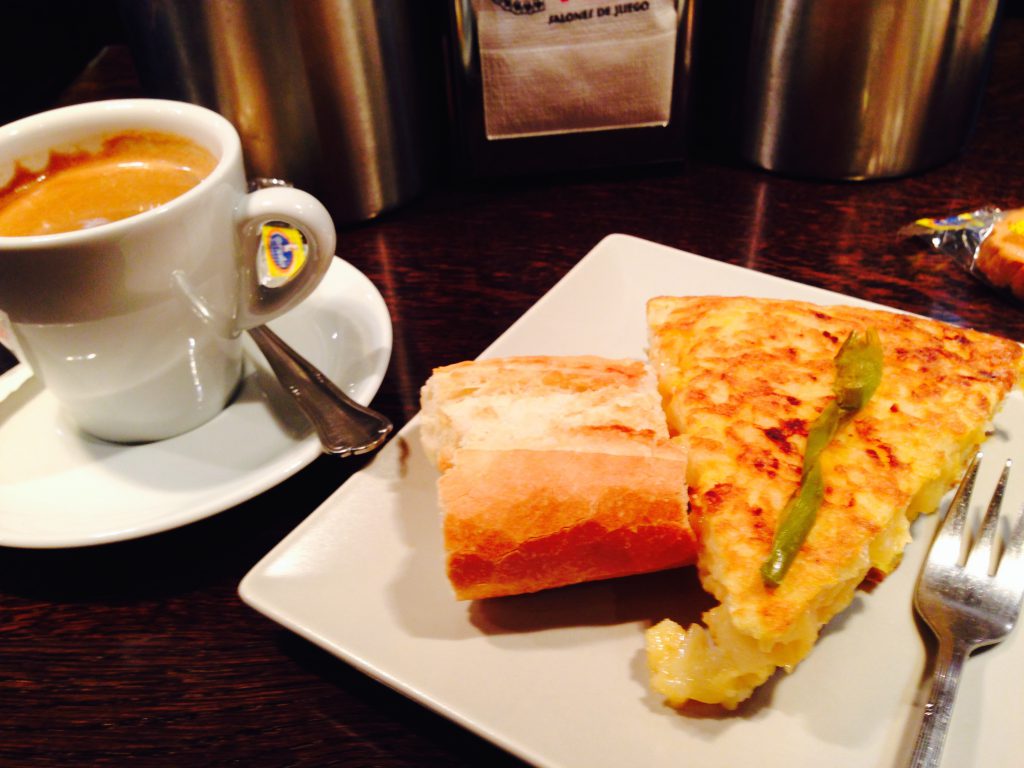 A short 5-minute walk away we can see a glimpse of the Museo Guggenheim Bilbao.  This May offered a unique full-floor showing and celebration of the work of Yoko Ono. Mesmerizing and beautiful, the displays in the entire museum had a wishing that we had another full day to spend wandering through its colourful halls.
A visit to anywhere in Spain wouldn't be complete without checking out the local wines. Aside from our usual visit to a wine bar, we found a triple threat in downtown Bilbao. Bodega Urbana is a wine bar, a wine shop as well as a custom wine production facility. Grenacha, Cabernet Sauvignon and other popular varietals are stored in large vats onsite for visitors to order freshly poured bottles that can be custom-labelled for that perfect gift idea for your friends or family at home.
After our first two days of touring Bilbao and allowing ourselves to sink into a true "vacation mode", we were able to take a few moments to review the rest of our upcoming trip and evaluate if we will be able to squeeze in all of the sightseeing, shopping, and dining that we were hoping for. The relaxed feel of Bilbao was a great start...and had us already wishing for an extra day or two.
Here is one of my favourite snacks for a late-morning hunger...
Tortilla Espanola
4 Servings

Ingredients:

1 c Olive Oil
4 Potatoes,Cut Into 1/2" Dice
1 Onion,Thinly Sliced
6 Eggs
Salt And Pepper

Directions:

1. Heat the oil in a skillet until hot, add the potatoes and onion, turn to coat with the oil, then reduce the temperature.  
2. Cook for about 15 minutes or until soft, turning often without letting them brown. 
3. Remove the potatoes and onions with a slotted spoon and drain on paper towels.  
4. Pour the oil into a small bowl. Put the eggs, salt and pepper in a bowl and beat with a  fork. 
5. Add the potatoes and onions to the bowl, stir gently, then set aside for 10 minutes. 
6. Put 2 tbsp of the reserved oil in the skillet and heat until smoking. 
7. Pour in the potato and egg mixture, spreading the potatoes evenly in the pan. Cook for 1 minute, then reduce the heat to medium and shake the skillet often to stop it sticking. 
8. When the eggs are brown underneath and the top nearly firm, put a plate the same size as the skillet on the top and flip the omelet onto the plate.  
9. Add 1/4 cup of the remaining oil to the skillet and slide the omelet back into the skillet to brown the other side.  
10.Lower the heat to low and flip the omelet 3 more times, cooking 1 minute on each side, to help give it a good shape while cooking. It should remain juicy inside. 
11. Transfer to a plate, brush the top with oil, and let stand until cool. Serve in squares or wedges.
---
Looking for a speaker for your next event or conference?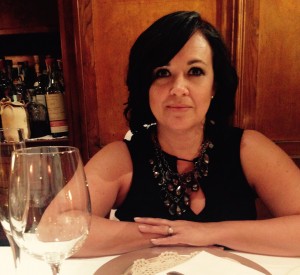 Cooking demonstrations, wine pairing events and lectures, travel talks and MORE...
She speaks with passion, insight and FLAVOUR!
To book an event or learn more, email us by clicking here