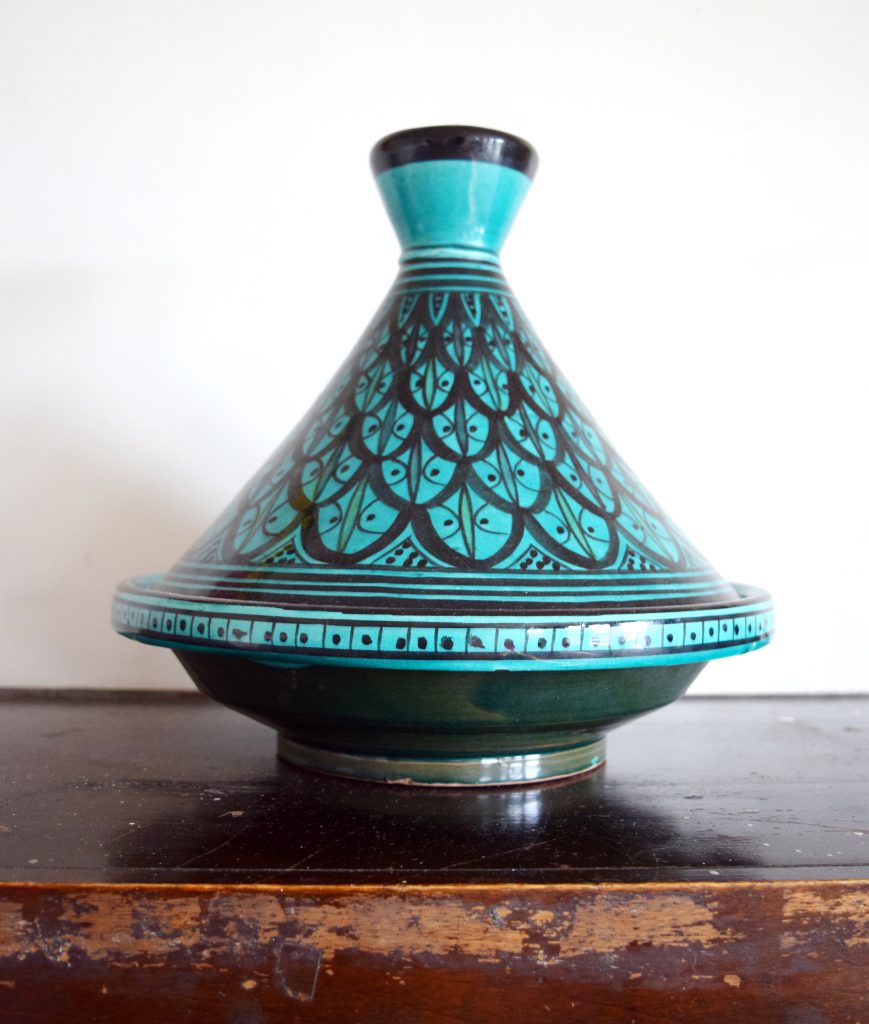 It sounds so exotic, doesn't it?
It's a very pretty cooking vessel, indeed!
A tagine (or tajine) is an earthenware pot for cooking meats and stews until they reach juicy and aromatic perfection.
The resulting dishes cooked in these vessels are also called tagines.
Originally used to slow-cook ingredients in the remaining heat of a baker's oven in Morocco, a tagine of aromatics, onions, garlic and a few other ingredients can be all it takes to create a similar recipe in your Dutch Oven at home.
Some of my favourite spices used in tagine recipes are
cumin
coriander
harissa (when I want some heat)
saffron
and ginger
...and the addition of dried fruit to either the tagine or the accompanying starch is a perfect sweet compliment that rounds out the entire plate.
There are so many recipes available online for heavily-seasoned stews and slow-cooked dishes from Morocco, Egypt and the parts of North Africa, that the possibilities of mixing and matching with couscous, rice and vegetables are endless!
So inventory your spice collection, dust off your Dutch Oven and have a tagine as this week's #onenewthing
Chicken Tagine
Makes 4-6 Servings
1 tbsp salt
2 tbsp minced garlic
2 tsp cumin seeds, crushed
1 tsp paprika
1 tsp ground turmeric
5 tbsp olive oil
4 chicken thighs
4 chicken drumsticks
1 tsp crushed saffron
2 large onions, roughly chopped
1 cup water
1 lemon, thinly sliced, seeds removed
1/3 cup fresh cilantro, chopped (or fresh parsley)
Cooked couscous for serving
DIRECTIONS:
1. In a large bowl, stir together garlic, salt, cumin, paprika, and tumeric. Stir in 3 tbsp oil, and then add chicken thighs and drumsticks; toss until evenly coated.
2. Cover bowl with plastic wrap, and marinate in the refrigerator for 3-4 hours.
3. Heat remaining oil in an 8-qt Dutch Oven or large tagine over medium-high heat. Working in batches, brown chicken pieces until golden brown on both sides. Transfer to a plate and set aside.
4. Add saffron and onions to pot and cook, stirring occasionally, until soft, about 10 minutes.
5. Add water, stir and tuck chicken pieces back into the pot along with lemon slices. Preheat oven to 350F.
6. Bake for 40 minutes . Serve chicken over couscous and top with cilantro.