Servings: 8
This is just a suggestion for a flavourful terrine. You can layer just about any of your favourite ingredients to create your own version. Maybe dill instead of the basil? Maybe chopped black olives instead of the bacon?
AND maybe make some extra caramelized bacon? It will become your new favourite topping for salads, baked potatoes or in scrambled eggs.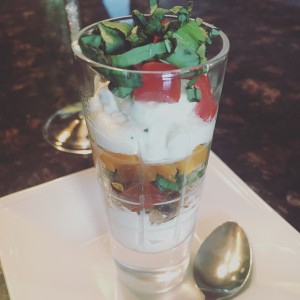 1-1/2 lb. cherry & grape tomatoes, different colours, quartered or diced
salt and pepper
8oz cream cheese, room temperature
1/2 cup whipping cream
4 slices of bacon, uncooked
2 tsp brown sugar
1/2 tsp chili flakes
1 cup fresh basil, chiffonade or chopped, divided
To caramelize bacon:
1. Preheat oven to 400F. Lay the bacon slices on a metal rack on a rimmed cookie sheet.
2. Sprinkle the brown sugar evenly over the bacon slices. Sprinkle with chili flakes.
3. Bake for 15-20 minutes or until brown and slightly crisp. Remove bacon and put on paper towel to cool and absorb any excess oil. Do not blot or top with more towel!
4. When cool, finely chop the bacon and set aside.
To assemble verrines:
1. In one bowl, toss the tomatoes with 1/2 tsp. salt, and 1/4 tsp. pepper.
2. In another bowl, whisk the whipping cream with the cream cheese until light and fluffy. Stir in 1/4 cup chopped basil.
3. Carefully spoon some cream cheese mixture into the bottom of each of eight large (3-4oz) flat-bottomed shot glasses - about 1/3 full.
4. Divide the cherry tomatoes, the chopped bacon and the fresh basil on top of the cream cheese layer in each glass - but save about 1/4 cup of EACH tomatoes and the basil for garnishing.
5. Divide the remaining cream cheese mixture into all 8 glasses and top with remaining tomatoes and chopped basil just before serving.
Make ahead: The verrines can be assembled (minus the final basil garnish) 2 to 3 hours ahead and refrigerated.
---
Like this recipe? Why not try one of these as well?
---
Want to night out with great cuisine and a chance to learn a little about wine?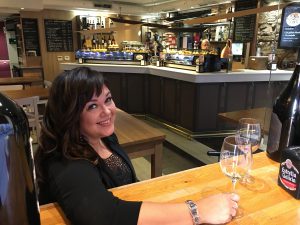 Why not join Stephanie at Wander Food & Wine for a wine tasting or class ?
OPENING FALL 2019!
CLICK HERE to see this season's schedule and for on-line registration.