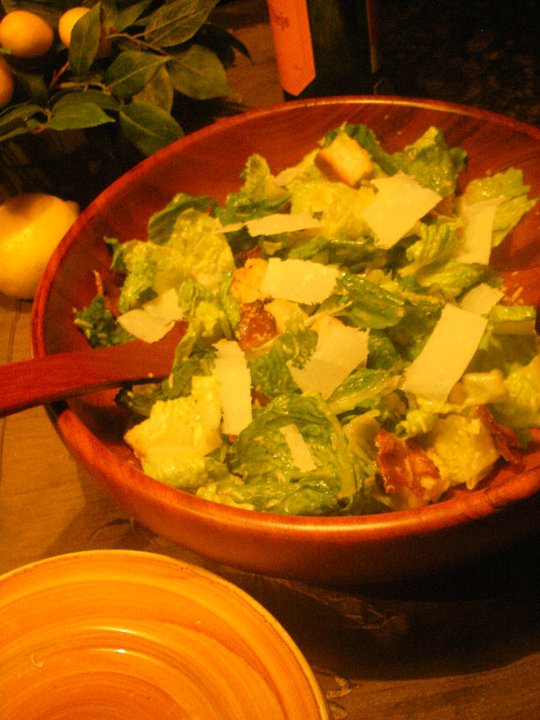 8 Servings  
Caesar salad has become one of the popular salads over the last several years. Restaurants, pizza shops and grocery store counters are all showcasing it, their dressings and nouveau gourmet toppings. Making it at home couldn't be simpler with this basic recipe.
1 head romaine lettuce, washed, trimmed and torn into pieces
10 slices bacon, pre-cooked until crispy
1 1/2 cups sourdough croutons
1/2 cup parmesan, grated
lemon wedges, for serving
Dressing:
2 cloves garlic, minced or grated
1/2 tsp anchovy paste
1/2 tsp dry mustard
1 tsp worcestershire
1 tbsp lemon juice
2 eggs
3 tbsp parmesan
1/2 cup vegetable oil
Directions:
Put all salad ingredients into a large salad bowl.
In a small to medium-sized bowl, combine all dressing ingredients except oil and mix thoroughly with a whisk. While whisking, slowly drizzle the oil into the bowl until it is all combined. Toss dressing with salad and serve with lemon wedges on the side.
NOTE: The dressing can be made ahead of time, but the longer it sits in the fridge, the stronger the garlic flavour.
---
Like this recipe? Why not try one of these as well?
---
Want to night out with great cuisine and a chance to learn a little about wine?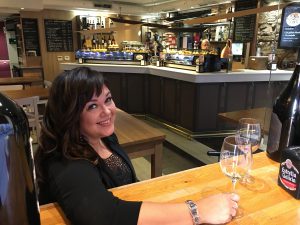 Why not join Stephanie at Wander Food & Wine for a wine tasting or class ?
OPENING FALL 2019!
CLICK HERE to see this season's schedule and for on-line registration.