Note: It was too hot to cook this week, so I cooked some pasta early in the morning to set aside for the afternoon. I found some summer peas in my freezer and some pea shoots in my fridge and the rest just came together. If you need additional protein in this salad, cooked chicken would be an easy, filling option.
  Servings: 4
6oz penne pasta, cooked al dente
1 1/2 cups frozen green peas, thawed
1/4 cup chopped fresh flat-leaf parsley
1/4 cup torn fresh basil leaves
1/2 cup fresh pea shoots
1/3 cup extra-virgin olive oil
zest and juice from 2 large lemons
1 tsp chopped fresh thyme
salt and pepper to taste
finely grated Pecorino Romano cheese - to garnish (optional)
Directions:
Combine all ingredients expect pasta and peas in a large bowl and whisk quickly. Add pasta and peas and toss to coat. Sprinkle with grated Pecorino, if using. 
---
Like this recipe? Why not try one of these as well?
---
Want to night out with great cuisine and a chance to learn a little about wine?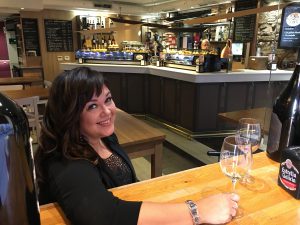 Why not join Stephanie at Wander Food & Wine for a wine tasting or class ?
OPENING FALL 2019!
CLICK HERE to see this season's schedule and for on-line registration.