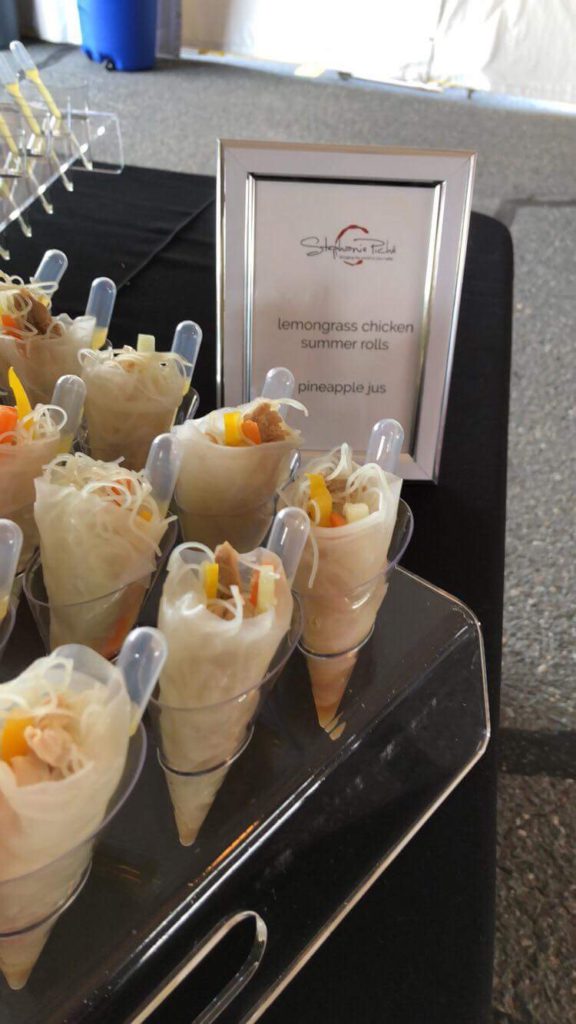 Here is the recipe for the cone-shaped summer rolls that I served at this year's Cinefest pre-gala events. They are light and fresh and can be served any time of the year.
Makes: 12-15
INGREDIENTS
Dressing:
2 stalks lemongrass
1 /2 cup fresh lime juice
3 tbsp fish sauce
2 tbsp brown sugar
2 cloves of garlic
2 tbsp soy sauce
3 tbsp vegetable oil
Filling Ingredients:
1/2 cup rice vinegar
2 cups cooked roast chicken, shredded, skin and bones discarded
1/2 cup thinly sliced cucumber
1/2 cup thinly sliced carrot
1/2 cup bell pepper, cut into julienne strips
2 cups cooked and cooled rice vermicelli noodles
rice paper rounds
micro greens or sprouts for serving
DIRECTIONS
Trim the bottom off of the lemongrass stalks and peel away the tough outer layers. Trim off the tough top third and bottom 1/2-inch of each stalk and discard. Smack stalk with a meat tenderizer or small saucepan to release the aromatic oils and make it easier to slice. Slice the lemongrass and add to a blender with the remaining dressing ingredients. Blend until smooth and set aside.
In a bowl, combine the chicken and about 1/3 cup of the dressing to moisten the chicken and toss to combine.
In another bowl, drizzle the noodles with the rice vinegar and toss to combine.
Working one at a time, set one rice paper round into warm water and allow it to soften completely. Lift it carefully and spread it out onto a cutting board. Cut each round in half using a sharp knife or pizza cutter. On each half-round, add about 1 tbsp of noodles, 1-2 tsp of chicken and one each of the veggie strips into a small pile on one side of the rice paper. Roll it into a cone shape by keeping the base of the cone shape in place while you roll the rest. (See video link below for demonstration.)
Place the finished cone onto a piece of parchment paper while you work on the rest. Do the same with the other half round and then continue with the others. If you are making these in advance, store in a airtight container with parchment in between each layer.
Before serving, drizzle 1/2-1 tsp of the reserved dressing onto the open surface of the cone and garnish with micro greens or sprouts.
For standard rolls, don't cut the round in half, double up on the filling and place on one end and roll it like a burrito - two sides in and roll to seal. Store as whole rolls and then just cut in half to serve.
---
Like this recipe? Why not try one of these as well?
---
Want to night out with great cuisine and a chance to learn a little about wine?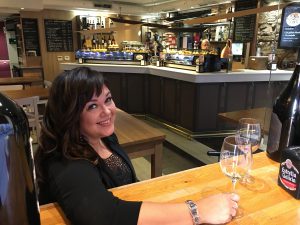 Why not join Stephanie at Wander Food & Wine for a wine tasting or class ?
OPENING FALL 2019!
CLICK HERE to see this season's schedule and for on-line registration.