Note: This is such an easy salad for the summer, I would suggest making extra dressing and mixing up the green vegetables here and there for variety. Grilled salmon on top will make this a full meal!
  Servings: 4
1-1/2 cups shelled fresh peas
6 cups fresh baby spinach
1 bulb fennel, thinly sliced
1/3 cup crumbled soft goat cheese
Dressing:
2 tbsp (30 mL) extra-virgin olive oil
1 tbsp (15 mL) lemon juice
1/4 tsp salt
1/4 tsp pepper
1/4 tsp granulated sugar
In saucepan of boiling salted water, blanch peas for about 2 minutes. Drain and pat dry.
In large bowl, whisk together oil, lemon juice, salt, pepper and sugar. Add spinach, fennel and peas to dressing.
Toss everything together gently to coat and sprinkle with goat cheese.
---
Like this recipe? Why not try one of these as well?
---
Want to night out with great cuisine and a chance to learn a little about wine?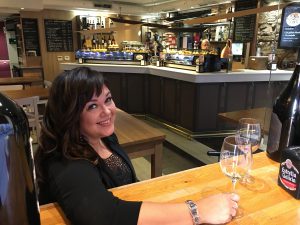 Why not join Stephanie at Wander Food & Wine for a wine tasting or class ?
OPENING FALL 2019!
CLICK HERE to see this season's schedule and for on-line registration.