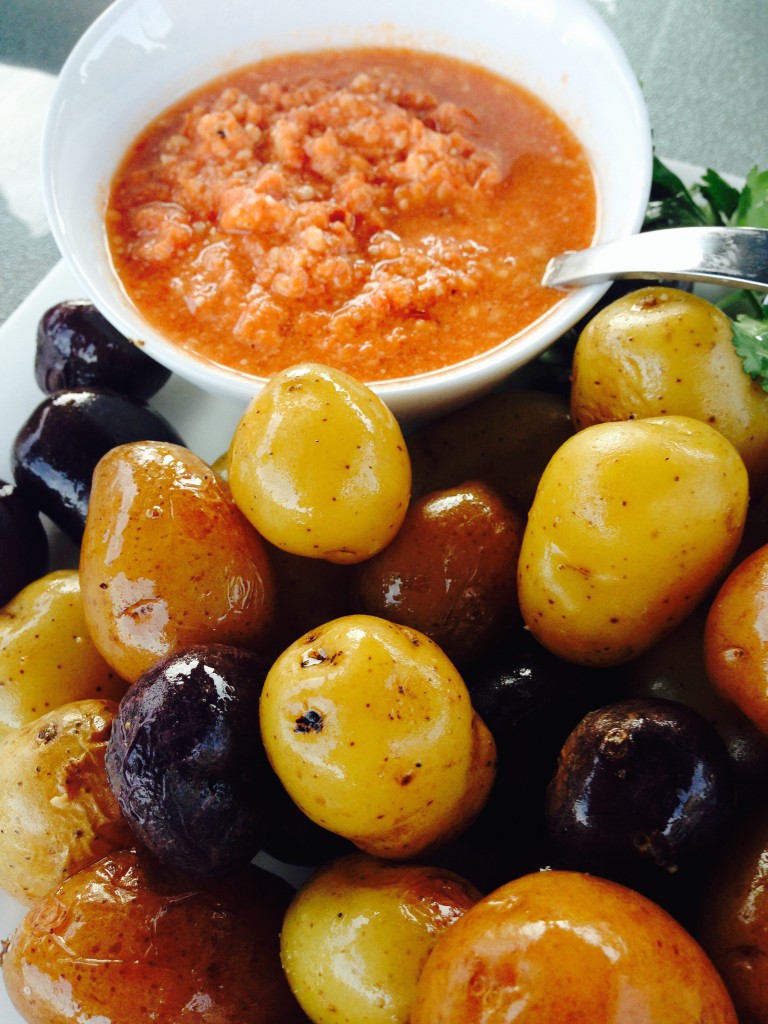 Romesco Sauce recipes vary around the internet (and throughout history), but essentially it is a purée of nuts, tomatoes, garlic and chile.

This is a quick version that I make often throughout the summer since it can sit out in the heat and the leftover sauce is good with everything from scrambled eggs to grilled chicken.

If you find the sauce a little too thick for dipping, just thin it out with a bit of water.
Makes 4-6 Appetizer-size Servings
Romesco:
1 large tomato, cored and halved
16 whole almonds, toasted
2 tbsp extra virgin olive oil
1 tbsp roasted red pepper, coarsely chopped
2 cloves garlic
1/8 tsp cayenne pepper
salt and pepper
1 tbsp red wine vinegar
1 thick slice firm bread, torn,
Potatoes:
4 tbsp extra virgin olive oil
3/4 lb small red potatoes, rinsed and dried
2 lemons, zested
salt and pepper
1/4 cup fresh parsley,chopped, for garnish
DIRECTIONS:
Preheat oven to 400°F. Line a small baking pan with foil.
Roast tomato, cut side down in pan until tender and skin peels off easily, about 30 minutes.
While tomato is roasting, heat a heavy skillet over moderate heat until hot but not smoking, then add oil, roasted red pepper, bread, garlic, and cayenne pepper and cook, stirring, until bread and garlic are golden, 2 to 3 minutes. Add mixture (including oil) in bowl and cool slightly.
Peel tomato, then coarsely chop and transfer (with juices) to a food processor. Add bread mixture, vinegar, and 1/4 teaspoon salt and purée until smooth. Set aside while you prepare potatoes.
With oven still pre-heated at 400°F, line another baking pan with foil. Toss potatoes with lemon zest, oil, salt and pepper to taste and bake for 25 minutes or until a knife easily inserts into the largest potato and the skin is crisp.
Sprinkle with a little more salt and chopped parsley and serve right away with the romesco sauce for dipping.
---
Like this recipe? Why not try one of these as well?
---
Want to night out with great cuisine and a chance to learn a little about wine?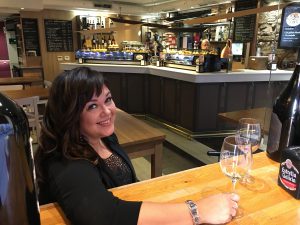 Why not join Stephanie at Wander Food & Wine for a wine tasting or class ?
OPENING FALL 2019!
CLICK HERE to see this season's schedule and for on-line registration.