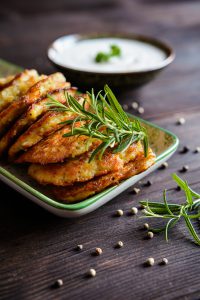 Makes about 20 pieces
3 tbsp unsalted butter
1 medium onion, minced
salt and pepper
1 1/2 tsp fresh sage, minced
1 1/2 tsp fresh thyme, minced
2 cups cooked turkey, finely chopped
1/4 cup heavy cream
1 cup mashed potatoes
1/4 cup all purpose flour
1 large egg, lightly beaten
1 1/2 cups fresh breadcrumbs, finely ground
vegetable oil, for frying
cranberry sauce, for serving
DIRECTIONS
1. Melt butter in a large skillet, over medium-high heat. Add onion, 1 1/4 tsp salt, and 1/4 tsp pepper. Cook for 3 minutes. Stir in sage and savory or thyme and cook for 1 minute. Stir in turkey and cream, and cook until liquid evaporates, about 1 minute. Transfer to a large bowl and let cool for 15 minutes.
2. Add potatoes, flour, and egg to turkey and season with salt and pepper.
3. Drop 2 tbsp turkey mixture into a shallow bowl of breadcrumbs, turn to coat, and pat into 2-inch disks. Arrange a single layer on a baking sheet and refrigerate for 10 minutes.
4. Heat 1/4-inch oil in a skillet over medium heat. Working in batches, cook croquettes in a single layer until golden brown, about 2 minutes per side. Transfer to paper towels to drain. Serve immediately with cranberry sauce - or just a simple aioli!
---
Like this recipe? Why not try one of these recipes as well?
---
Want to night out with great cuisine and a chance to learn a little about wine?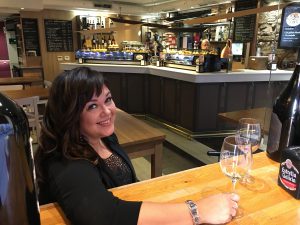 Why not join Stephanie at Wander Food & Wine for a wine tasting or class ?
OPENING FALL 2019!
CLICK HERE to see this season's schedule and for on-line registration.