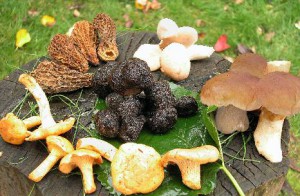 12 Pieces
NOTE: This is an easy and super-quick version of everyone's favourite topping combination. (If you can't find fresh wild mushrooms near you, look for the dehydrated ones in your produce aisle and re-hyrate with some hot water for a 10-15 minute soak.)

The spreadable cream cheese is a shortcut to extra garlic flavour but a classic, whipped cream cheese or mascarpone would be tasty too!
1 Whole Wheat Baguette, Cut Into 1/2" Slices
2 tsp Fresh Thyme
16 oz Wild Mushrooms, Stemmed & Diced
2 cloves Garlic, Minced
4 tbsp Olive Oil
1 tsp Salt
125 g container of Herb & Garlic Light Spreadable Cream Cheese
Extra Virgin Olive Oil, For Serving
Broil the baguette slices until they are lightly browned on both sides. Set aside.
In a sauté pan set over medium-high heat, add olive oil, garlic, mushrooms and thyme.
Sauté for about 5 minutes until mushrooms are just cooked through. Season with salt.
Meanwhile, smear a teaspoon of cream cheese onto each toasted baguette slice.
Divide mushroom mixture over baguette slices and put on a platter for serving.
Drizzle extra virgin olive oil over crostini and serve immediately.
---
Like this recipe? Why not try one of these as well?
---
Want to night out with great cuisine and a chance to learn a little about wine?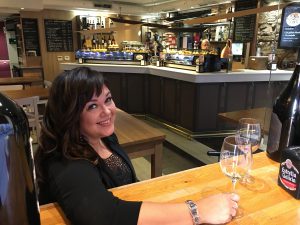 Why not join Stephanie at Wander Food & Wine for a wine tasting or class ?
OPENING FALL 2019!
CLICK HERE to see this season's schedule and for on-line registration.