The natural red colour of the beets will make you feel like you are treating yourself to red velvet...but isn't the healthier switch a good enough reason to make yourself a cake?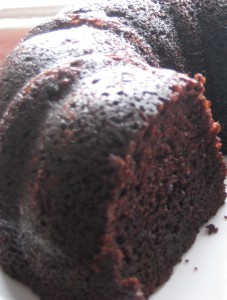 2 eggs, room temperature
½ cup butter, softened
1 cup sugar
½ cup whole (or 2%) milk
¾ cup peeled and well-cooked beets, puréed
½ cup strong coffee
2 tbsp lemon juice
1½ tsp vanilla extract
2 cups all-purpose flour
⅔ cup unsweetened cocoa
1½ tsp baking powder
1 tsp baking soda
½ tsp salt
1 tbsp icing sugar
Preheat oven to 350°F.
Coat bottom and sides of a 10" round springform pan with non-stick spray.
Thoroughly cream butter with electric beaters in a large bowl.
Slowly add sugar until light and fluffy. Beat in eggs 1 at a time until fluffy.
In another bowl, stir milk with puréed beets, coffee, lemon juice and vanilla.
In another bowl, sift flour with cocoa, baking powder, baking soda and salt.
Stir in 1/3 of flour mixture and 1/2 of milk mixture, repeating and ending with final 1/3 of flour mixture.
Pour batter into springform pan.
Bake in centre of the oven for almost an hour or until a cake tester inserted into layer centre comes out clean.
Cool in pan on a cooling rack for 10 minutes.
Remove the sides of the pan, leaving the cake on the base - on the rack - until completely cool.
Carefully transfer cake from base to serving platter. Dust with icing sugar before serving.
---
Like this recipe? Why not try one of these as well?
---
Want to night out with great cuisine and a chance to learn a little about wine?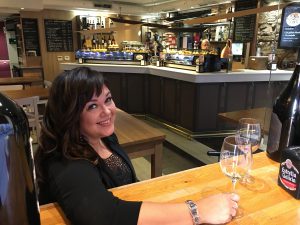 Why not join Stephanie at Wander Food & Wine for a wine tasting or class ?
OPENING FALL 2019!
CLICK HERE to see this season's schedule and for on-line registration.