24 Bars
How do you get your kids to eat more oatmeal? Add in some chocolate and peanut butter, of course!
Switch it up to a healthier dark chocolate for an adult version.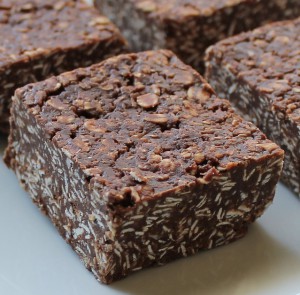 vegetable oil cooking spray
1 cup ground chocolate wafer crumbs
1 1/2 cups rolled oats
1 1/4 cups icing sugar
1/4 tsp coarse salt
3/4 cup butter, cut into small pieces
1 cup peanut butter (I prefer chunky!)
3-4 tbsp smooth peanut butter
10 oz semisweet chocolate, melted
1 1/2 oz milk chocolate, melted
1. Coat a 9x13-inch baking dish with cooking spray.  Line with parchment, leaving a 2-inch overhang on 2 sides so you can remove the bars from the dish easier.
2. Combine wafer crumbs, oats, sugar and salt in a large bowl.
3. Melt butter in a medium saucepan over medium heat then add (chunky) peanut butter, whisking until well-combined.  Add peanut butter mixture to wafer crumb mixture, stirring until combined.  Transfer to baking dish and press mixture into an even layer.  Refrigerate for 30 minutes.
3. Pour melted semisweet chocolate over chilled mixture and spread quickly over the entire surface. Refrigerate for another 15 minutes.
4. Heat and combine remaining smooth peanut butter with milk chocolate in a small saucepan until it is a smooth warm liquid.  Drizzle over pan of bars for about 15 minutes.
5. Use the parchment to lift out the pan of bars.  Run a sharp knife under hot water and dry well before cutting the block into bars.
---
Like this recipe? Why not try one of these as well?
---
Want to night out with great cuisine and a chance to learn a little about wine?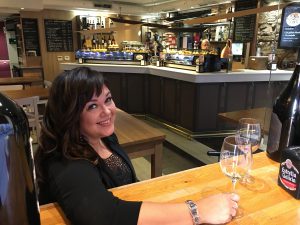 Why not join Stephanie at Wander Food & Wine for a wine tasting or class ?
OPENING FALL 2019!
CLICK HERE to see this season's schedule and for on-line registration.