A fruit platter can be the quickest type of platter to assemble for your guests.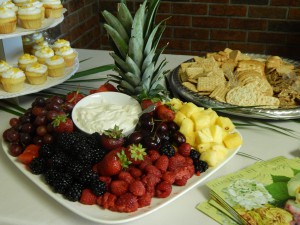 Some simple cuts, pile'em high and add some whole berries and grapes and TA-DA!
Here are a few pointers to switching up your fruit platter to have your guests oohing and aahing...
1. The Fruit    We all know the standard mix - melons, pineapple, berries and grapes. There are so many other fruit that are fresh, in season and are ripe for the picking (pun intended).
papaya
kiwi
cherries
sliced apples or pears
apricots
starfruit
...and all the other tropical fruit on display!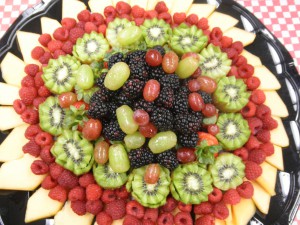 2. The Tools   Pull out all of your garnishing tools and paring knifes and get creative!
Carve slits, wedges or divots creatively into the fruit.
Use a wavy scissors or slicers cut the fruit into wavy sticks or wedges.
Use melon-ballers of various sizes to create balls of fruit
3. Add final garnishes     This is the final touch the platter to delight the senses.
Tuck in fresh basil or mint leaves to amp up the aroma of the produce.
Everyone loves chocolate-covered strawberries! Add a few to the top of the platter.
Sugar some! Rinse berries or grapes in cool water and sprinkle coarse sugar over the top so they look frosty.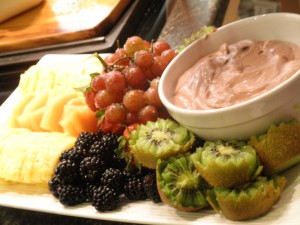 4. And finally - the dip(s)     Offer one dip at a minimum, two is lovely. My quick go-to for fruit? Stir in 1 tsp of vanilla bean paste (or the insides of 1 fresh vanilla bean) into each cup of sweetened whipped cream.  Vanilla Bean Dip - DONE!
Just as I suggest for other platters...if you can start with a base big enough to hold everything (including dips), you can easily move it from counter to table or patio with ease.
BONUS TIP!
Re-think the container/service-style. Instead of large flat platter, pile the fruit into an array of individual glass or clear plastic containers of varying heights. Add ice on the bottom to keep them fresh.
Need other platters to feed the crowd? 
Click here for my how-to on Cheese Platters!
Click here for my how-to on Vegetable Platters!
---
Want to night out with great cuisine and a chance to learn a little about wine?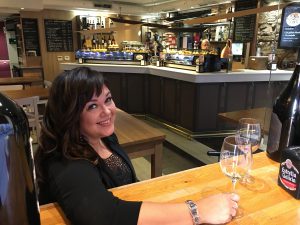 Why not join Stephanie at Wander Food & Wine for a wine tasting or class ?
OPENING FALL 2019!
CLICK HERE to see this season's schedule and for on-line registration.