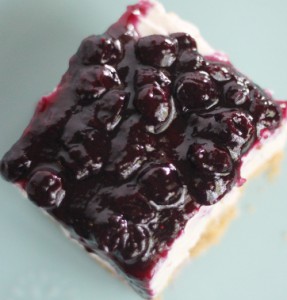 12 Servings
This is a cheesecake-like easy square - just like my grandmother used to make. With blueberries so plentiful in Northern Ontario, this may be your NEW go-to dessert.
2/3 cup ground walnuts
1/2 cup graham cracker crumbs
4 tbsp sugar, divided
1/3 cup rolled oats
3 tbsp butter, melted
1 cup cream cheese
1 tbsp orange juice
1/2 tsp vanilla
1/2 cup whipping cream, whipped
2 tbsp blueberry preserves or fruity jam
1 1/2 cup fresh or frozen blueberries
1. Combine the walnuts, graham crumbs, 2 tbsp of sugar, oats and butter.
2. Press onto the bottom of an 8" square baking dish coated with cooking spray.
3. Bake at 350F for about 10 minutes or until set and edges are lightly browned. Cool on a wire rack.
4. In a large bowl, beat cream cheese and remaining 2 tbsp sugar until smooth. Beat in orange juice and vanilla. Fold in whipped cream. Spread over crust.
5. In a microwave-safe bowl, heat preserves or jam on high for 15-20 seconds or until warmed; gently stir in blueberries.
6. Spoon over cream filling and refrigerate for at least 1 hour prior to serving.
---
Like this recipe? Why not try one of these as well?
---
Want to night out with great cuisine and a chance to learn a little about wine?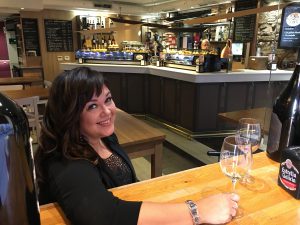 Why not join Stephanie at Wander Food & Wine for a wine tasting or class ?
OPENING FALL 2019!
CLICK HERE to see this season's schedule and for on-line registration.