Straight from the flavourful land of Mexico!
Sorbets are a fun way to take your favourite cocktail recipes (or flavour combinations) and with a little alcohol, you can have a super slushy or scoopable treat in no time!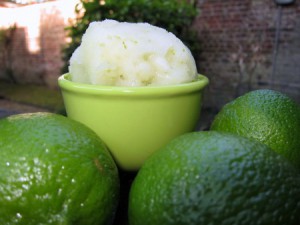 Servings: 2-1/2 pints.
1 1/4 cups sugar
1 1/4 cups water
1 1/2 cups tequila
1 cup freshly squeezed lime juice
1/2 cup orange liqueur
1/2 cup light agave syrup
1/2 cup water
Combine the sugar and water in a medium saucepan and bring to a boil, stirring until the sugar dissolves. Let cool.
In a small saucepan, bring the tequila to a boil. Cook until reduced by half, about 10 minutes. Pour the tequila into a bowl and stir in the cooled sugar syrup the remaining ingredients.
Pour the chilled mixture into an ice-cream maker and process following the manufacturer's instructions. Store, covered tightly, in the freezer.
Alternatively, pour the mixture into a shallow container. Freeze about 1 hour, and then stir vigorously with a fork to break them up. Repeat freezing and stirring every hour or so until the mixture is thoroughly frozen but slightly slushy, about 6 hours. (You can also put the mixture in a food processor quickly to create a smoother consistency.)
Allow to freeze completely.
---
Like this recipe? Why not try one of these as well?
---
Want to night out with great cuisine and a chance to learn a little about wine?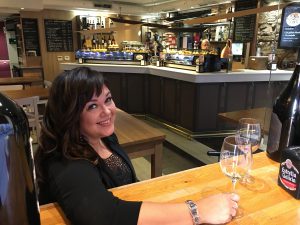 Why not join Stephanie at Wander Food & Wine for a wine tasting or class ?
OPENING FALL 2019!
CLICK HERE to see this season's schedule and for on-line registration.