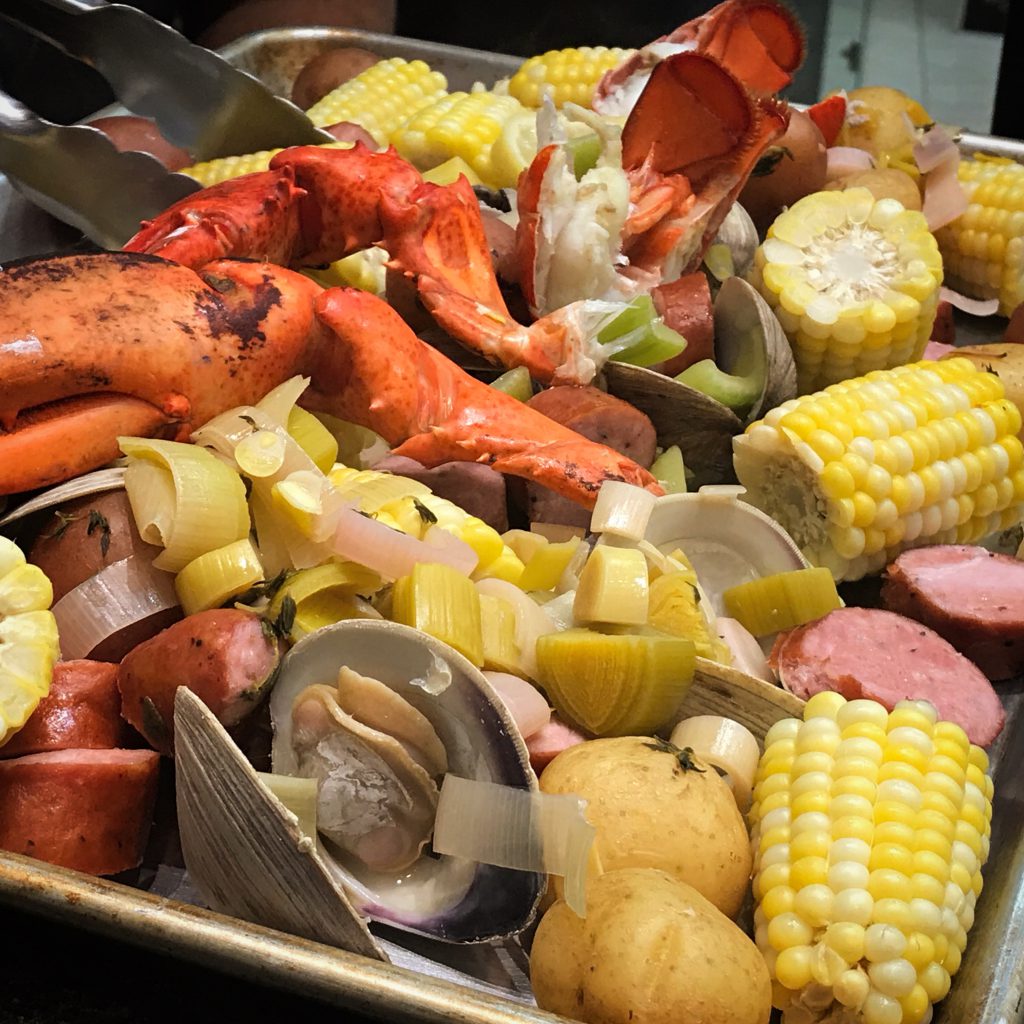 I can't remember which magazine I first saw this recipe in - but I liked the combination of flavours and the ease of assembly.

Pay attention to the steps and timings, but use your judgement to flex the cook times depending on the size of the seafood pieces.

If you don't want to use live lobsters, feel free to swap them for some uncooked lobster tails, but skip adding the eggs and add them with the corn, etc. in Step #5. (Essentially, you are skipping Step #4.)

For a large group, it has become my go-to seafood feast!
1 bottle dry white wine
2 lbs mini potatoes (or fingerlings)
4 live lobsters, 1-1.5 lbs each
4 large eggs
4 ears of fresh corn, husked, halved
4 celery stalks, cut diagonally into 1/2 inch pieces
1 large leek, white and light green part only, rinsed well, sliced
1 lb kielbasa or other cured, smoked sausage - sliced
1 lemons, quartered, sliced
4-6 cloves of garlic, sliced
1 large bunch fresh thyme
4 lbs littleneck, Manila, or steamer clams, scrubbed - (not pasta clams)
2 lbs mussels, scrubbed, debearded
1 cup (2 sticks) salted butter, melted
DIRECTIONS:
Place a steamer basket in the bottom of a very large (30-quart) pot.
Add wine and 4 cups water; cover and bring to a boil.
Add potatoes; cover and steam 5 minutes.
Add lobsters and eggs; cover and steam 10 minutes.
Gently nestle corn halves, celery, kielbasa, lemons, leek and garlic on top of the lobsters. Cover and steam 5 minutes.
Add clams, cover, and cook 5 minutes.
Add mussels, cover, and cook until shellfish open, about 3-5 minutes (discard any that do not open).
Dig down and take out 1 egg and peel it. Cut in half. If it's hard-boiled, lobsters are ready.
Transfer all of the pots contents to a very large platter for serving.
Sprinkle with salt, pepper and a dash or two of your favourite seasoning blend.
Pour some of the broth from pot into small bowls. Serve with small bowls of melted butter as well.
---
Like this recipe? Why not try one of these as well?
---
Want to night out with great cuisine and a chance to learn a little about wine?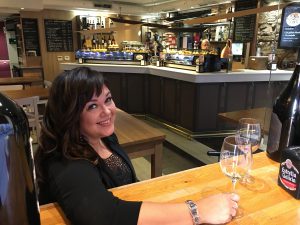 Why not join Stephanie at Wander Food & Wine for a wine tasting or class ?
OPENING FALL 2019!
CLICK HERE to see this season's schedule and for on-line registration.