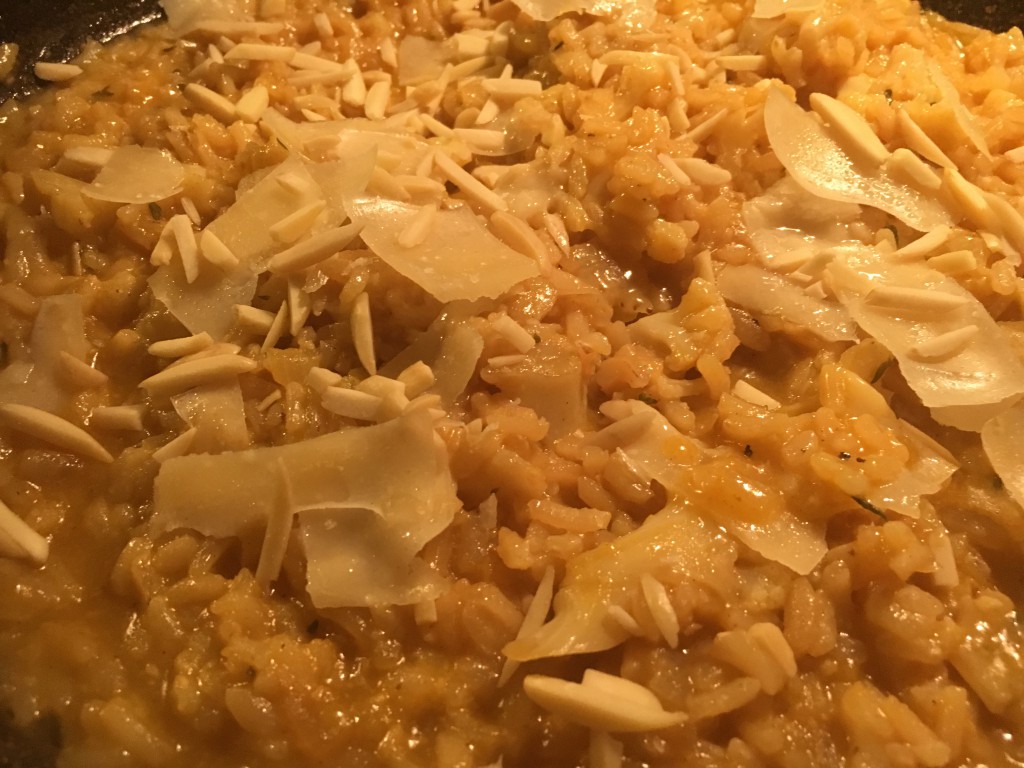 4 cups chicken stock
2 1/2 cups water
3 thyme sprigs
1 tsp thyme leaves
1 tbsp unsalted butter
2 tbsp olive oil, divided
2 cups cauliflower, chopped fairly small
1 1/2 cups arborio rice
1/3 cup dry white wine
1 tbsp Amaretto
1 tbsp ground almonds
1/3 cup almonds, sliced and toasted
shaved parmesan, for serving
Bring broth, water and thyme sprigs to a bare simmer in a medium saucepan.
Meanwhile, heat butter and 1 tbsp oil in a 4-qt heavy saucepan over medium-high heat until foam subsides, then sauté cauliflower with 1/4 tsp salt until crisp-tender and golden brown, about 6 minutes. Add thyme leaves and sauté 1 minute. Transfer to a bowl.
Add remaining tbsp of oil to pan, then add rice and cook, stirring constantly, 1 minute. Add wine and Amaretto and simmer briskly, stirring, until wine has been absorbed, about 1 minute. Add 1/2 cup hot broth and briskly simmer, stirring, until broth has been absorbed.
Continue simmering and add hot broth, about 1/2 at a time, stirring constantly and waiting until each addition has been absorbed before adding the next, until rice is just tender (al dente) and looks creamy, 18 to 22 minutes.  Stir in cauliflower, ground almonds and salt and pepper to taste. Thin with some of remaining broth if desired. Serve topped with slivered almonds and shaved parmesan.
---
Like this recipe? Why not try one of these as well?
---
Want to night out with great cuisine and a chance to learn a little about wine?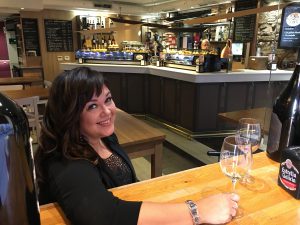 Why not join Stephanie at Wander Food & Wine for a wine tasting or class ?
OPENING FALL 2019!
CLICK HERE to see this season's schedule and for on-line registration.