4 Servings
There are a few steps to this ravioli dish but it is all worth the extra effort! You can make and cook the raviolis in advance and cover the cookie sheet well with plastic and store in the refrigerator until you are ready to serve. Make sure to take longer to rewarm the ravioli in the beurre blanc (or blanch quickly in boiling water) before plating to make sure they are all hot inside as well.

The crispy fried onions can be found in most grocery stores - either near the packaged breadcrumbs or in the international aisle with the middle eastern ingredients. Buy a big bag because you will always find a reason to add some everywhere!
Ravioli:
1 1/2 tsp unsalted butter
1 tsp extra virgin olive oil
2 cloves garlic, minced
1 small cauliflower, cut into 1" pieces
2 tbsp water
1/2 cup light cream cheese
1 cup lump crab meat
salt and pepper
1 package of wonton wrappers
1/2 cup parmesan shavings, for garnish
2 tbsp crispy fried onions, for garnish
Herbed Beurre Blanc:
2 tbsp olive oil
2 shallots, minced
2 cloves of garlic, minced
1/4 cup white wine vinegar
3/4 cup dry white wine
1/3 cup chopped flat leaf parsley
1 tbsp fresh thyme, leaves only
1/3 cup fresh basil, finely chopped
1 cup butter, cut into cubes
1. In a large, deep skillet, melt the butter in 2 tsp of the olive oil. Add the minced garlic and cook over moderate heat until fragrant, about 2 minutes. Add the cauliflower florets and cook over moderately high heat, stirring, just until lightly browned, about 3 minutes. Add the water, cover and cook until the cauliflower is tender, about 4 minutes.
2. Add the cream cheese and simmer for about 3 minutes. Add the crab meat and stir gently to heat through. Season with salt and pepper and let cool slightly - about 5 minutes.
3. Layout half of the wonton wrappers on a large cutting board or lined countertop and spoon about 1 rounded teaspoon of the cauliflower filling into the center of each wrapper.
4. Using a pastry or silicone brush, brush the edges of all of the wrappers with water. Cover  all of these with the other half of the wonton wrappers and seal well to close- ensuring to get out any air pockets so they don't split open later. Allow the ravioli to rest for about 10 minutes to ensure a good seal. If you wish, at this point, you can use a round cookie cutter or pastry wheel to shape your ravioli as you wish.
5. Bring a large pot of water to a boil and add salt.
6. Drop the ravioli into the boiling water a few at a time and cook for about 4 minutes or until they are floating at the surface of the water. Remove the ravioli with a slotted spoon to a parchment-lined cookie sheet nearby. Continue with the remaining ravioli, layering the cookie sheet with parchment in between layers of the ravioli so they don't stick.
7. In a large saucepan over medium-high heat, add olive oil and shallots. Sauté until softened and golden brown. Add garlic, vinegar and white wine and deglaze the pan. Stir in half of all of the herbs at this point and a few squares of the butter and whisk the butter into the bubbling liquid until it is melted and combined. Keep adding squares of butter until you only have a few left. Add the remaining herbs and the last of the butter and whisk well.
8. Reheat a single layer of ravioli at a time (1 serving) in the beurre blanc until bubbling and hot and, using a slotted spoon or spatula, quickly layer in a waiting warmed plate. Continue with the remaining ravioli and top each plate with the rest of the beurre blanc.
9. Sprinkle each plate with grated parmesan and crispy onions and serve immediately.
---
Want to night out with great cuisine and a chance to learn a little about wine?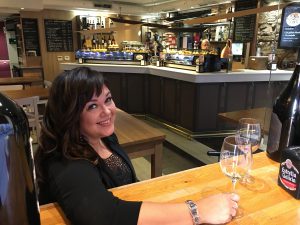 Why not join Stephanie at Wander Food & Wine for a wine tasting or class ?
OPENING FALL 2019!
CLICK HERE to see this season's schedule and for on-line registration.