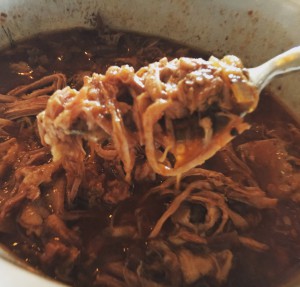 8 Servings
1 2 1/2 - 3 Lb pork shoulder roast
salt and pepper
1 tbsp vegetable oil
2 medium onions, sliced
2 tbsp minced garlic
4 cups cola, divided
1 cup bottled chili sauce
Directions:
1. If necessary, cut meat to fit into a 3 1/2-to 5qt slow cooker. Sprinkle meat with salt and pepper. In a large skillet cook meat in hot oil over medium-high heat until golden brown on all sides. Transfer meat and any remaining fat to the slowcooker. Add onions, 1 cup cola and the garlic. Cover and cook on low-heat setting for 8-10 hours or on high-heat setting for 4-5 hours.
2. Meanwhile, in a medium saucepan combine 3 cups cola and chili sauce. Bring to a boil, reduce the heat to a simmer. Cover and cool another 30 minutes or until mixture is reduced to 2 cups, stirring occasionally.
3. Remove meat from slowcooker. Using a slotted spoon, transfer onions to a large bowl and discard cooking liquid. Using two forks, pull meat apart into shreds. Add shredded meat, reduced sauce and onions back into the slowcooker.
4. Heat again for another 2-3 hours on high - or heat the mixture in a large saucepan over medium-low heat on the stove for 25-30 minutes.
5. If necessary, add a few tablespoons of cola or water to keep mixture from sticking.
Serve in buns, wraps or in your favourite poutine recipe. 🙂
---
Like this recipe? Why not try one of these as well?
---
Want to night out with great cuisine and a chance to learn a little about wine?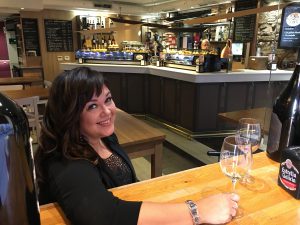 Why not join Stephanie at Wander Food & Wine for a wine tasting or class ?
OPENING FALL 2019!
CLICK HERE to see this season's schedule and for on-line registration.