Servings: 2 cups
1 small bunch collard greens, stems removed
1 small bunch Tuscan kale, stems removed
Kosher salt
3 garlic cloves, chopped
1½ ounces grated Parmesan (about ½ cup)
1 cup olive oil
½ cup salted, shelled pistachios
1 tablespoon finely grated lemon zest
1 tablespoon fresh lemon juice
Freshly ground black pepper
Blanch collard greens and kale in a large pot of boiling salted water until bright green and tender, about 45 seconds. Transfer to a bowl of ice water.
Drain and squeeze out as much liquid as possible.
Coarsely chop greens and place in a food processor. Add garlic, parmesan, oil, pistachios, lemon zest, and lemon juice. Process on low speed until you have a smooth but still lightly chunky pesto. Season with salt and pepper to taste.
Serve tossed with your favourite freshly cooked pasta. YUM!
---
Like this recipe? Why not try one of these as well?
---
Want to night out with great cuisine and a chance to learn a little about wine?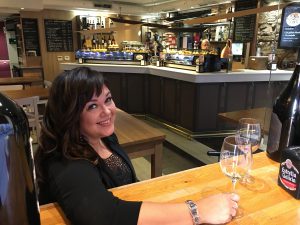 Why not join Stephanie at Wander Food & Wine for a wine tasting or class ?
OPENING FALL 2019!
CLICK HERE to see this season's schedule and for on-line registration.
To book a private class of 8 or more, email us by clicking here