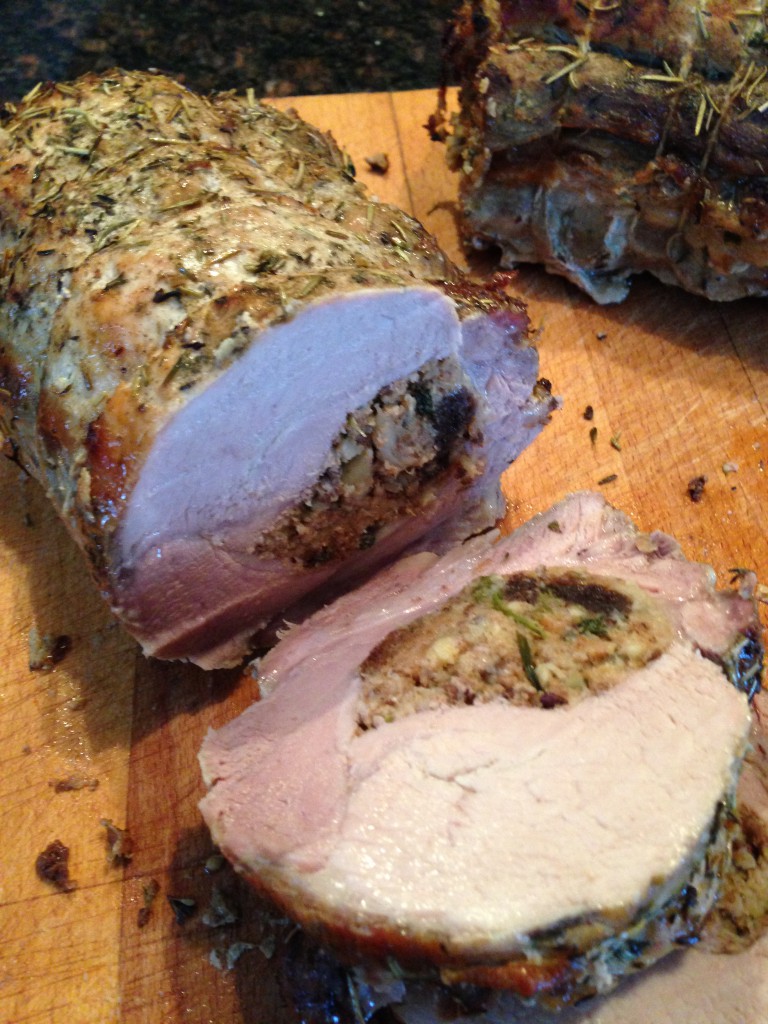 Serves 4
Once you get the hang of stuffing this pork roast, you will be cleaning out your fridge for variations every week.

Instead of apples, try pears - or even rehydrated apricots or soaked dates!

To roast this on a BBQ, sear the outside of the stuffed roast over high heat and then slow-cook indirectly (over one side of the BBQ turned off).
1 lb Pork Loin Center Roast
1 cup Fresh Parsley,Finely Chopped
3 tbsp Fresh Thyme,Leaves Only
2 tbsp Dijon Mustard
1/4 tsp Salt
1/4 tsp Black Pepper
1/2 cup Chicken Or Vegetable Stock
Stuffing:
1 1/2 cup Croutons
1 tbsp Olive Oil
1 Apple,Finely Diced
1/2 Onion,Finely Diced
1/4 tsp Dried Sage
2 tbsp Fresh Thyme,Leaves Only
Salt & Pepper,To Taste
1/4 cup White Wine
1/2 cup Chicken Or Vegetable Stock
DIRECTIONS:
Prepare stuffing: In a small to medium-sized saucepan, saute onions, apple, herbs & spices in olive oil for 5 to 7 minutes.
Add wine and chicken stock, bring to a simmer and cook until reduced to almost a dry state. (There should be only about 1 tbsp of liquid left in the pot.)
Add croutons, stir and remove pot from heat. Allow to cool.
Preheat oven to 375F.
Using a long, sharp knife, cut a large slit in the center of the pork roast on BOTH sides. You are essentially trying to cut a hole through the center of the roast.
Using your fingers, stretch the hole to create an opening of 1 1/2" to 2". Spoon the stuffing into the roast's center.
In a small bowl, mix the parsley, thyme, mustard and salt and pepper. Smear onto the top of the roast and place the roast in a greased baking dish.
Pour 1/2 cup of water or stock into the bottom of the dish. Cook the roast in the oven for 20-25 minutes or until the meat (not the stuffing) reaches just under the temperature of 160F. Allow the roast to rest before slicing.
---
Like this recipe? Why not try one of these as well?
---
Want to night out with great cuisine and a chance to learn a little about wine?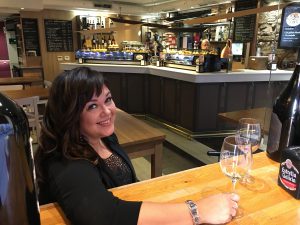 Why not join Stephanie at Wander Food & Wine for a wine tasting or class ?
OPENING FALL 2019!
CLICK HERE to see this season's schedule and for on-line registration.