4 - 6 servings
White miso is found in the international section of some grocery stores - or if you are lucky enough to be close to an Asian market, it's even easier!
Serve this salmon with your favourite stir-fried veggies. I love asparagus and green beans!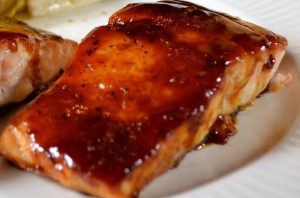 1/2 cup white miso
1/4 cup dry sake or dry white wine
1/4 cup mirin
1 tbsp honey
1 tbsp soy sauce
2 tsp finely minced fresh ginger (or 1 tsp ground ginger
1-1/2- to 2-lb skin-on wild salmon, cut into portions and pin bones removed
Kosher salt
In a baking dish large enough to accommodate the salmon, whisk the miso, sake, mirin, honey, soy sauce, and ginger until combined.
Turn the salmon in the mixture to coat and leave flesh side down. Marinate for 30 minutes at room temperature, or cover and refrigerate for up to 12 hours.
Position a rack 6" from the broiler element and heat the broiler on high. Line a rimmed baking sheet with foil and lightly brush with oil.
Leaving a light coating of the marinade on the salmon, transfer it skin side down to one side of the sheet. Sprinkle with 1/2 tsp salt.
Broil until the salmon is browned around the edges, broiling until the salmon is cooked to your liking, 5 - 7 minutes for medium rare and 7 - 9 minutes for medium.
Use a paring knife to check for doneness; medium-rare salmon will be slightly translucent in the center, and medium salmon will be opaque but juicy.
---
Like this recipe? Why not try one of these as well?
---
Want to night out with great cuisine and a chance to learn a little about wine?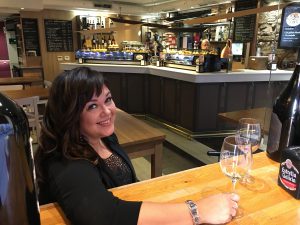 Why not join Stephanie at Wander Food & Wine for a wine tasting or class ?
OPENING FALL 2019!
CLICK HERE to see this season's schedule and for on-line registration.