6 Servings
This recipe uses a couple of quick techniques and tools that I use to speed things up in my own kitchen. An immersion blender makes quick purées for smaller amounts without the hassle and mess of a food processor. Cooking potatoes in a microwave when you only want the insides is a multi-taskers lifesaver. NOTE: Keep the skins of the potatoes and sweet potato to use for stuffed potato skins one night as a treat!
1 large sweet potato, scrubbed and poked with a knife 2-3 times per side
3 large white potatoes, scrubbed and poked with a knife 2-3 times per side
2 tbsp whipping cream, divided
2 tbsp butter, divided
salt and white pepper
1 cup carrots, peeled and roughly chopped
1 onion, peeled and roughly chopped
1 cup mushrooms, left whole if not too large (bite-size, preferably)
1/2 large turnip, peeled and roughly chopped
1 cup butternut squash, peeled and roughly chopped
1 cup vegetable stock
1 tbsp italian seasoning
Bake the carrots, onion, mushrooms, turnip, and squash in a preheated 375F oven until all are almost tender - about 45-50 minutes.
Meanwhile, place the potatoes and sweet potato on a plate in the microwave. Microwave on high for 5 minutes. Turn all potatoes over and reset the microwave for another 5 minutes. Repeat until all potatoes are very soft. Carefully take them out and let cool for 5 minutes or until cool enough to handle.
Once cooled somewhat, cut each white potato in half and using a spoon scrape the insides into a mixing bowl. Do the same for the sweet potato and put in a separate bowl. Add 2 tsp of butter and 2 tsp of whipping cream to sweet potato and using an immersion blender, purée the mixture until very smooth.
Clean the blender end well and repeat with the white potatoes, adding the remainder of the butter and cream.
Season both with salt and white pepper to taste. Set them aside.
Add the roasted vegetables to a large ceramic baking dish, sprinkle with the italian seasoning and drizzle stock over top.
Preheat the oven to 400F.
Spoon or pipe the puréed potatoes and sweet potato evenly over the top of the vegetables.
Bake for 20-25 minutes until the top is starting to brown and the edges are bubbling.
Serve hot and enjoy the bounty of the fall!
---
Like this recipe? Why not try one of these as well?
---
Want to night out with great cuisine and a chance to learn a little about wine?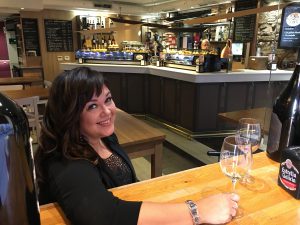 Why not join Stephanie at Wander Food & Wine for a wine tasting or class ?
OPENING FALL 2019!
CLICK HERE to see this season's schedule and for on-line registration.