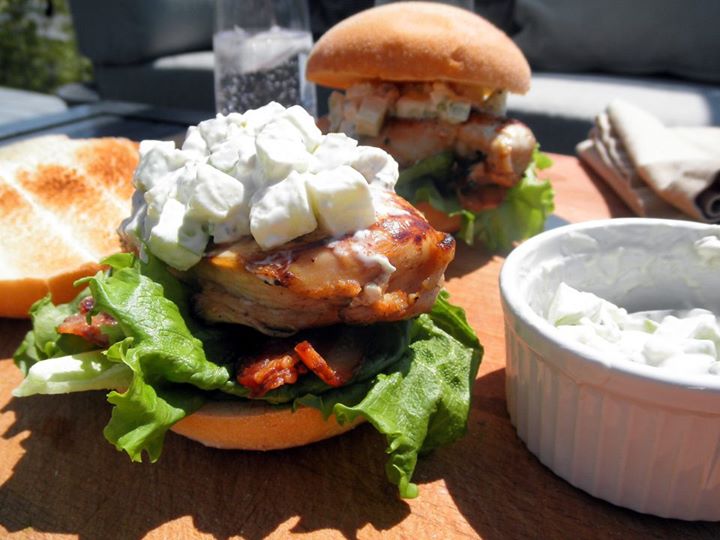 This was my entry into a national Chicken Burger contest a few years back. It made the semi-finals only, but I am still proud of it.

August 25th is #BurgerDay so get your grill on!
4 Servings
Salad Topping:
1 Granny Smith Apple, Finely Diced
1 Rib Celery, Finely Diced
1/4 Cup Walnuts, Chopped
2 Tbsp Mayonnaise
2 Tbsp Sour Cream
1 Tbsp Lemon Juice
1/4 Cup Blue Cheese, Crumbled
Salt And Pepper, To Taste
Chicken Marinade:
1 Cups Apple Cider
1/2 Cups Olive Oil
1/4 Cup Lemon Juice
1/2 Tsp Each Salt And Pepper
Buns, bacon (of course) and other condiments and toppings of your choice!
1. Arrange chicken breasts in a baking pan. Mix ingredients for marinade and pour over chicken breasts. Cover and refrigerate for a minimum of 2 hours - or overnight.
2. Prepare salad topping: Toss diced apple with lemon juice to prevent the apple from turning brown. Combine with the remaining ingredients and set aside in the refrigerate until it's time to assemble the sandwiches.
3. Preheat barbecue to medium heat.
4. Remove the chicken from the marinade and pat lightly with paper towel to remove excess moisture.
5. Oil the grill and place chicken directly over heat. Cook for approximately 7-8 minutes per side or when the juices run clear when pierced with a fork in the thickest part of the breast.
6. Remove the chicken from the heat and cover with foil. Allow to rest 5 minutes.
7. To assemble sandwiches, add one or two lettuce leaves to bottom half of roll, top with bacon slice, one grilled chicken breast and 1/4 of the salad topping.
8. Add the top half of the roll, repeat with the other 3 sandwiches and serve immediately.
---
Like this recipe? Why not try one of these as well?
---
Want to night out with great cuisine and a chance to learn a little about wine?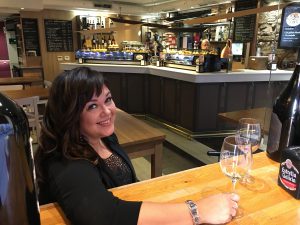 Why not join Stephanie at Wander Food & Wine for a wine tasting or class ?
OPENING FALL 2019!
CLICK HERE to see this season's schedule and for on-line registration.