Note: This is a perfect picnic salad since it doesn't have mayonnaise to worry about. It also makes a great side for other times of the year when you are missing summer. 🙂
Makes 6 Servings
INGREDIENTS
2 lb potatoes, scrubbed & cut into bite sized chunks
3 tbsp champagne vinegar (or good white wine vinegar)
1/2 tsp grainy Dijon mustard
2 tsp kosher salt
1 tsp black pepper,freshly ground
1 cup extra virgin olive oil
1/4 cup fresh chives, finely chopped
2 tbsp fresh dill, finely chopped
2 tbsp fresh parsley, finely chopped
2 tbsp fresh thyme leaves
DIRECTIONS:
Cook the potatoes into a large pot of slightly salted boiling salted water and cook for 20 to 30 minutes, until they are just cooked through. (Test one with a knife point.)
Drain in a colander and place a kitchen towel over the potatoes to allow them to steam for 10 more minutes.
Transfer them into a large bowl.
In a separate medium bowl, combine the vinegar, mustard, salt and pepper and slowly whisk in the olive oil to make an emulsion. Add the vinaigrette and all chopped herbs to the potatoes.
Serve at room temperature.
---
Like this recipe? Why not try one of these as well?
---
Want to night out with great cuisine and a chance to learn a little about wine?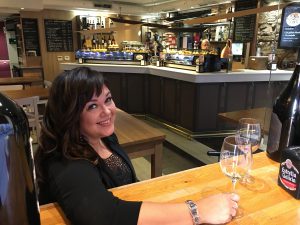 Why not join Stephanie at Wander Food & Wine for a wine tasting or class ?
OPENING FALL 2019!
CLICK HERE to see this season's schedule and for on-line registration.