Spring 2016
Blues Restaurant

The Promenade, Camps Bay,
Cape Town, South Africa
Website
Situated on the shores of Camps Bay, Blues supposedly has the best view of the sunset. By the time, I arrived, it was long gone. 🙁  Restaurant size is large enough to accommodate groups, but not so large that the space feels cavernous. There as a loud group seated near us when we arrived and we easily changed seats to a quieter area. Plenty of space around the tables for servers to maneuver and conversations to be somewhat confidential. (Great for business lunches!)
Service was prompt and friendly. Our server was helpful in steering us towards the freshest and best dishes of the night and was knowledgeable about the menu to answer specific questions about where ingredients came from or the methods of cooking.

Portions were fairly large..especially the salads! After I devoured my caesar salad, I was regretting ordering a full entree for myself.
The kitchen missed our order of fresh oysters, but sent out a couple on the house with our entree. It was very sweet of them, but we were getting full by that time and  so I gave the tw
I chose this restaurant for its seafood and I am glad I did. There is nothing like staring out at the ocean and savouring a perfectly cooked flaky piece of white fish.
FAV item?  Caesar Salad (I am going to add chopped egg  and whole anchovies to mine from now on!)
---
Guardian Peak
Annandale Rd, Stellenbosch,
7600, South Africa
Website
A popular Stellenbowsch winery that has become a go-to in the area for a wine lands lunch, it has a stunning view of the surrounding landscape.
plenty of outdoor and indoor seating to accommodate large tour groups without crowding out local diners or smaller tables

menu is bistro-style with most dishes featuring a protein accompanied by a side salad and starch choice
service was very slow considering we only ordered one entrée each, but we have heard that it is the norm in most South African establishments.
many options for certified Karoo meats (see note below).
pretty nice wine list (and not too large) featuring a good mix of local favourites and their own wines (of course)
FAV item? Karoo lamb chops were cooked perfectly and were surprisingly mild in flavour.
Haven't heard of Karoo?

"Tourists to South Africa also hope to experience our traditional foods and those foods, for which South Africa is known, such as: springbok, kudu, ostrich, snoek, waterblommetjiebredie, bobotie, and Karoo Lamb. In reaction to tourists' needs restaurants respond by presenting these true South African foods as part of their menu offering. "  Click here to read more...

---
Aubergine

Gardens 8001
Cape Town, South Africa
Website
When I mentioned to locals that we were dining at Aubergine that evening, I only received envious smiles.
Located in downtown Cape Town, tucked into a small building in a cozy, narrow street, it is a posh destination for a romantic dinner or somewhere to woo a  business colleague.
I don't normally add so many pictures to a review, but all dishes were so lovely that I wanted to include my favourites.
service was polite and prompt to take our order

sommelier was eager and helpful (since the wine list was quite extensive)
ambiance is elegant and fairly quiet - perfect for quiet conversation or a date-night
glimpse of the patio area out the back doors had me wishing I was visiting Cape Town in warmer weather
menu is concise but contains all of the must-have's - a handful each of starters, entrees and desserts only.
amuse course (a gift from the chef) was light and flavourful, but a little larger than I would expect from a typical amuse
starters were also generous in portion-size, but worth every bite.
entrees were complex enough to be interesting, but it was still easy enough to identify the components on the plate. My rabbit entree was better than I envisioned and NOW I was happy to be visiting in the fall...to taste rabbit at its peak season
I was impressed with the little note that arrived with the petit fours after dinner that stated that a voluntary R5 ($0.50 CDN) donation would be added to each bill for StreetSmart South Africa for children in need.
Convinced hubby to split a dessert course with me - and then regretted offering to share! I am glad that he left the macaroon for me. 🙂
FAV item? Hard to choose, but I KNOW I would be ordering that dessert again.
---
Delaire Graff
P.O. Box 3058, Stellenbosch,
7602, South Africa
Website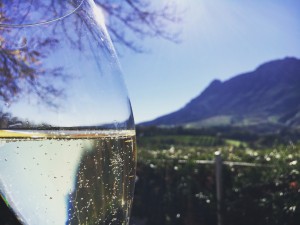 The sun came out for our visit to Delaire Graff and we were seated at a table at the far edge of the patio to get the best unobstructed view of the area.
It is a BUSY place! The terrace/patio is the place to be on a sunny day! Due to the fact that our tour guide & host planned ahead, we managed to get the last table for two that day.
The view is outstanding! We took so many selfies, videos and postcard-like pictures that afternoon.

Service was efficient, a little more prompt than expected, but very professional!
Every dish served was divine! Artfully plated and very luxurious, I am sure that the locals reward themselves with a meal here often.
The entire property, from the building itself, to the artwork, decor, and surrounding landscape is pristine, sleek and inviting. There are lodges, a spa, jewellery boutique...OH and a winery, as well. 😉
FAV item?  I could probably have the truffle fries with aioli and soft egg every day for the rest of my life...with an accompanying glass of champagne, of course.
---
The Roundhouse

Round House Rd, Camps Bay,
Cape Town, 8005, South Africa
Website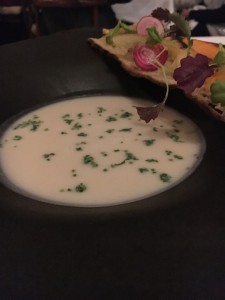 The Roundhouse is a historic place in Cape Town and Camps Bay. Browse their website for a hint at how proud they are of their heritage and how much they want to educate and inspire their guests. Local stories are printed and set at each place setting, a photo album is available at the front entrance for waiting guests to peruse at their leisure, framed photos adorn the walls and the decor itself nods to days past.
Formally-dressed staff (and so many of them!) make this a destination for special occasions - or even just a romantic evening.
Dishes are announced and described upon serving as are the wine pairings. Wine steward/sommelier was very knowledgable and descriptive, but his accent was even too strong for me to easily decipher.
BUT the wine pairings that accompanied our Winter Tasting Menu were probably the best (and most surprising) pairings I have been served to date. As an example, I admit that I hesitated trying a merlot with my lamb fritters, but the deep fruit and coffee notes were a perfect match.
The plating was well presented and everything was seasoned perfectly.
My only negative comment would be that there seemed to be a "slaw" of some sort on most dishes which wasn't as exciting near the end of the meal.
FAV item? Winter beetroot salad.     (For those who know me, this is a surprise since I usually complain about every restaurant's need for including a beet and goat cheese salad on the menu.)
---
Beluga of Cape Town

The Foundry, Prestwich Street,
Green Point, Cape Town, South Africa
Website
It was our last night in Cape Town and after two full weeks of dining out, buffets, multi-course meals, all I wanted was sushi. And maybe some dim sum.
I found Beluga online and there were countless photos of "club girls" with cocktails, bottle service and a few of the restaurant and their dishes.
It is a busy and happening place. Courtyard with patio heaters greets guests and by 7pm, both the interior and exterior are starting to get full.
It is not as sleek and modern as the online photos (and posted ones within the restaurant) suggest. Dark woods and floors with exposed brick, it is closer to an upscale chain restaurant that we would find here in Ontario. I could envision bringing a large tour group to dine here, or a high school sports team after a game. There is nothing wrong with that style of restaurant, but it certainly doesn't look the photos.
Service is quick. If you are used to traditional Asian restaurants where the food is served when it is fresh and ready, Beluga will not disappoint. Order a number of items and you won't know what is arriving first.
Our server was helpful in deciphering the LARGE menu. There is one section for the classic "starters, mains, desserts". There is another for sushi and another for dim sum, etc. I wasn't sure of how many to order and I was luckily steered in the right direction.
Steamed buns were light and flavourful, but with such a large menu, I was hoping for more choices in dipping sauces. I was brought a small bowl of ponzu and I had to ask for soy sauce. They are traditional, I know, but something with some heat or smokiness would have upped the experience.
Plating is well done for the starters and entrées, from what I could tell from those served to us - and nearby. Portions are even larger than I anticipated, so I felt sad that I couldn't finish my Prawn Tian.
FAV item? Steamed buns with duck, honey and ginger.
---
Looking for a speaker for your next event or conference?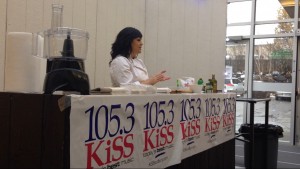 Cooking demonstrations, wine pairing events and lectures, travel talks and MORE...
She speaks with passion, insight and FLAVOUR!
To book an event or learn more, email us by clicking here