Spring/Summer 2016
50 Main Street East, Huntsville, Ontario
Phone: 705.788.5150
Fax: 705.788.5160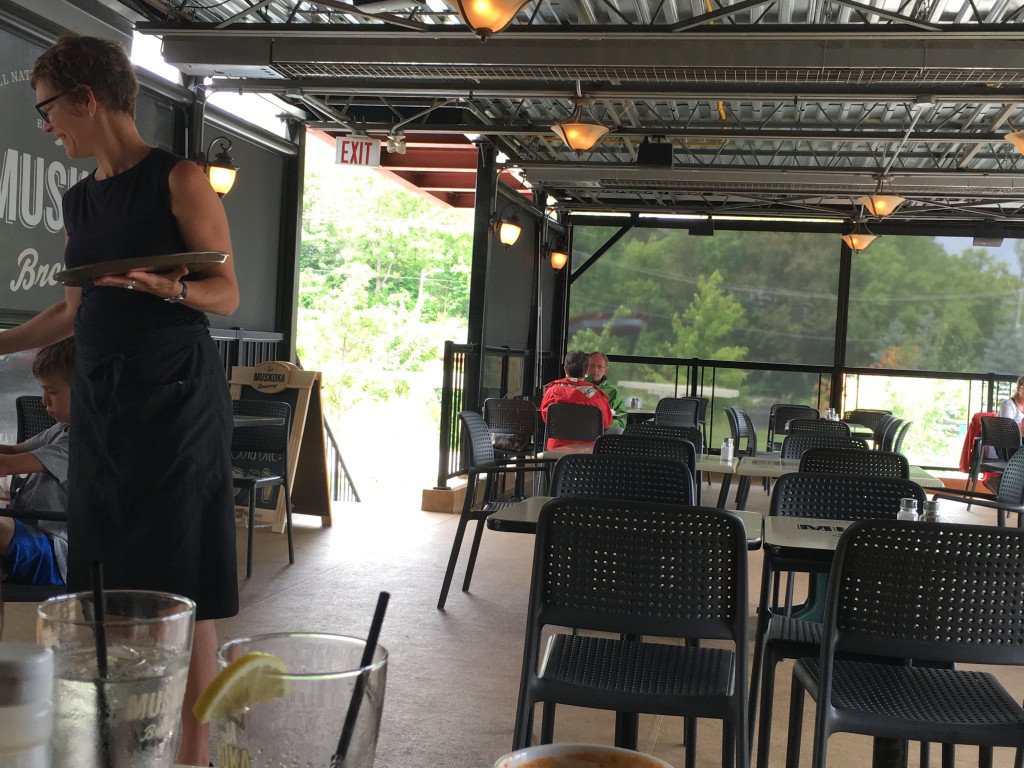 I have visited this eatery in the past, but it has had a few upgrades since that time so I wanted to add a few notes here to the site for those looking to grab a bite when they are touring around the Huntsville area.
Located on the busy and pretty Main Street in Huntsville, it is in the center of all of the tourist-y shopping, craft shops and other necessary stores that visitors and locals flock to during the summer.
During my last visit several years ago, we had the pleasure of sitting on their new raised patio at the back of the building. Covered with logo'd umbrellas, it was nice to be able to sit outside for lunch on a sunny afternoon.
Since then, The Mill has added a more permanent roof system, complete with ceiling-mounted heaters for the cooler days and nights, outdoor blinds and booths along the wall against the building. It is a three-season patio that I am sure will get good use daily.
The menu has expanded a little since my last visit as well. Aside from the usual wings, fries, sandwiches and burgers, they have upgraded their offerings to include more international dishes such as pakoras, fish tacos and pad thai.
Our table enjoyed tasting the poutine, baked salmon dip, smoked duck salad, soup of the day and turkey burger.
The fries are super-crispy and were the one item that all of us agreed were almost worth ordering a second side order. The soup of the day was supposed to be a vegetable soup, but was replaced at the last minute with a spicy tomato. The level of heat on the soup, as well as in the turkey burger was a little more spicy than most people can take. It would have been helpful for our server to point out the extreme heat level to warn us so we could have requested a side of sour cream or something else to cool our palate. Our soup was left half-eaten, unfortunately.
FAV item? Those fries!
---
Looking for a speaker for your next event or conference?
Cooking demonstrations, wine pairing events and lectures, travel talks and MORE...
She speaks with passion, insight and FLAVOUR!
To book an event or learn more, email us by clicking here