August 2017
Joe's Food Emporium

434 Main St, Wolfville, NS B4P 1E2
Website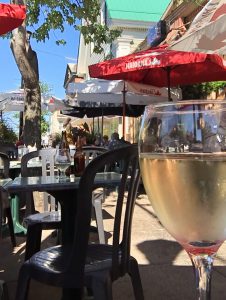 Looking for a quick, casual, completely un-fussy place for a bite? This is it.
Looking for unique offerings, local ingredients, and a tight, cohesive menu? This is NOT it.
The patio is always lively here, the drinks are cold and service is pleasant.
The menu is MASSIVE and will have just about every type of classic "bar food" that you can think of...AND a handful of stir fries and Lebanese specialities thrown in.
Prices for some things are a bit steep. For example, on the appetizer menu they have a basket of onion rings listed (NOT as a side dish) for over $10 and they were the usual from-frozen "McCain-style" rings and come in a plastic basket with only a couple of handfuls of rings. My expectations may have been a little high.
Service was a little slow that day, but I am guessing that the beautiful weather on a Wednesday brought out just about everyone to look for a patio along Main Street so they weren't prepared for the mid-afternoon rush.
FAV item?  The Garlic Mushrooms They were definitely piping hot, fresh and tasty...just wish it would have come with some bread for dipping, at the very least...they weren't cheap!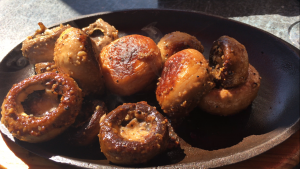 ---
Blomidon Inn
195 Main St, Wolfville, NS B4P 1C3
Website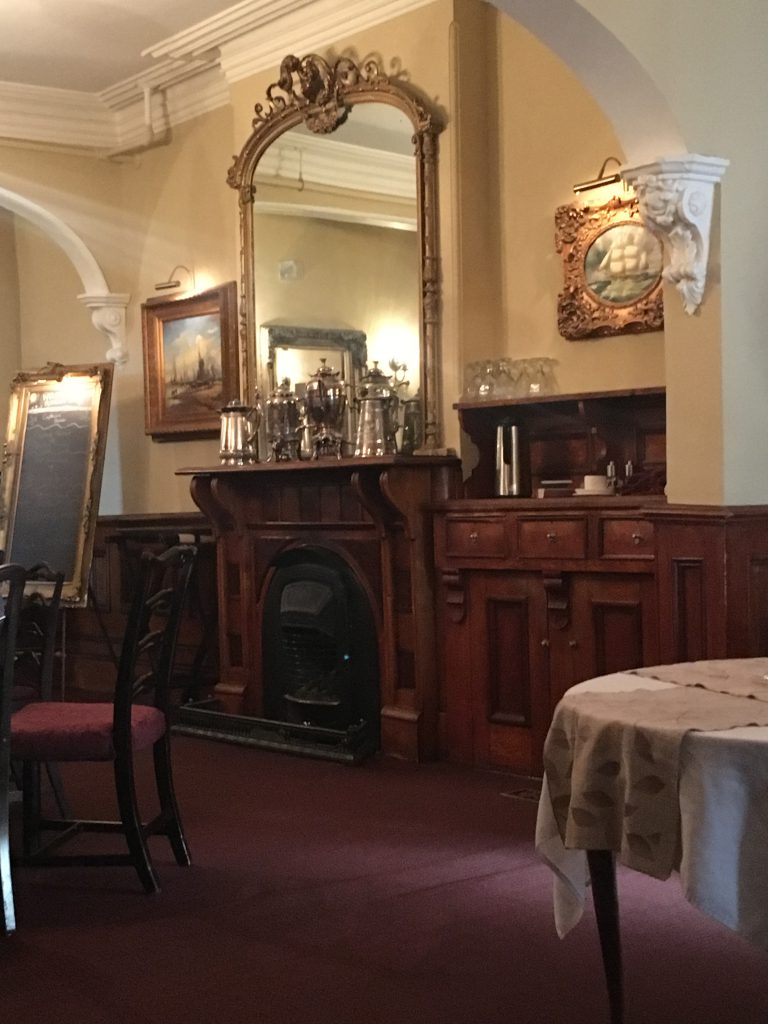 This historic inn has kept its original charm and detail with little additions of modern sensibility.
The dining room is quiet and soft so everyone is usually speaking in hushed tones.
 They have a 4-course Captain's Dinner usually on offer that sounded appealing...if I was hungry enough for 4 large courses.
Service was prompt, professional and discreetly in the background until needed.
The food was fresh, well-seasoned and delicious - including the risotto! (Note: I rarely order risotto at restaurants because the timing needs to be perfect for a kitchen to serve one that is creamy, light and al dente.)
Portion sizes were just right for the menu prices.
I didn't have the room for one, but all of the desserts that I saw go by our table looked spectacular and comforting. (Blueberry crumble!)
FAV item? The pumpkin gnocchi was in my dreams for the next few days! A perfect portion size, well-spiced, crispy sausage and sage...divine!
---
Crush Pad Bistro (at Luckett Vineyards)

1293 Grand Pre Road
Wallbrook, Nova Scotia
B4P 2R3
Website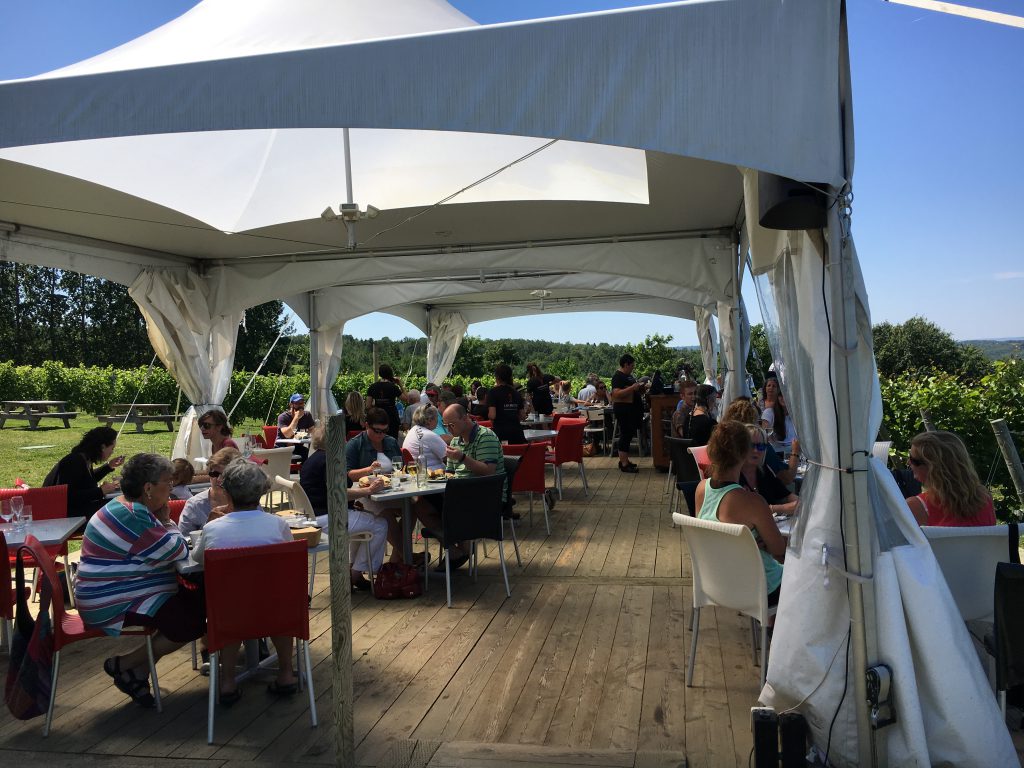 Luckett Vineyards is SO well-known for good wine and a great patio that reservations are almost needed on weekends, and may even be necessary during the week in peak seasons. From the time we arrived at around 12:30pm until we left around 2:30pm, the lineup at the host station did not stop.
The Bistro is only open from 11am to 4pm.
The owner and local celebrity, Pete Luckett, is usually around to say hello, seat you at your table and obviously loves his business so much that he doesn't stop working for even a minute!
The lunch menu offers just enough options to satisfy every diner and all items that can be quickly prepared and served at a moments notice.
With the large crowds, guests should not expect a quick lunch service. It was a little slow, but if you see how many people are seated and how many staff are running around, you will resign yourself to sit back, order another glass of wine and look out over the vineyards. Not so bad. 😉
FAV item? Bravo almonds and spicy almonds can be added to any charcuterie board or just order to snack on while you sample their full list of wines. (They also sell both in the shopping area of the tasting room.) My only wish is that I could get a handful of the potato chips (used as a garnish with my sandwich) to go with those other snacks!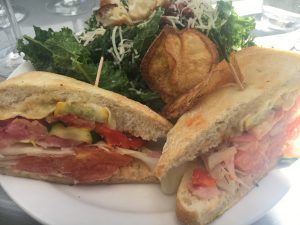 ---
Le Caveau
11611 Highway 1, P.O. Box 105 | Grand Pré, N.S. B0P 1M0
Website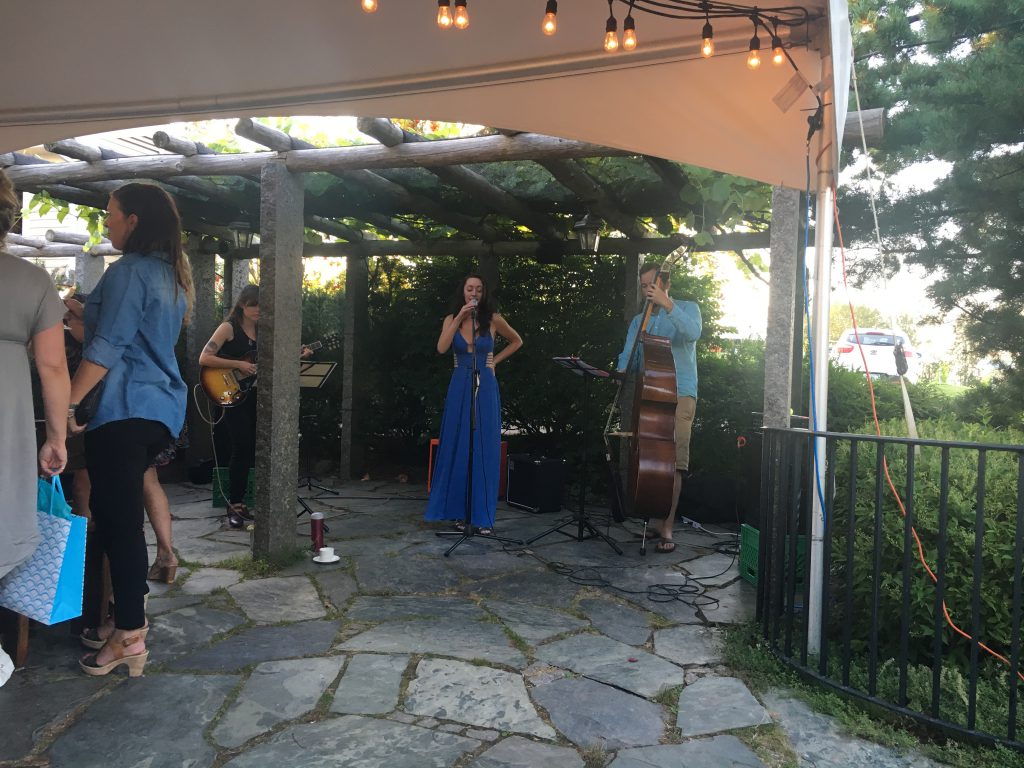 Everywhere I travelled in Wolfville and the surrounding towns, every one told me to go to Le Caveau...that means something!
We did peek at the main dining room in the lower level and although it looked comfortable, it did seem a bit quiet and subdued with all of the commotion we heard outside.
Lucky for me, I had made a reservation in advance - and for a Thursday - which means I was able to enjoy live jazz on the patio.
The patio area is multi-tiered, spread out and partially covered with pergolas and canopies so you feel comfortable to sit outside in almost any weather.
They were smart to set up an outdoor bar for servers to grab quick drink orders without having to go into the lower dining room.
The menu was just large enough to be able to offer several choices for guests throughout the day or evening and to allow repeat visitors enough options to keep things interesting.
Service was prompt and just casual and friendly enough to help you ease you into a fun night on the patio.
My only dismay was my pasta dish. The seafood and vegetables were perfectly cooked but when I asked that the dish be "easy on the cream sauce", I am not sure what happened...maybe sautéed too long? It was a little dry when it arrived to the table. Perhaps I should have relayed my request a little differently? I will practice at other restaurants.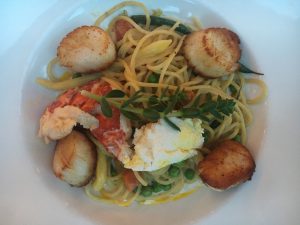 FAV item?  The artisanal bread was a bread-lovers dream! For only $5.00, you have a choice of a number of varieties that are baked TO ORDER and more than enough for 2-4 people. Try the sundried tomato one! (Sorry - no pic...didn't last long!)
---
Little Oak

1475 Lower Water St.
Halifax, NS
Website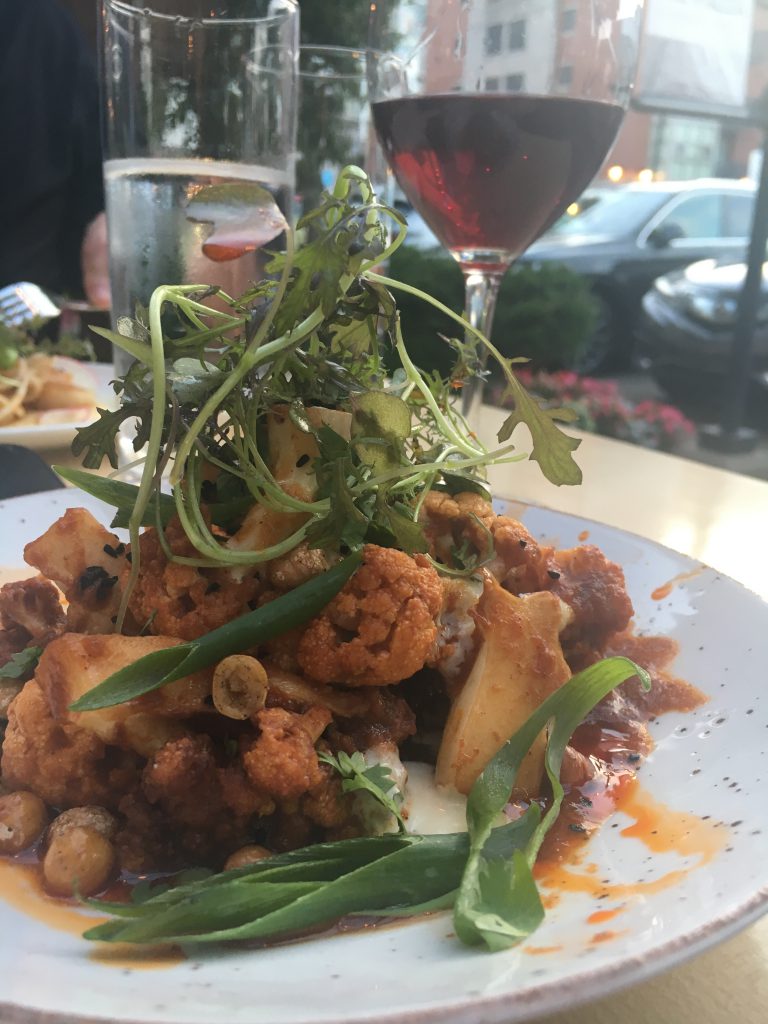 Located on the harbour front in Bishops Landing, Little Oak is all about small tables - both inside and out, an ever-changing small plates menu.
A pretty amazing wine list - including quite a few unique elections by the glass.
Service was quick, chatty and makes you feel at home. Watching the servers swirl around the entire space is dizzying. They work well as a team.
With the standard snacks on the menu and the daily specials, you could easily make this an every day go-to spot after work (or late evening) and you would never be bored.
If you like Spanish or spicy flavours, you are going to have a difficult time choosing what to eat!
FAV item? The Squid Ink Tagliatelle was so flavourful, that I am second-guessing sharing it with my husband now. Good thing I eat faster than he does. 😉
---
Brooklyn Warehouse

2795 Windsor St.
Halifax, NS
Website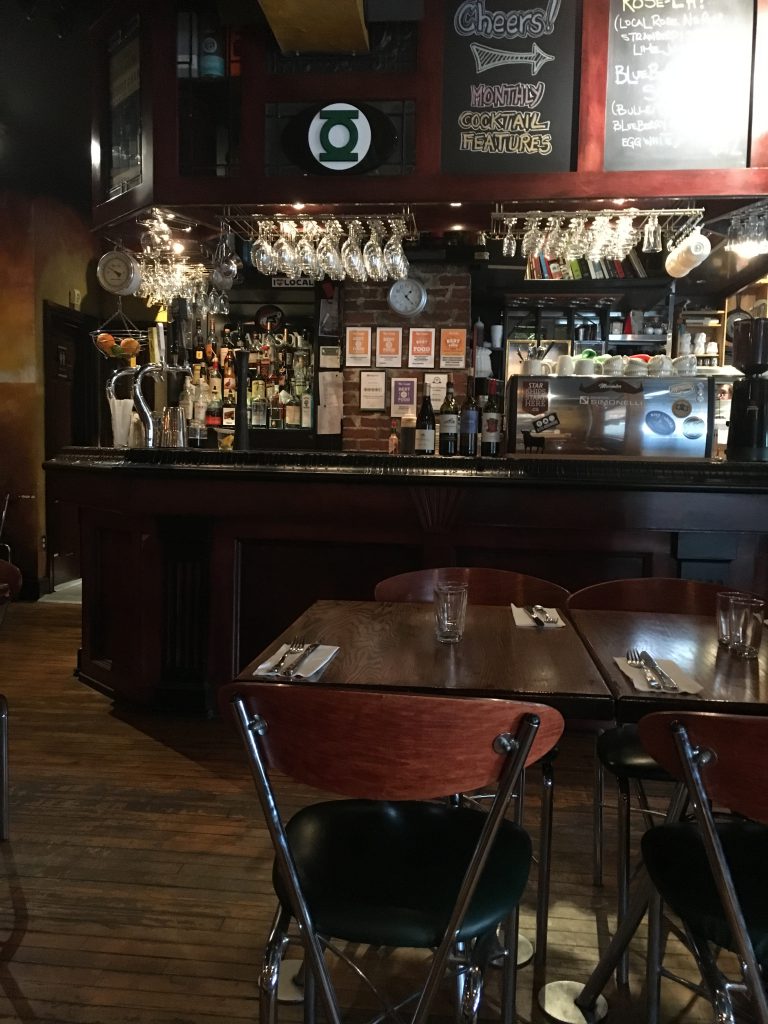 Brooklyn Warehouse was mentioned and suggested by some of Halifax's local food and dining experts as "one to watch".
A comforting menu that changes frequently, the dishes are creative but simple enough to recognize.
Service was quick and very welcoming.
Their lunch menu is not too large, but just big enough for me to second-guess my order a few times.
Seeing the evening's dinner menu on the posted chalkboards had us envious that we couldn't stay for dinner that night, as well. 🙁
The decor is warm woods, reclaimed church pews, brick and many smaller dining sections so every nook and cranny feels cozy.
FAV item? The BK Fillet was such a unique style of a classic fish sandwich, that I found myself picking it a part a bit to see what I was eating. Instead of coating the fish with heavy, greasy batter, the local white fish is left to shine in all its flakiness and then is topped with battered bits and pickle with a crunchy, creamy slaw. Still tastes like you are indulging, but without the guilt! (I am going to steal the method, but will happily give credit where it's due!)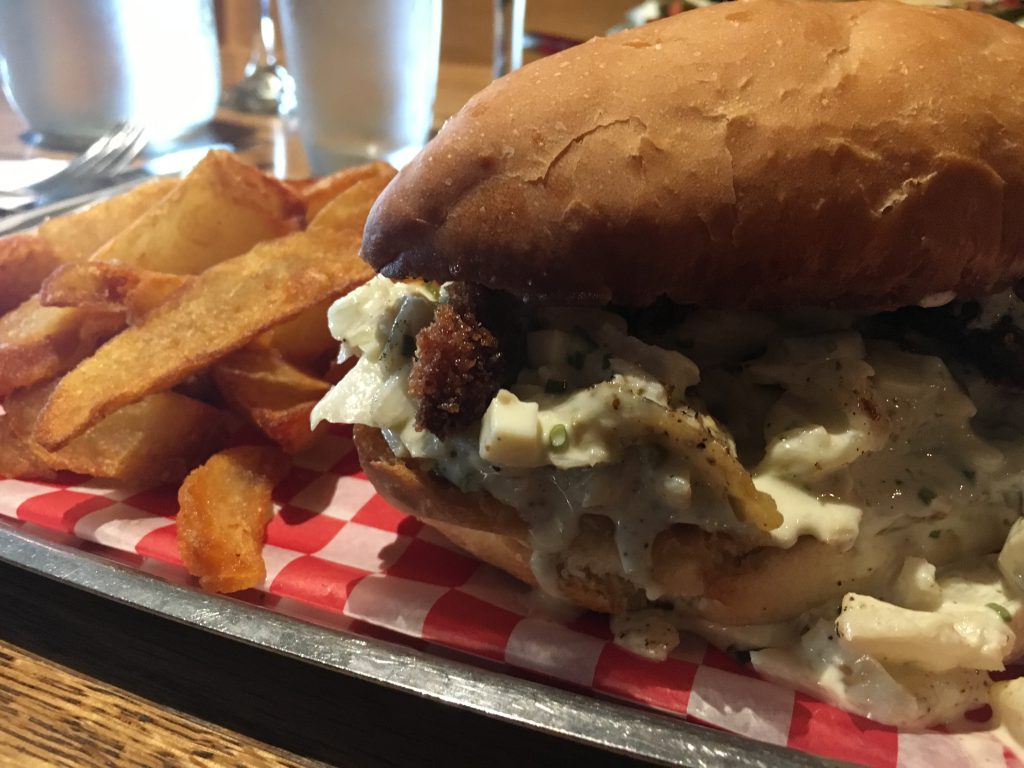 ---
The Bicycle Thief
1475 Lower Water St.
Halifax, NS
Website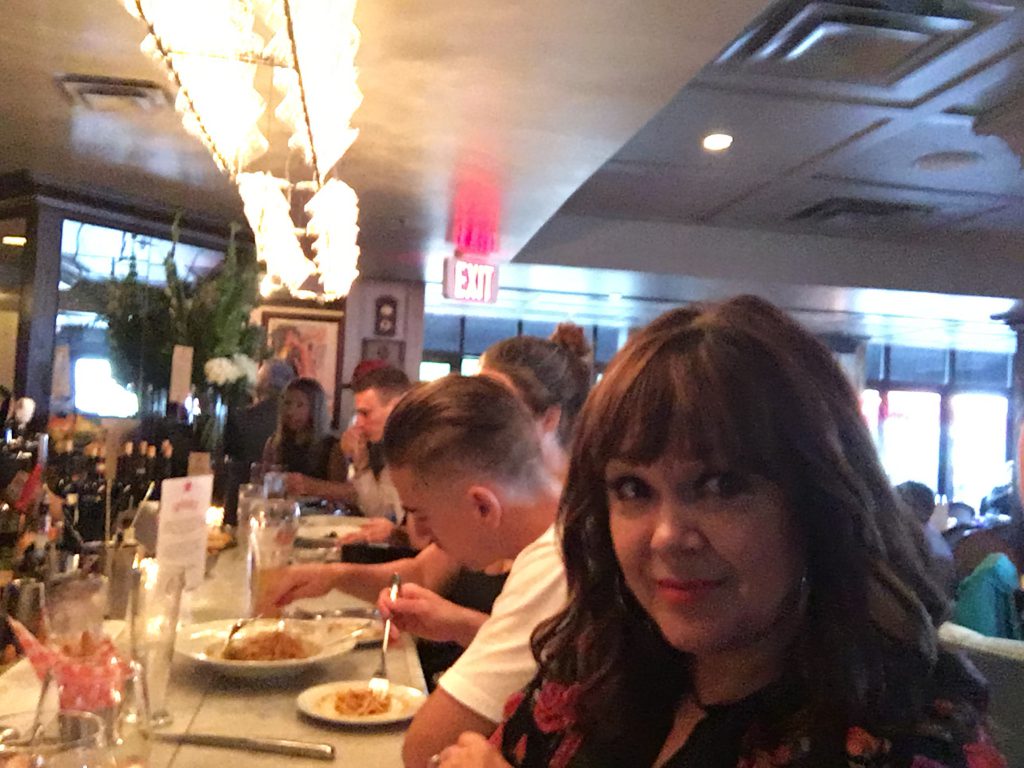 The restaurant is located in the Bishops Landing area along the harbour front. It has plenty of seats at the indoor bar, a decent-sized dining room and a number of tables with umbrellas around the restaurant's exterior.
Even with all of the seating available, it is ALWAYS full, so reservations are strongly encouraged. We arrived at 5pm (2 hours before our reservation time) to have a drink at the bar and we managed to get the last two seats. The dining room was about 75% full and because of the light rain, there were only two tables of diners outside covered by a few blankets and umbrellas. We were told that the early diners all arrive early to eat there without having to make a reservation. Within an hour or so, the dining room was almost empty as tables were re-set for the night's usual rush and the dining room filled again in a blink of an eye.
With the noise level (pretty loud) and quick-moving, light-on-their-feet waitstaff zipping around, I would have been happy to just stay at the bar for the whole evening. The bar staff were fun, chatty and were happy to talk about food and wine with whoever asked.
We split a few dishes that night to get an overall sense of the menu (and because there were many dishes listed we wanted to try). All 4 courses were well-done!
Our server was prompt, professional without being too stuffy and formal.
My only critique would be that I felt a little rushed. I had barely placed the dinner order and hadn't even ordered the wine and the first dish was already arriving at the table. We barely put our forks down and the table was cleared completely and immediately and the next dish was in front of us before we could chat about what we liked about the first course. In their defence, however, my husband didn't feel the rush - it was mostly me - I like to take my time and enjoy my meal along the way. I can also imagine, however, that with their usual lineups at the door, they have no choice but to turn tables at record speed to not disappoint anyone waiting.
FAV item? Beef Short Ribs 'al Barolo'  was one of the bet short rib dishes I have had in a while! The menu suggests it "falls off the bone" and that was not an exaggeration.
---
Looking for a speaker for your next event or conference?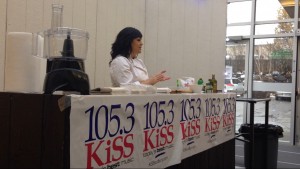 Cooking demonstrations, wine pairing events and lectures, travel talks and MORE...
She speaks with passion, insight and FLAVOUR!
To book an event or learn more, email us by clicking here