Spring 2016
For this short visit to Madrid, it was all about snacking at the market (Mercado de San Miguel) and quick bites at any tapas restaurant we passed along our way from one plaza to another.
I only reviewed Casa Lucio below since we had a dinner reservation. The other restaurant, La Bola Taverna, lost our reservation for the other night...and although they tried to fit us in, it seemed like it was going to be too much of a bother, so we left and grabbed a bite at the hotel.
If you want other recommendations for Madrid from my previous visits, please email me directly by clicking here.
Casa Lucio

Calle Cava Baja, 35,
28005 Madrid, Spain
location is good for those who want to continue the night. Maybe local bars around
owner walks around to greet guests and take photos
menu was extensive - so much to choose from
waiter was helpful to narrow down choices and keep us from ordering too much or something that wasn't popular or their best
wine selection was decent and reasonably priced
tables were too close together. Ok for staff who are used to squeezing through but guests knocked chairs and corners constantly
bright lights felt more like a cafeteria than a fine dining destination.
food was simple and delicious but a bit underseasoned for my tastes. My suckling pig skin was crisp but the meat was a little dry and a pinch of salt and pan juice would have made it superb
FAV item?  Garlic prawns - divine!
---
Looking for a speaker for your next event or conference?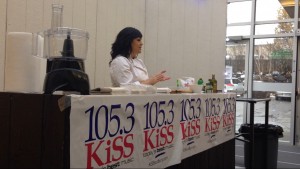 Cooking demonstrations, wine pairing events and lectures, travel talks and MORE...
She speaks with passion, insight and FLAVOUR!
To book an event or learn more, email us by clicking here