November 2017
Martin's BBQ

410 4th Ave S,
Nashville, TN
Website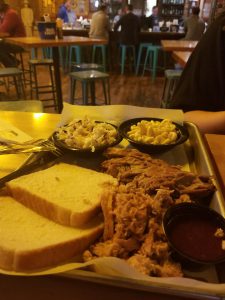 Located a few blocks from Broadway, I was lucky to have it almost across the street from my hotel. We made a beeline there right after checkin.
Portions were fairly large...we ordered the Kid Brother Sampler (usually for 1 person) just to fill our bellies since we ate a late lunch and the two of us barely finished it. Quite a bit of meat, bread, 2 sides...with a couple of beer, it was just enough.
The place is MASSIVE! Seating on the main level and upstairs...and the upstairs is also multi-level with several dart boards, pool table, shuffleboard and another full bar.
We arrived at around 6:30pm or so to meet our friends and they had just finished eating. They told us to just order our meal at the bar (like they did) but we were told to go all the way downstairs to order and pay, bring back a placecard to leave on our table and then order and pay for our beer separately at the upstairs bar. Sheesh! A lot of manoeuvring for just 2 beer and 1 plate of food. Even if someone could have called someone up to take our order? Not even a server nearby upstairs.
Nothing was HOT when it arrived. Sauce is served on the side (which is OK by me), mac'n'cheese was edible but would have been better if it was heated. Meats were almost room temperature as well. Luckily they both tasted great!
FAV item?  The brisket! I could have devoured just a big pile of it that night - no sauce necessary! Just a beer. 😉
---
M Restaurant
209 10th Ave S #223
Nashville, TN
Website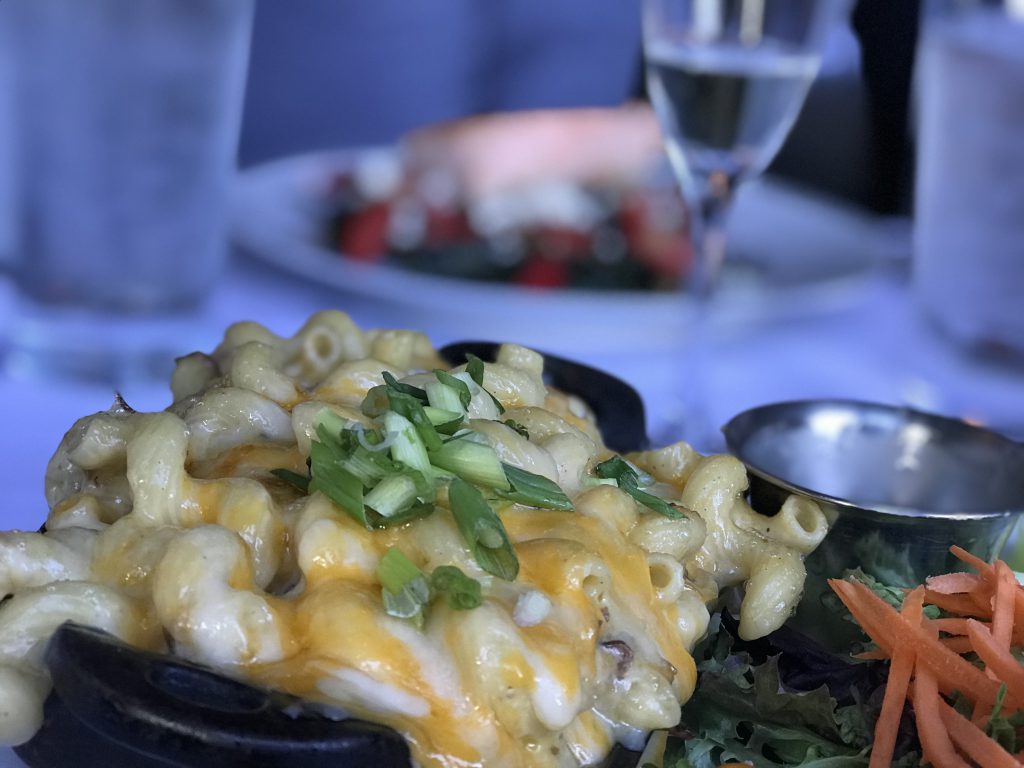 I found this place online and with the delicious-sounding menu, I was surprised at how quiet their lunch service was on a Wednesday at 1pm. (Only 1 other table of diners.)
Lunch menu has a little bit for everyone. We were a group of 6 so I was pleased that everyone got something that fit their craving.
Service was terrific! One of our guests ordered a beer at their suggestion and when she didn't like it, it was quickly replaced - no question asked!
A good menu mix of standard hits (flatbread, entree salads, soup) and tweaked southern favourites...Nashville Hot Chicken & Waffles (that is what I would have ordered if I dined there again...looked so good!), mac'n'cheese with brisket and caramelized onion and a fritter-based bread pudding on the dessert menu (wish I ordered that too!).
Portion sizes were reasonable...not too large or too small and pricing was right on for what we ordered.
FAV item? The mac'n'cheese! Although it was a little bit much for me that day, I am going to find a way to add in things like brisket for my next batch at home.
---
Etch Restaurant

303 Demonbreun St,
Nashville, TN
Website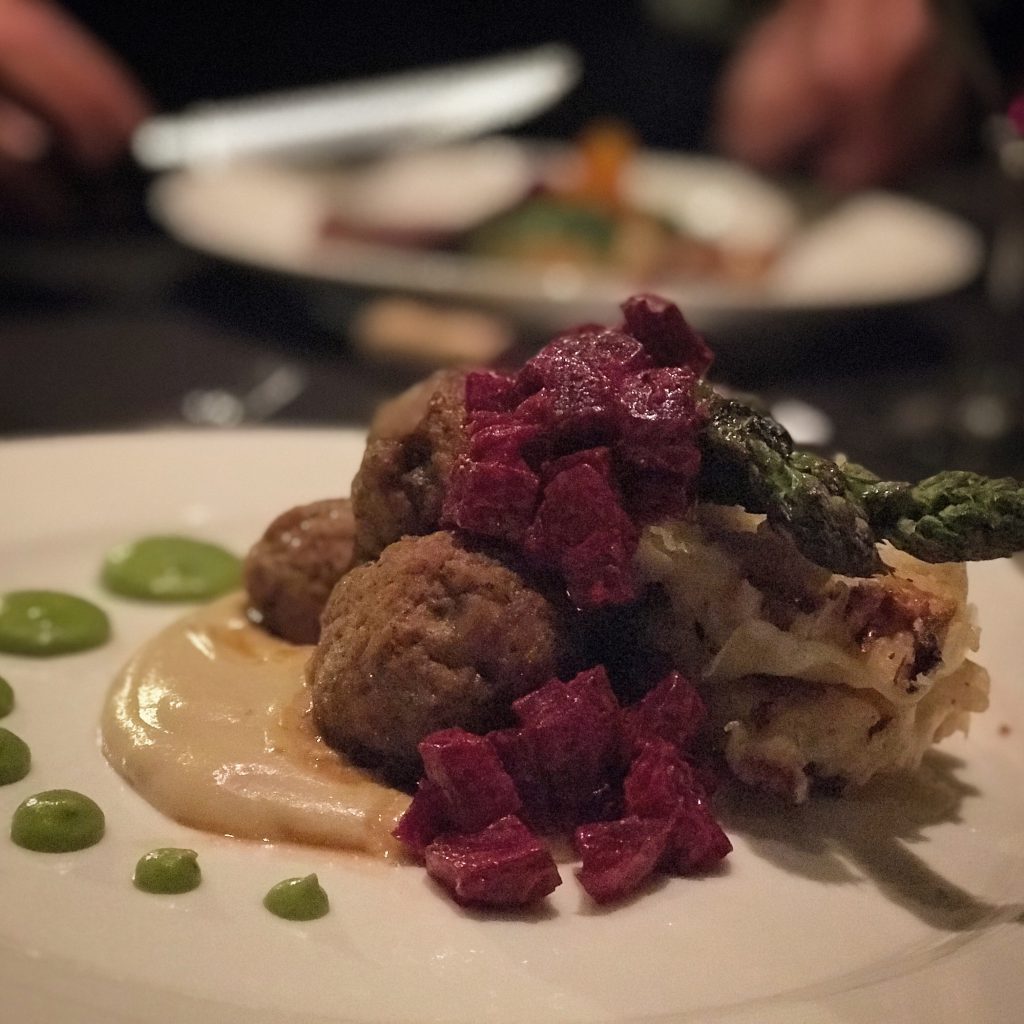 I chose to dine at Etch after it was recommended to me by @NashvilleTenn on Twitter. They figured I would like fine dining and creativity...and they were right!
located a couple of blocks from the busy Broadway area, it is a bit of gourmet flare when you don't want another night of southern food or BBQ
service was polite, helpful and prompt to take our order
the place was BUSY for a Wednesday evening. We tried to invite friends to join us and the only table for more than 6 people was their private dining room - which requires a contract and minimum order. There were a few tables empty while we were there, but they were mostly tables for two.
the open kitchen and bar-side dining looked fun. I would be happy to dine alone sitting there one night.
menu wasn't too extensive but most dishes are quite intricate so it makes sense to focus on quality
I enjoyed every bite, but admit I was disappointed after I was sold on the cauliflower side for the meatball entree and it wasn't what arrived. I was told it was going to be a "tempura-coated cauliflower cone filled with gooey, runny cheese" and what arrived was a tempura-coated, barely warm slices of cauliflower with a little cold cheese in between to hold them together. Too bad. 🙁
FAV item? Although I liked my entrée, I was pleasantly surprised at the quality of that "cheese & honey" plate. The cheeses were a good mix but the condiments were outstanding! I would be ordering that for dessert instead of an appetizer.
---
Rodizio Grill
166 2nd Ave N,
Nashville, TN
Website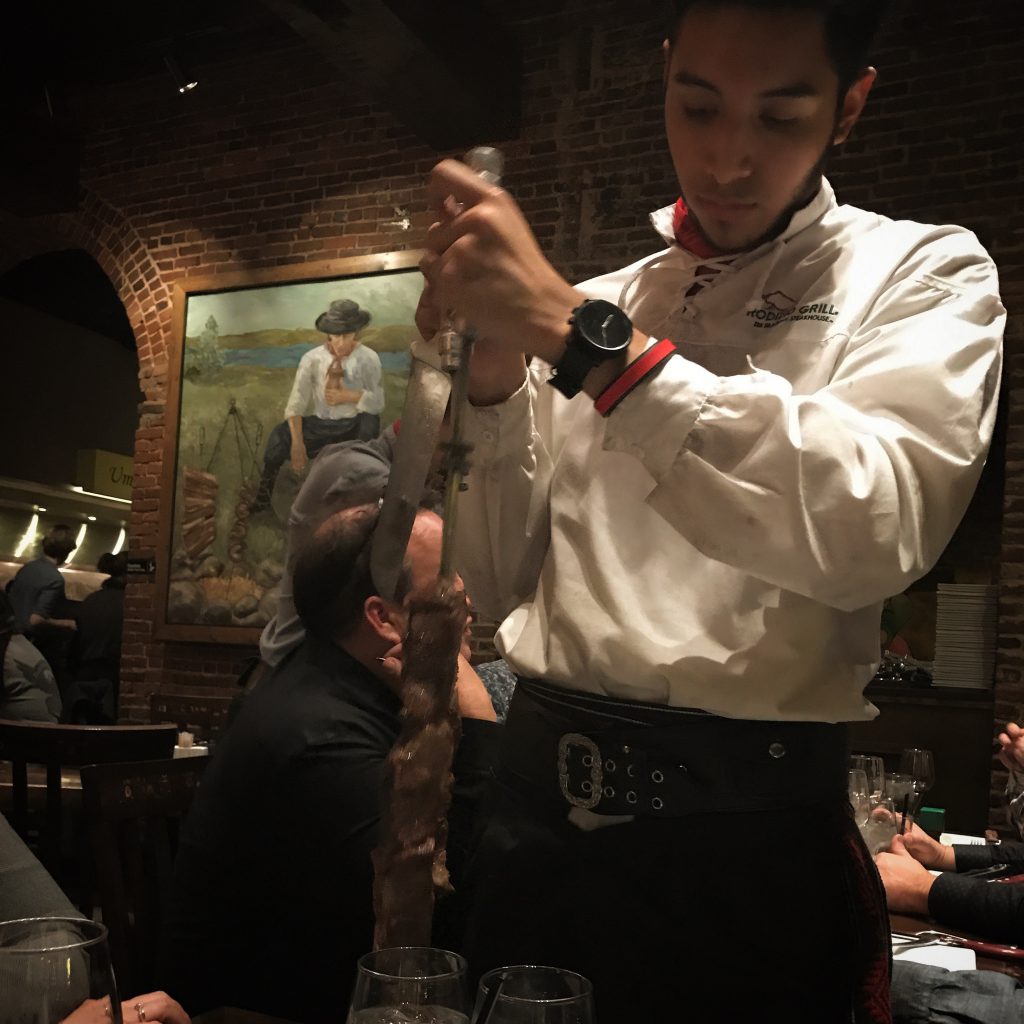 If you haven't been to a churrasqueira (Brazilian steakhouse) before, be prepared to wear stretchy pants and a few hours to dine...so you can truly enjoy yourself.
The place is HUGE! It seems like their are 3 dining room sections so it wasn't difficult to get our group of 10 seated at almost 6pm.
The pricing is more than reasonable for the amount of food you are given. $36.99 for the all-you-can-eat feast of 10 different meats and full salad bar (if you can call it that) or $19.99 for the salad bar alone.
The "salad bar" is a variety of different pre-mixed salads, a soup, ceviche, fruit salad and many side dish options like mashed potato, white rice, pastas and sauces. My plate was full and I could have had more!
Every piece of meat that arrived at our table was perfectly seasoned and the gauchos (servers) were obviously well-trained to cut and serve each type to get it cooked just the way you request it.
FAV item?  The salt-and-pepper beef! Even when I couldn't physically take another bite, I allowed them to serve me one last portion so I could have that flavour as my last bite.
---
Trattoria Il Mulino

144 5th Ave S,
Nashville, TN
Website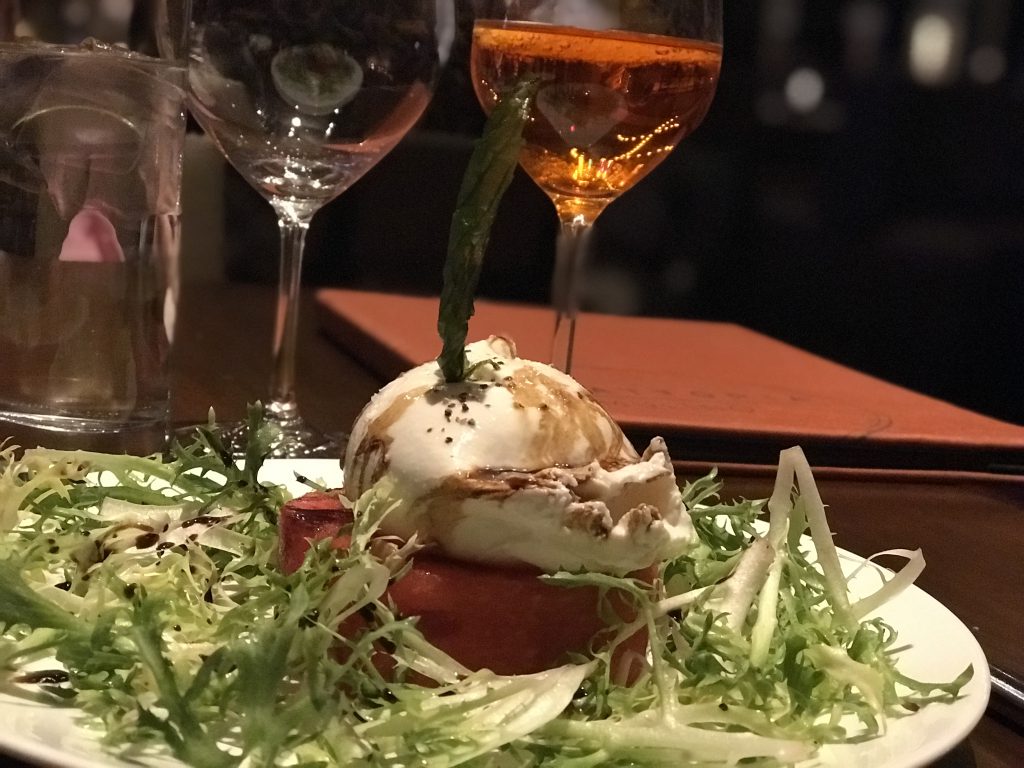 I had dined at their original New York location a number of years ago, so I was pleasantly surprised to see they had opened a location in Nashville. My friends and I were hunting for a place near the downtown where we could enjoy and glass of two of really good wine and catch up...and we obviously found our hot spot. I was there 3 times over my week's stay in Nashville.
Located in the Hilton hotel downtown, it is only a block away from Broadway.
Their lunch prix fixe menu was a great deal. $19 for 2 courses $24 for 3 courses.
Their wines-by-the-glass selection was fantastic! A good selection of whites, rosés, reds, sparkling and even choose-your-own flights if you can't decide. AND on the bottle menu, another list of by-the-glass options for that special occasion...all are world-reknowned! Insignia or Opus One by the glass at $90 each? I wish I could justify it for this trip!
The menu has a good mix of Italian classics and heartier fish and meat entrees to please any diner.
The desserts all looked fantastic and I was lucky enough to try two of them - the limoncello tiramisu and the budino was worth the ultra-full feeling for the rest of my afternoon.
FAV item? Not sure if it counts as an "item" but I am big fan of their tomato sauce. It is used on the pizza, another version becomes the bolognese or the classic tomato sauce for the rigatoni I spotted on my husband's plate. It was classic, obviously made-from-scratch and comforting.
---
Looking for a speaker for your next event or conference?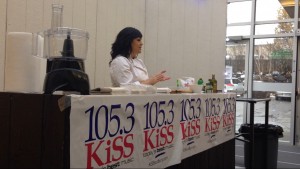 Cooking demonstrations, wine pairing events and lectures, travel talks and MORE...
She speaks with passion, insight and FLAVOUR!
To book an event or learn more, email us by clicking here