Winter 2016
NOTE:

The week of my visit was in the middle of "DineLA" week with local restaurants offering special menus and sometimes reducing selections in their regular offerings.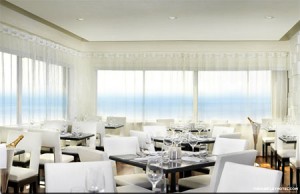 After the cold and snow that we had lived with the month or two prior, we craved sunshine and a view that showed anything but winter.
The Penthouse has the best of view of LA, the ocean and the bustling downtown shopping core beneath it.
Taking up the entire Penthouse floor of the renowned Huntley Hotel, The Penthouse is modern and sleek dining at its best.Our lunch order came out FAST – almost TOO fast. I am not sure if they were in a hurry to get through the lunch service, expecting a busy DineLA week, but we were brought our second course with barely a sip taken of our wine.
We even had a wrong dessert sent to us and when we asked the server, she quickly responded that the kitchen has been changing the menu often this week so that "must be it" and then sped away. (We saw others being served the correct dessert moments later, so I am guessing she just didn't want to take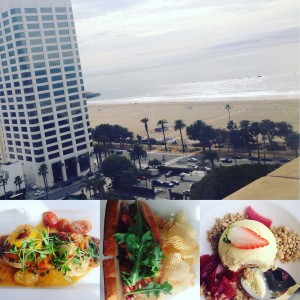 the time to get us a new one.)
Regardless of the service, the food was great. Clean, simple, not overdressed and portion sizes were perfect for lunch.
…and the view was exactly what we wanted – including the sunshine!
FAV item? Lobster Roll (from the DineLA menu)
---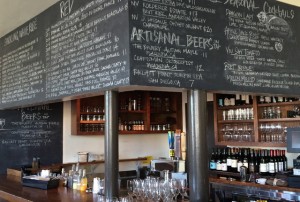 I was originally scheduled to dine here for a dinner reservation but due to personal circumstances, I missed dinner, but I managed to squeeze in a few hours at their bar a couple of days later for their Happy Hour.
Rustic Canyon is a warm space with wood tables and small booths and naturally shows as a relaxed space to enjoy casual food and wine with friends or loved ones.
The bar itself is quite small – about 8 seats – with the servers area very close by. With two bartenders working to serve the guests at the bar and to fill the many drink orders by the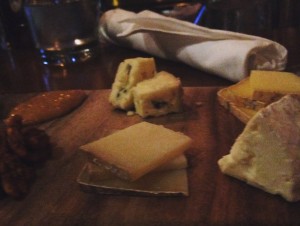 rest of the guests, it is amazing to watch them work so quickly. The cocktail selections are creative and the wine list is quite diverse.
We enjoyed a lovely cheeseboard to share and when we finished the YUMMY bread that we were served, we ordered a separate loaf with butter and olive oil.
We each sampled a few of different glasses of wine during our time there (and I snuck in one cocktail),  but we would probably could have ordered more but found it tricky to get the bartenders' attention. They were so focused on filling the other orders for the tables.
So…food was good (from what we had), drinks were good…but get a table instead of staying at the bar
FAV item? Cheese selection on the board was lovely, but I loved the milo & olive bread more that they served with it.
---
FIG is located in the Fairmont Miramar on Wiltshire Blvd. so its a hot spot for lunches – which is why we chose it for a lunch visit.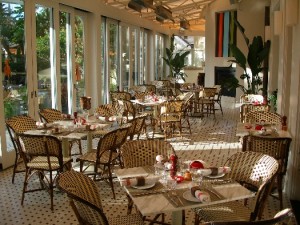 Men in suits, ladies who lunch, hotel guests coming to eat…it was very busy by 1pm.
Even though the weather wasn't exactly suitable for outdoor dining, the enclosed terrace looks out over the outdoor tables and pool area – and when the sun is shining, it's lovely! (I would love to return during the warmer months.)
The lunch menu had many selections (and they also had a DineLA version) but I noticed that they seem to specialize in spicier, ethnic flavours. Their most popular menu item – by seeing how many were on tables around the room – were the harissa-spiced fries.
Regardless of the salads or other entrees ordered, there were always a plate of fries nearby.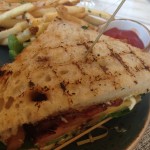 They had an impressive salad selection, too, but like most places in the LA area, they either
were designed around kale or beets (and that point in the week I had had my fill).
The hotel itself looked beautiful as well, so I can see why FIG fits in so well.
FAV item? Their classic BLT served with crisp harissa fries.
---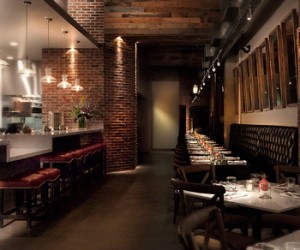 It's dark, busy and noisy – and that is just because its obviously popular.
Seats at the back of the room include a view of the kitchen's pass so for those who are interested in watching the kitchen action, it will feel a bit like sitting at a chef's table.
The menu items are unique – a blend of flavours and new cooking styles for classic ingredients. They are mostly small plates so you can mix-and-match a number of items to create your own experience. (From what our server suggested, 3 small plates per person is usually enough.)
A couple of our choices were a little too acidic for my tastes and some that include a soft cooked egg and/or cream were rich enough that they could have only been one of two courses.
If they keep changing up their menu items throughout the year, it would be a great go-to spot for foodies who want a change from the usual LA fare.
FAV item? Wood-roasted clams
---
I had found this place online during my initial research, but I wasn't sure if I had time…but I am SO grateful that I ended up having a free lunch on my own on this trip.  I have been eating mostly vegetarian over the last year and only splurge on heavier proteins when I travel and want authentic dishes – OR when options are limited.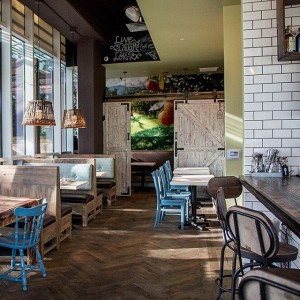 My love of vegetables and grains have always been a focus, so I was curious if I could easily shift into a vegan, organic lifestyle
If I had access to a restaurant like eLOVate often, I would be one of their regulars. The food was fresh, well-seasoned, hearty and comforting. I didn't miss the excess protein usually squeezed into most menus
It's fun to go through a menu and choose familiar names to order like spring rolls and burgers. Even the kids sitting at the next booth were excited to see their plates arrive.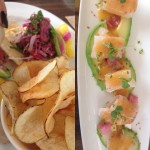 I know it was only a Thursday, but the weather was beautiful and yet there was only a few tables filled when I arrived at 1pm.
Even with all of the good press that I have seen online, I was
surprised that it was so quiet. I am hoping that it is just because everyone was outside that day…because they sure missed a great lunch!
FAV item? Spring rolls (from the DineLA menu)
---
It may not have been a tropically-warm time of year for my visit to Michaels' Santa Monica, but they have designed the space so you forget anything outside of their doors.
A warm, welcoming lounge greets you on the way to their covered, outdoor, very green dining space. Diners are surrounded by trees, bushes, vines and flowers – and with strategic lighting, can easily lose themselves in their full dining experience.
Although it was DineLA week, and a Thursday evening at 9pm, I was surprised (again) how quiet it was. A handful of people were catching up in the lounge area, but there was only one other table of diners nearby in the dining room.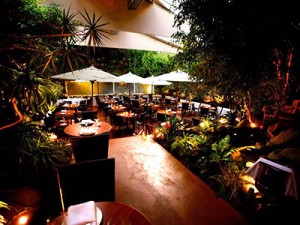 Our server and sommelier both were very attentive and offered their assistance for recommendations. The wine was chose was a lovely pinot noir, but it could have used decanting. By the time our first glass was poured, however, our sommelier was no where to be seen. Our server also only returned after we were finished our first course, and by then, we figured it was a little late to ask.
The portions were generous – even the salads – and were well-seasoned and presented. My only regret with my order is that I didn't coax my husband to share my starter salad with me so I had room to enjoy my entire entrée.
FAV item? Mushroom risotto (and surprisingly, it's vegan!)
---
One last breakfast, and I decided we needed to plunge. The Viceroy is a luxury, ocean-view hotel with a sleek feel and a high probability of celebrity visitors.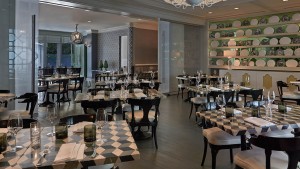 CAST is the main dining room for larger menu offerings and a more traditional dining style than their upscale, modern lounge next door.
Breakfast menu offerings range from a hearty steel oatmeal to a Chilaquiles Verdes with all of the usual accompaniments.
This isn't a destination for a quick egg sandwich and coffee, but a slow, leisurely, decadent breakfast or brunch to take up the first half of your day.
Service was prompt on the morning of my visit, and it was very quiet for a Friday morning even though the restaurant was half full.
Portions are large and very filling. I am glad I only ordered one course.
We both enjoyed our breakfast, but thought that the quantities were a bit much for us…but if you want value for your money?…It's here!
FAV item? Housemade iced tea (I couldn't get enough of it – De-lish!)
---
Looking for a speaker for your next event or conference?
Cooking demonstrations, wine pairing events and lectures, travel talks and MORE…
She speaks with passion, insight and FLAVOUR!
To book an event or learn more, email us by clicking here