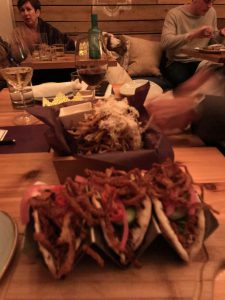 Sometimes, the best finds in dining are when you aren't planning for them.
After attending a wine event at the Royal Ontario Museum this winter, my guests and I were wandering back to our hotel in Yorkville and came across a little cocktail bar that looked inviting for us to stop for a nightcap.
The main bar area itself seemed quiet, but the hostess smiled and suggested we make our way to the back covered patio area...to where the party was!
Live music, a decent wine and cocktail list, and so many finger-licking snacks to choose from that we had a hard time narrowing it down to a few that night.
Along with the classic Spanish tapas, Bar Reyna also introduces a few new flavours to entice you - from a lamb shank baklava to a selection of 6 choices of wildly topped super-crispy fries.
Although this seems like a late-night focused place to visit in Yorkville, I am intrigued enough head back closer to dinner time to check out a few more items on the menu. The halloumi souvlaki and lamb lollipops sounds devine - and I never miss a chance to sample someone else's cataplana!
FAV item? The fries! Shoestring-sized to keep them crispy and any restaurant who has an entire "fries" section on their menu, means it is one of their obvious specialties. I had the Italian version this time, but I am going back for the Arabic!
---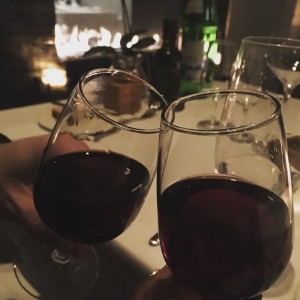 A last minute trip to Toronto for New Years Eve gave me the opportunity to dine out and review a restaurant in the City for the first time for this website.
As most restaurants do, Flor De Sal had a set menu for the evening to stream-line the service a little.
I checked through their regular Winter Dinner menu and there weren't any menu items duplicated here.
Quick notes from the evening?
We LOVED the decor! Soft, luxurious and a great date-night atmosphere. Even for a table for 2, we were seated on the same side of the table (which is cozy!).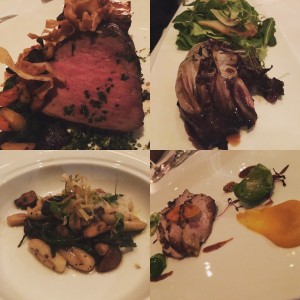 The food?
Everything was cooked and seasoned well, but for my experienced palate, there was always one thing a little "off" for each course.
The devilled egg didn't need the truffle, the crispy leeks on the gnocchi got stuck in my teeth, the grilled radicchio would've been better served warm...even the beef wasn't served with a demi-glace or jus. (I did ask for jus and when it arrived, it was perfect!)
The wine pairings selected were great! I am usually skeptical with wine pairings on tasting menus, but this list didn't disappoint. I was also pleased that they incorporated Portuguese wines in the mix - even though the menu itself wasn't very Portuguese-inspired.
I may try to go back on another trip to Yorkville to try their regular menu - what they obviously do best.
FAV item? Housemade gnocchi with mushrooms (could've had a big bowl - but without the leeks!)
---

I think it's the atmosphere that I love most about this place.
I love the winding walk to get to the back terrace. I love the cozy bar that is just a little too cluttered. I love the view of the City through the terrace's window panes. I love the hushed tones and knowing winks of the professional servers.
It is a special restaurant that made me feel like a regular from the time I walked up to the hostess desk.
It has been logged into my phone to visit here again soon!
Oh yes...and the food!
Every single menu item that arrived to our table was SO good! Fresh oysters, crudo, seasonal soups, hearty mains and classic desserts.
It is truly a "special occasion" spot that you should treat yourself with any day of the week.
FAV item? I had a small portion of their fresh pasta with truffle and a soft egg and I ate slowly with my eyes closed...luscious!
---

This is one of my go-to spots now along Front Street. The menu is varied enough that I can choose something different every time I visit, I have not had a bad meal yet here AND their  massive patio is one of my favourite seats for sipping and people-watching on that always-busy corner.
Reservations are recommended for summer weekends, weekend nights and patio-worthy afternoons...but otherwise, the place is large enough that you can walk in for lunch or dinner most weekdays.
Some of my favourite bites are their appetizers, soups and pastas  - they are so good at comfort food!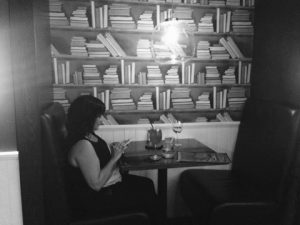 FAV item? The O&B Mac'n'Cheese with added bacon is the epitome of comfort!
---

If you have followed me on social media and in blog posts in this and other online sources, you know that I have a soft spot for all things Spanish - especially their food!
I dined at Patria last year for the first time and have been back two more times since then. It is always busy, so I suggest making a reservation - especially since it was just listed online as one of Toronto's Hottest 10 Restaurants.
There is casual seating at the bar when you first enter the space and there is a small patio area for warmer weather, but to get the best, up-close experience, try to get a table near the kitchen. The sounds, smells and bustling around by the staff is the closest feeling to an authentic Spanish restaurant as you will ever find this side of Madrid.
Every server I had was very knowledgeable about the menu, portion sizes and was honest when we ordered too much.
I suggest starting with the Tapas, Cheese and Cured Meats and then go down the other side of the menu until you are stuffed. Try to save just a bit of room for some coffee and churros, though!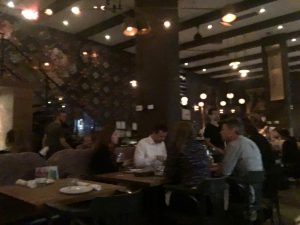 FAV item? At $75 each, their ribeye with roasted garlic is a splurge but if you are beef lover, try to work your tapas order around it!
---
Looking for a speaker for your next event or conference?
Cooking demonstrations, wine pairing events and lectures, travel talks and MORE...
She speaks with passion, insight and FLAVOUR!
To book an event or learn more, email us by clicking here