Fall 2015
Grain Tasting Bar (Hyatt Regency Vancouver)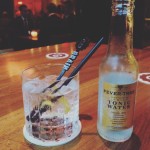 Service is quick and personable. Good selection of snacks and small plates and the focus of flights on local spirits and wines is a great way to introduce locally produced fare to the tourists staying in the hotel.
FAV item? The Perfect Gin & Tonic
Mosaic Grille & Bar (Hyatt Regency Vancouver)
Service is polished, quick and attentive. Although a little pricey, breakfast ordered to the room arrives hot, fresh and at exactly the time I was told it would by the room service operator. Lunch was prompt, filling and focused on local ingredients.
FAV item? BC Salmon Tacos
Lunch menu is quite extensive - as is their wine list - which was a hit for our large group who dined with me. Everyone said that they enjoyed their lunch but no one was OMG-ing over anything in particular. My protein burger (lettuce wrapped) was tasty, but SO messy that I am glad that my bench seating was so cushy that I could keep my chin closer to my plate. Our server was very sweet but kept forgetting things and seemed a little overwhelmed with our table of 8.
FAV item? Fries with an add-on side of their truffle lemon aioli.
Kamei Baru Japanese Seafood Restaurant
Busy and bustling on a Friday evening, it is obviously a hit with locals. They have taken the standard sushi menu and added many twists and other fusion-style dishes so that you can visit often without eating the same thing. Sushi was so fresh and light that it was sometimes difficult to eat in one bite - which isn't a bad thing in my eyes. My only caution is a couple of the servers are really struggling with the English language so you should order by pointing on the menu if you aren't confident that you are pronouncing something correctly. I didn't get to try them, but my dining companion said the steamed mussels were some of the best she has ever had.
FAV item? Crunch & Munch Roll
It's quaint and out of the way and it is obviously a local success due to its classic Italian fare and its attentive service. Wine suggestions were spot on and two of the four of us were lucky to order menu items that had their tomato sauce featured and we are still raving it about it days later.
FAV item? Calamari
---
Looking for a speaker for your next event or conference?
Cooking demonstrations, wine pairing events and lectures, travel talks and MORE...
She speaks with passion, insight and FLAVOUR!
To book an event or learn more, email us by clicking here