Fall 2015
The Dining Room at Brentwood Bay Resort and Spa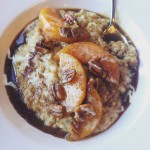 I had breakfast here three times during my stay and dinner once. Most breakfast items tasted great but the slow service allowed my eggs to be slightly overcooked and side items to arrive late. For dinner, my soup was tasty but my perogies were a little tough and chewy. I was lucky, however, to sneak a bite of my husband's roasted peach & pecan oatmeal one morning. It was a huge portion and decadent enough to be a dessert. (He ordered it three mornings in a row!)
FAV item? Roasted Peach & Pecan Oatmeal (obviously)
Vista 18 Westcoast Grill and Wine Bar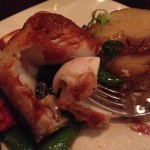 This restaurant reminded me a little of the 360 Restaurant in Toronto. You are paying more just for the view.  My husband enjoyed his fresh oysters (which were described as local) but was dismayed - and a little nervous - the next day when we were told by other restaurants and bars locally that the province has a ban on local oysters due to the red algae (called red tide) found in the waters. Hoping they weren't actually local? The rest of our meal was just ok. Nothing jumped out at me. My Seared Sablefish was perfectly cooked but the "potato confit" served alongside it wasn't edible. Too bad. 🙁
FAV item? Seared scallops and pork belly.
The Butchart Gardens - The Dining Room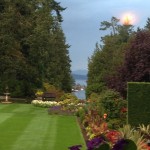 The dining room feels small and quaint and we were lucky to get a table by a window to view the gardens while we ate. The food is well-presented and all of the seafood was cooked perfectly. I loved the idea of my raviolo but the execution of the pasta was off-the-mark (it was difficult to cut - which I found odd). My entrée was much better, however, so I quickly forgot about it.
FAV item? 8oz AAA Delmonico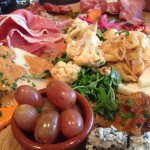 An authentic tapas bar in the heart of downtown Victoria. I even commented to our server that I have not visited such a true Spanish dining experience like this outside of Spain. The chef is making his pintxos right behind the bar and offers unique versions as treats during happy hour. Their wine selection highlights the best of Spanish offerings here in Canada and the servers all are knowledgeable and happy to chat about their menus and wines.
FAV item? The pickled grapes served with their boards.
---
GREATER Toronto AREA (GTA), Ontario, Canada
Oliver & Bonacini Cafe Grill, Bayview Village
This location, I heard, was one of O&B's firsts and it seemed a little less modern and slick as their downtown location that I am used to visiting. The service was quick enough (luckily because we had children dining with us) and the food was great, as I thought it would be. My only thought was that, for a mall location that catered to nearby seniors and families, they have too many heavily-spiced items on the menu. It was difficult to find something that the not-usually-too-picky young eaters would eat without hesitation.
FAV item? Jerk-spiced baby back ribs.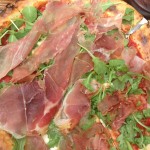 A cute little patio and some warm afternoon sunshine encouraged me to splurge on one of their fresh pizzas for lunch so I could feel like I was back in sunny Italy.  It did not disappoint. The rest of the menu is quite extensive - almost too many options - and the portions are huge! (I only could finish half of my pizza.) Service was quick, the wine was lovely and I will most likely be stopping in again soon to try their dinner offerings.
FAV item? Pizza Di Nicolino
Creative menus, for sure! Salami made of seafood, terrific takes on crudi all looked enticing. The menu is categorized into small sections so that you can quickly scan through to figure out what you are craving (style/method of cooking) and then narrow down your selection from there. Service was terrific and I can see why it's a popular destination in Yorkville lately.
FAV item? Asparagi Bianchi
Mark McEwan has done well with this Yorkville hot spot. I had the pleasure of eating there for both a breakfast and lunch service and was very pleased with both of my meals. The patio is long and usually full but includes enough greenery and decor that it distracts you from the nearby traffic. I am sure it is one of the reasons that some tourists to Toronto are opting to stay at the attached Hazelton Hotel - or at least nearby.
FAV item? Smoked Salmon Rosti
---
Looking for a speaker for your next event or conference?
Cooking demonstrations, wine pairing events and lectures, travel talks and MORE...
She speaks with passion, insight and FLAVOUR!
To book an event or learn more, email us by clicking here