You know the routine.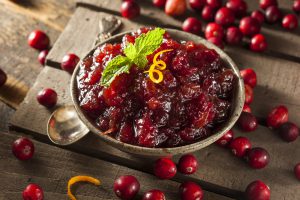 Cook the cranberries.
Mash the potatoes.
Bake the pumpkin pie.
Roast the turkey.
Make the gravy.
It is the one time of the year that we crave comfort and tradition around friends and family.
There is no reason to never introduce something new to the menu, however. The same basic flavours and recipe concepts can still be the basis and plan for the overall meal, but a new ingredient or a even just a new dessert can add a spark to the notoriously sleepy turkey dinner.
I have raided my super-sized recipe database to offer you a handful of easy-to-incorporate Thanksgiving-inspired recipes.
Try one, try them all!
Or save a few for later this fall or for the Christmas season!
---
Sausage & Raisin Stuffing
Makes almost 11 cups.
4 Italian sausage
2 cups celery, chopped, including leaves
1 red onion, finely chopped
1/4 cup butter
1 1/2 loaf raisin bread
2 tsp dried thyme
2 tsp dried sage
1 tsp salt
Position oven racks in top and bottom thirds of oven. Preheat to 400F. Cut sausages into 1-inch pieces. Oil a large pot and heat over medium-high. Add sausage. Cook, stirring often, until golden, 8 to 10 minutes.
Add onion and celery to meat along with butter. Reduce heat to medium. Cook and stir until onion is soft, 8 minutes.
Meanwhile, cut bread into 1/2-inch pieces. They should measure about 9 cups. Spread over 2 baking sheets.
Toast in top and bottom of oven until golden, 10 minutes. Stir bread and switch sheets halfway through. Then turn into a large bowl.
Stir sausage mixture and seasonings into toasted bread.
Turn into a large baking dish or sheet. Bake at 350F, stirring often, until hot, 30 minutes.
If making ahead, cover and refrigerate stuffing mixture before baking. it will keep well for up to 1 day.
---
Leek-Celery Root Stuffing
1 white bread, crust on, cut into 3/4-inch cubes
1 celery root, peeled and cut into 1/2-inch pieces
1 tbsp extra virgin olive oil
salt and pepper
6oz unsalted butter, plus more for baking dish
2 cloves garlic, finely chopped
3 large leeks, white & pale green parts, thinly sliced
3 tbsp fresh sage, finely chopped
3/4 cup fresh parsley, chopped
5 cups chicken stock
5 1/4 oz walnuts, toasted and chopped
Directions:
Arrange bread in a single layer on a baking sheet, and let stand, uncovered, at room temperature overnight. (Alternatively, bake bread in a 300*F oven until dry but not browned, about 15 minutes.)
Preheat oven to 425*F. Toss celery root and oil in a medium bowl. Season with salt and pepper. Arrange in a single layer on a rimmed baking sheet, and roast, stirring once, until celery root is tender and edges are golden brown, about 40 minutes.
Melt 1 stick butter in a medium saucepan over medium heat. Add garlic and leeks, and cook, stirring often, until soft, about 8 minutes. Add the celery root, sage, parsley, and 4 cups stock, stirring to combine. Season with salt and pepper.
Remove from heat. Toss bread with vegetable mixture in a large bowl. Fold in walnuts. Season with salt and pepper.
If not cooking the stuffing inside the turkey, stir in remaining 1 cup stock, spoon into a buttered 9x13-inch baking dish and dot with remaining 1/2 stick butter.
Cover with parchment, then foil, and bake in a 375*F oven for 25 minutes. Uncover, and continue to bake until golden brown, 15 to 20 minutes.
---
Moroccan Turkey Breast
Moroccan Butter:
1/4 cup butter, softened
2 tsp ground ginger
2 tsp ground cumin
1 tsp paprika
1/2 tsp cinnamon
1/8 tsp saffron
1/2 tsp red pepper flakes
1 turkey breast, boned, skin-on
salt and pepper, to taste
Charmoula Sauce:
1/4 cup parsley, chopped
1/4 cup coriander, chopped
1 tbsp garlic, chopped
1/4 cup olive oil
1/4 cup lemon juice
1 tsp paprika
1 tsp ground cumin
salt and pepper, to taste
Combine butter, ginger, cumin, paprika, cinnamon, saffron and red pepper flakes. Spread under skin of breast and all over the skin. Season with salt and pepper.
Preheat oven to 400F.
Place breast on a rack over a baking dish and roast for 1 hour 15 minutes or until an instant-read thermometer reads 165F.
Remove breast from pan and let sit for 10 minutes before slicing.
Combine parsley, coriander, garlic, lemon juice, olive oil, paprika, and cumin in food processor until pureed. Season with salt and pepper.
Slice turkey and serve over couscous and vegetables.
---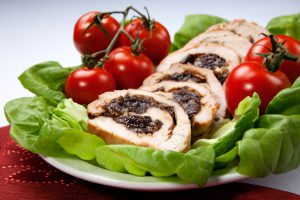 Roasted Turkey Roulade
3/4 cup dried figs, stemmed & diced
3/4 cup dried cranberries
1/2 cup brandy
4 tbsp unsalted butter
1 1/2 cups onions, diced
1 cup celery, diced
3/4 lb pork sausage, casings removed
1 1/2 tbsp fresh rosemary, chopped
3 tbsp pine nuts, toasted
3 cups herb-seasoned stuffing mix
1 1/2 cups chicken stock
1 large egg, beaten
kosher salt
black pepper, freshly ground
1 turkey breast, boned and butterflied
3 tbsp unsalted butter, melted
Directions:
Place figs and cranberries in small saucepan; pour in brandy and 1/2 cup water.
Bring mixture to boil over medium heat, then lower heat and simmer for 2 minutes.
Remove from heat and set aside. Meanwhile, melt butter in large (12-inch) skillet over medium heat.
Add onions and celery; sauté until softened, about 5 minutes.
Add sausage, crumbling into small bits with fork and sauté, stirring frequently, for 10 minutes or until cooked and browned.
Add figs and cranberries with liquid, rosemary and pine nuts; cook for 2 more minutes. Scrape up brown bits with wooden spoon.
Place stuffing mix in large bowl. Add sausage mixture, stock, egg, 1 tsp salt and 1/2 tsp pepper. Stir well. (Stuffing can be refrigerated overnight.)
Preheat oven to 325*F. Place baking rack on baking sheet.
Lay butterflied turkey breast skin side down on cutting board. Sprinkle meat with 2 tsp salt and 1 tsp pepper.
Spread stuffing in 1/2-inch- thick layer over meat, leaving 1/2-inch border on all sides. Don't mound stuffing or turkey will be difficult to roll. (Place leftover stuffing in buttered gratin dish and bake alongside turkey for last 45 minutes or roasting.)
Starting at one end, roll turkey like a jelly roll and tuck in any stuffing that tries to escape on sides.
Tie roast firmly with kitchen twine at 2-inch intervals to make compact cylinder.
Place turkey breast seam side down on rack on pan. Brush with melted butter and sprinkle generously with salt and pepper.
Roast for 1 3/4 to 2 hours or until meat thermometer inserted in center reads 150*F.
Cover with foil and let rest at room temperature for 15 minutes. Carve 1/2-inch-thick slices and serve warm with extra stuffing.
---
Cranberry-Port Sauce
2 cups chicken broth
1/3 cup ruby port
1/3 cup dried cranberries
1 tbsp unsalted butter
1 tbsp shallot, minced
1 tbsp all purpose flour
salt and pepper
Directions:
Combine the port and cranberries for the sauce in a small bowl, cover and let sit overnight.
Heat the broth in a small saucepan. Heat the 1 tbsp butter in a medium saucepan over medium heat.
Add the minced shallot and cook, stirring occasionally, until the shallot is tender, about 2 minutes.
Stir in the flour and cook, whisking gently, until it forms a thick paste, about 30 seconds.
Strain the port through a fine sieve into the saucepan, reserving the cranberries (don't press down on the berries). Whisk for about 30 seconds.
Slowly whisk in the broth until the sauce is smooth, adjusting the heat to maintain a steady simmer.
Simmer, whisking occasionally, until reduced by about 1/3, for 5 to 8 minutes.
Stir in the reserved cranberries. Season to taste with salt and pepper. Keep warm.
---
Apple, Squash And Cranberry Crumble
3 medium golden delicious apples, peeled, cored & chopped
1 1/2 cups butternut squash, diced
1/2 cup fresh cranberries
7 tbsp brown sugar, divided
1 tbsp fresh lemon juice
10 tsp flour, divided
1 lemon, zested
1/2 tsp cinnamon, divided
1/8 tsp salt
8 tsp butter, cold, cut into pieces
Directions:
Preheat oven to 375*F. In a large bowl, toss apples, squash, cranberries, 3 tbsp of the brown sugar, lemon juice, 2 tsp of the flour, lemon zest, 1/4 tsp of the cinnamon and salt.
Transfer to a 1 1/2- quart or 8-inch square baking dish.
In a small bowl, combine remaining 4 tbsp sugar, 8 tsp flour and 1/4 tsp cinnamon.
Using a pastry blender or two knives, cut in butter until mixture resembles coarse crumbs (don't use your hands as they will melt the butter).
Sprinkle mixture evenly over fruit. Bake 40 to 45 minutes or until fruit bubbles at the edges and top is brown.
Place on a rack and cool 10 minutes.
Spoon crumble into six dessert bowls and serve.
---
Cranberry-Almond Pie
1 pie crust, baked, but not browned
Almond Filling:
1/2 cup almond paste
4 tbsp butter, softened
1/2 cup sugar
3 large eggs
1/4 cup all purpose flour
1/8 tsp salt
Cranberry Topping:
2 cups cranberries
2/3 cup sugar
1/3 cup water
1/2 tsp orange peel, freshly grated
Prepare Almond Filling: In food processor with knife blade attached, blend almond paste, softened butter, and sugar until smooth. Add eggs, flour and salt; blend until well mixed, occasionally scraping down side of processor bowl with rubber spatula.
Fill pie shell with almond filling.
Bake 30 to 35 minutes or until filling is slightly puffed and golden. Cool completely on wire rack, about 3 hours.
While pie is baking and cooling, prepare Cranberry Topping: In 2- quart saucepan, combine 1 1/2 cups cranberries with sugar, water, and 1/2 tsp orange peel. Heat to boiling on high. Reduce heat to medium-low; simmer 5 minutes or until mixture thickens slightly and most cranberries have popped, stirring occasionally. Stir in remaining cranberries. Set cranberry topping aside to cool to room temperature.
To serve, spoon cranberry topping over almond filling just before serving; garnish with orange peel. Refrigerate any leftovers up to 4 days.
---
Want to night out with great cuisine and a chance to learn a little about wine?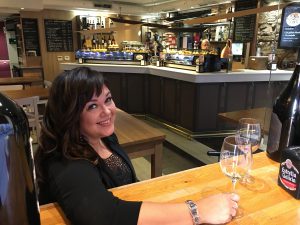 Why not join Stephanie at Wander Food & Wine for a wine tasting or class ?
OPENING FALL 2019!
CLICK HERE to see this season's schedule and for on-line registration.