Wine Country Villas
136 Thompsons Rd.
Pokolbin, NSW Australia
http://winecountryvillas.com.au
Visited: May/June 2017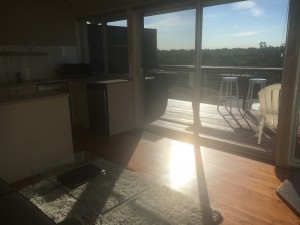 What I liked…
The 1 bedroom unit is quite spacious with a sunken living area, small kitchen and doors to an outdoor private terrace.
The location ideal for those visiting the area for wine tasting. There are so many wineries to visit within a few minutes drive that I wasn't able to squeeze in more than 20 Cellar Doors within the two full days of touring around.
The bed seemed quite comfortable and not too soft. An extra blanket was tucked in to offer extra warmth to combat the unusually chilly weather during our stay.
Quiet! There are only eig villas on this property and the backyard looks out onto a small forest area. We spotted many kangaroos just on our first night outside.
The villas all have keyless  entry which is handy for those who always lose keys or store them near a cellphone (like me lol). A personal PIN is sent to you just before you arrive.
 Staff are on the ball! Although there is no lobby or standard check in area, there is usually someone around or quickly within contact. We forgot to pack adapters and with one mention to someone cleaning another unit, we had two adapters delivered to our room within minutes.
Kitchen is well stocked for eating in and the breakfast supplies left for us for more than enough for our three night stay.
wifi is free with great signal strength
no one knocking at your door for turn-down or maid service (see the next list below for the caveat)
What I didn't like so much…
No closet or drawers for storage. Although there are plenty of hooks on the walls in strategic places, I am a girl who likes to not see clutter and always use my closet and drawers to organize my things.
Our breakfast supplies included eggs, big slabs on bacon/pork, English muffins, juices, coffee and condiments. As I rarely eat that heavy in the morning, some fresh fruit like apples or oranges would have been a nice light alternative for those who are vegetarian or just want to eat less meat. (And I suppose I could have asked, but this polite Canuck just stopped at a local store when I was out and bought myself what I needed so I wouldn't be a bother.)
what the ads for the Villas cleverly misses clarifying is that there is no housekeeping for your stay – no replenishment of any supplies or towels and no one checking in to see if you need anything. Only a posted phone number that offers assistance at any time with a call. I sincerely debated about calling for extra towels since they only provided two bath sheets, one hand towel and two face cloths and one tiny set of toiletries for the three-night stay and I want to feel a little pampered when I am on vacation. NOT TO MENTION a little sign posted on the back of the door stating that we must leave the villa in "the condition we found it" including filling and running the dishwasher before we leave or else we will be automatically charged a $70 cleaning fee. 😖 For a rate of $270 per night, I wasn't expecting so much work!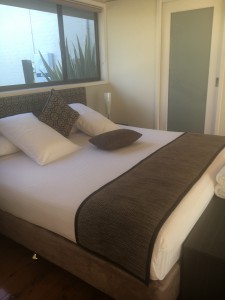 ---
Four Seasons Sydney
199 George St,
Sydney NSW 2000, Australia
http://www.peppers.com.au/waymouth/
Visited: June 2017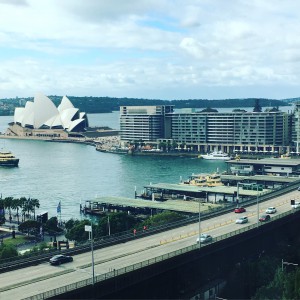 What I liked…
The location is ideal for those who want the most of Sydney's downtown. A 5-miute walk to Circular Quay and the harbour, The Rocks, and all the downtown shopping around Pitt Street.
The lobby is massive, luxurious and well-organized. There are usually two concierges available for assistance during peak times and three or more at reception.
Grain bar, off the lobby, is a chic place for cocktails and small plates – perfect for before dinner or late-night nibbles.
The views from a great majority of the rooms face the famous Opera House and harbour.
Wifi was included and quite a strong signal in the room.
Even the standard rooms are spacious enough to feel like you're being spoiled and not tripping over furniture.
Plenty of in-room storage for unpacking and settling in…which is important if you plan on staying for longer than a night or two.
The service was top notch! I mentioned to our server in Grain that our room wasn't cleaned by late afternoon and he passed along my concern to the department head. After my room was clean, I received a hand-written note of apology AND a follow-up phone call to apologize again and set up specific times for daily cleaning and turn-down service.  I had also inquired about a space to host a few friends from our conference for a private wine tasting and it was easily set up for us in a quiet area of their 2nd floor dining room. Amazing! It was obvious that they will do anything to be able to say YES!
What I didn't like so much…
The bathroom wasn't very large and didn't have much counterspace or other place to unpack my toiletries, hair tools, etc. I spent the week moving my things in and out of the bathroom each day so I wouldn't crowd out my husband.
Luckily, I brought a long extension cord for my iPhone connector. I like to keep in plugged in bedside while I travel and the closest outlet was on a nearby shelf by the desk.
…and that's about it! For a week's stay, it was pretty much everything we could have wanted. 🙂
---
Peppers Waymouth Hotel
55 Waymouth St,
Adelaide SA 5000, Australia
http://winecountryvillas.com.au
Visited: June 2017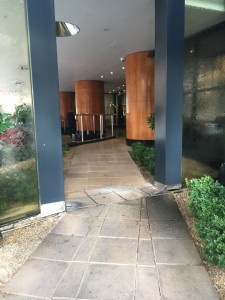 What I liked…
The Deluxe Room was so spacious, that I first thought we had a junior suite.
A classy, downtown hotel, Peppers is a short walk to Central Market, Chinatown and plenty of shopping.
The bed was so comfortable, I had no problem squeezing in a nap each day (especially when I was trying to shake a bad head cold)!
The bathroom is HUGE and spacious enough for 2 people to be in there getting ready without tripping over each other.
Quiet! Although the hotel is near the busy downtown, we rarely heard traffic or crowd noises from our room.
In-room mini bar area had plenty of water, tea and juices. The kettle and coffee maker and some extra storage was handy for us to set up for our own breakfast each morning.
We ordered room service one night and it arrived promptly – fresh and hot!
The doormen were very helpful every day – hailing taxis, helping with bags or umbrellas or just letting us know when our ride was pulling up.
What I didn't like so much…
Wifi was a bit of a pain. It was free but occasionally the code they provided didn't work and we kept having to go back to reception or call downstairs for another code.
We couldn't figure out how to use the coffee machine. The coffee pods were free for only the first two used and $2.00 each thereafter. Luckily, there was a kettle for the tea.
Again, the bathroom (with all of its space) didn't have large counter space to unpack my toiletries, hair tools, etc. There were a few shelves for the hairdryer and extra toilet paper and I tucked in some of my things in there temporarily.
---
Looking for a speaker for your next event or conference?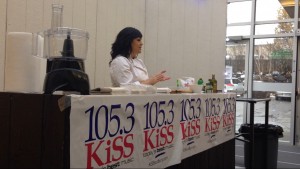 Cooking demonstrations, wine pairing events and lectures, travel talks and MORE…
She speaks with passion, insight and FLAVOUR!
To book an event or learn more, email us by clicking here