Couples Resort
139 Galeairy Lake Rd,(End of)
Whitney - Algonquin Park, On, K0J 2M0.
Toll Free:+1 866 202-1179
E-mail: info@couplesresort.ca
Visited: March 2016
What I liked…
The Master Junior Suite hasn't changed much over the years but is still one of the classiest and largest spaces rentable in the mid-to-southern part of Ontario (and I have visited MANY). We have tried to switch to other rooms, cabins and suites over the years, but always come back to the Master Junior Suite for the value and all that SPACE! I love the layout and the view from the upper floor from the jacuzzi on the balcony. 🙂
Meals are still generous portions and well-presented. Serving staff are pleasant and well-trained.
Quiet! I know that I usually visit during the early spring so it isn't their high season, but I love being able to sit out on my balcony and just look out over the almost-gone ice and just BREATHE.
I liked that they have begun to enforce a dress code in the restaurants for dinner service. So many couples are visiting there and celebrating a milestone of some sort that there is always a special occasion happening…so it great that we all are coaxed to join in by way of dressing up a little. (Only caveat…so note in What I Didn't Like So Much below…)
Love the quiet live music in the dining room…always a treat to hear a local talent!
Instead of old-fashioned DVDs to borrow (like to old days), rooms are now equipped with Netflix for streaming and Blueray players.
Clean! With 2 jacuzzis in our suite and wood-burning fireplaces, I am amazed at how clean everything is each day.
I like the fact that it is located quite a distance from any big town or box store shopping meca. Forces you to sit down, stay put and enjoy what's around you…namely nature and your better half. 🙂
The weather didn't allow for it this visit, but I really missed walking the hiking trails around the property. Easy to follow and two different trails to choose from allow for a taste of nature whenever the mood hits.
What I didn't like so much...
The cabins and villas are starting to get upgraded (noticed a few pieces of new furniture and jacuzzis on my brief tour) but are aren't 100% there yet. Still VERY rustic compared to some of the more modern rooms on the premises. The Master Junior Suite is a little more modern but cheaper than a Spa Villa - and more room. Maybe their pricing needs an adjustment until they are complete?
We quickly found out that their handyman is "down the road" and is not quickly accessible for emergencies. A SUPER-LOUD siren started to sound within 5 minutes of us entering our room and it took over 20 minutes for someone to come and check it. Even when we checked in with the front desk, no one seemed to be too concerned and simply asked us to wait in our room. (They obviously didn't believe us on the volume of the siren?) It turned out that it was a carbon dioxide detector that sounded (or was faulty), but we had to hear about it later that night from another front desk attendant rather than the handyman who seemed to slip in/slip out without talking to us directly. Good thing it wasn't a true emergency!
The new dress code. (See What I Liked above.) Although I do like the idea of having some sort of restriction on what people wear to a fine dining restaurant (and I have seen some mis-steps over the years), I think the rule of having men wear ties - but no jacket, if they prefer - is a little outdated. Perhaps one OR the other? A dress shirt and tie alone looks less formal than a dress shirt with suit jacket and we all know how some men cannot wear ties comfortably or properly. Many high fashion dress shirts nowadays are not meant to be worn with ties.
The Bring-Your-Own-Wine policy is a nice touch, but we felt like we were forgotten about unless we had ordered wine from their own list. The bottle we would bring had to remain at the front bar for their wine steward to open and bring it to our table. It would arrive already opened and just set quickly at the edge of the table  - but sometimes not until the 2nd or 3rd of our 5-course dinner. My suggestion would be to allow the guests to bring the unopened wine to their table as they are seated and have the wine steward come by and open it there. With all of the passing waiters serving and clearing, someone would notice quickly that the wine still hasn't been opened or if glasses are needed, etc.
It is one of Ontario's premier all-inclusive destinations for a reason. Many more pluses than minuses - even when you visit off-season. I love the idea of taking a couple of hours to drive to an adults-only, luxurious and nature-driven resort with fine dining - but it's the only one of its kind (as far as I know).
I hope others take a cue and create more of these little havens.
---
Looking for a speaker for your next event or conference?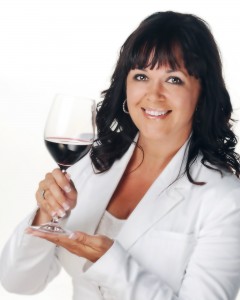 Cooking demonstrations, wine pairing events and lectures, travel talks and MORE...
She speaks with passion, insight and FLAVOUR!
To book an event or learn more, email us by clicking here