The Dominican Republic is a popular destination for good-value all-inclusive resorts with stunning beaches and stellar service.
I have had the pleasure of visiting this country more than 5 times already, so you there will always be more resorts added here in the future...
---
Luxury Bahia Principe Samaná
Carretera
Samaná- Las Galeras, s/n, Las Galeras
Samaná 32000, Dominican Republic
TEL:1-809-538-3434
Website
Visited: December 2015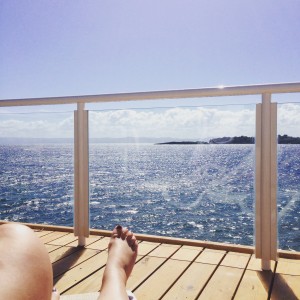 I don't usually write such long reviews, but this was a new resort and I was in a note-taking mood this week.
For the Coles Notes version, just skim through the bolded phrases in each section. 🙂
What I Liked...(and the BUT's)...
There is a beautiful, modern terrace that overlooks the ocean and is filled with new, woven sun chairs and padded seats under canopies for those wanting shade and another set in the sun closest to a clear railing overlooking the bay of Samaná and Cayo Levantado.
Premium drinks - aside from some local varieties that you may not recognize, most every other bottle on the rail is something familiar - and maybe a little higher-end than you're used to at other all-inclusives you've visited in the past.

BUT

- For your standard cocktails however, I wouldn't bother sourcing out the best-of-the-best. Save those for sipping neat - or at the very least, on the rocks.
Many rooms are brand new. I stayed in a Junior Suite Superior in Block F by the main entrance. The building was only officially opened in early November of 2015 so the furnishings and details were all spanking new.

BUT

- the perks that come with this upgraded room (personal butler, wifi in room, turndown service, etc. ) are offered to just about everyone onsite, regardless of room category. Aside from a larger square-footage, the rooms aren't much different.
The bed is good - and so are the pillows. Maybe it was because the bed was new? It is rare that I can sleep in a hotel bed anywhere for a full week and not wince at back or neck pain before I leave.

BUT

- if you were hoping for the canopy bed as promised online, the new beds do not have them...yet?
Staff are professional, well-trained and friendly.

BUT

- they do not make personal connections very easily and a few staff even forget you within an hour of speaking to you. 
Food is great! Well-seasoned and well-presented. Many options to choose from in all three à la carte and buffet restaurants. I ate SO much this week, I am appalled at myself. 🙁
Lounge chairs aren't just cheap plastic ones - they are quick-to-dry woven ones are comfortable.
Condensed layout - no buggy or golf cart necessary. The design of the entire complex allows for you to walk a few minutes to anywhere else that you need to go. A few steps to the pool, a few stairs to the sun terrace, another few steps and you're having coffee and pastries at the buffet.
Wine list is decent - prices are reasonable.

BUT

- watch out for service charges and/or taxes as listed on the bottom of the wine list. The $19.00 bottle will also cost an additional 18% of taxes and another 10% service charge. 

Could

be quiet. On a normal week, I think it would be a serene place to visit. We just happen to visit at the same time as a large group who loved to party.
Uniforms are nice and modern. When staff are comfortable, they are happy - which allows them to make YOU happy much easier.
Tour sales reps are polite and leave you alone. I had spotted a few tour sales reps wandering the property with clipboards but not one approached me with a sales pitch. (

BUT

...5 minutes after writing this, I was just approached to purchase a scuba trip. Oh well...)
The wifi worked

SO

great! Free connection for 2 devices per room for 24 hours at a time. You had the option of adding additional devices for a fee ranging from $8 US to $49 US or you can bring your device to the lobby to access as much free wifi as you can handle. I actually finished watching a movie on Netflix POOLSIDE!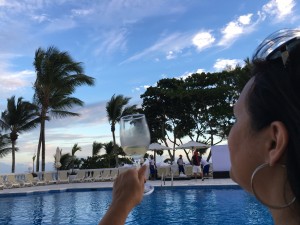 What I Didn't Like So Much...
OMG - the wind! I am not sure if it ALWAYS like this, but being in a bay, I expected much calmer weather. The beach is very choppy (but beautiful), the boat to the island is NOT for anyone who gets seasick and hats are tricky to pull off at any time of day. Ponytails won't cut it here, either, unless your hair is very long and all one length. I didn't even bother fussing with my hair too much. There weren't enough bobby pins to help me this week. I am not sure what the resort could do about it other than add in some decorative walls or dividers here and there?
No real shopping onsite - or in the nearby town - unless you are looking for the usual souvenirs. Better (and sometimes cheaper) liquor selections, coffee and jewelry can be found at the airport. (The local small restaurants along the waterfront were VERY good, though!) Transportation into town can be arranged by the hotel for $20 U.S. each way.
Not enough local food offered (my personal disappointment with most all-inclusive resorts over the last few years). I ate at the à la carte restaurants for most of the week but saved the "Dominican" night to eat at the buffet so I can get a taste of what the area has to offer. A couple more versions of rice, another stewed bean dish and a welcome cocktail that was new to me, but other than that, everything still felt designed for the everyday tourist. It may be because there are so many visitors who still wander the buffets with their nose turned up at the lack of classic fast and/or comfort foods that they eat at home. I know they are trying to please a large amount of people (I am a caterer after all, so I understand.), but I still like to sneak in a twist here and there or offer samples of other flavours to make it special. (And obviously, I didn't starve...just missed the local flavours.)
It is most likely more a cultural thing, than a resort thing, but since it is nearing 2016, I would really appreciate being addressed directly without having to wait for my husband to be present. (This happened to me in Cuba as well.) Even when I am the one ordering the wine, tasting it, purchasing it and attempt several personal conversations with staff members, I still have a difficult time getting someone's attention for a refill at the table when my husband isn't sitting with me. I am still constantly addressed as "Mrs. Norman". I love being my husband's wife, but I have earned my own way and would like to feel as valued as a guest as he is. Perhaps this type of training should come from the corporate level?
It may be that this place is still too new and a visit next year may have this rectified, but it was difficult to get information from many of the staff. It wasn't a language issue (I can get by with my minimal Spanish.) but it was usually that they just didn't know. In-room info and signs on a restaurant door said that one restaurant was open at 10:30am, but 3 staff had to argue with each other whether it was just the buffet portion that was open, or just à la carte at that time, or if it was just inside tables. No one knew! My advice for the time being is to be patient and ask MANY questions as often as you like. Someone will give you the right answer. This is obviously due to the newness of the resort...
Catered to the large group first and it didn't seem to matter if it was bothering any other guests. (Group karaoke outside our building, 7:30am on-air radio broadcasts starting with a loud screech and cheer). I know they were having fun but there didn't seem to be any restrictions set as they may have been for other guests. We felt a little like outsiders when there were not many of us around who weren't there as part of the group.
The VIP or so-called premium amenities (i.e. toiletries) in the rooms were NOT very premium. The shampoo, body wash and lotion all were so watery that they spewed immediately upon opening and were essentially ineffective. Luckily, I am a seasoned traveller so I know now to pack my own mini toiletries as backup.
Butler system is not yet perfected - if in place at all. They may have a menu in the room with services provided and our room category listed it as a perk to our room rate, but the so-called butlers seemed to be just standard Guest Services coordinators for everyone. We had even called once to request some dark rum for our room and our butler just passed us off to reception to deal with. Even in person later, he didn't remember the request, the conversation or even who we were. (See the "BUT" about the staff in the LIKE section above.)
A condensed resort layout that is set on a cliff means just one thing - STAIRS! Not necessarily a dislike, but a word of caution for travellers who may have difficulty getting around. There are elevators in the main buildings to access the rooms but just about everywhere else is accessible by stairs - the beach, the pool, the beautiful terrace.
Although I listed many things that I wasn't overly pleased with, it was a beautiful week of relaxation and sunshine - just what we wanted!
This is a beautiful new resort and from what I heard from the staff, it is only going to get better. There will be an extended dock system added near the beach for boat docking, another building of about 50 rooms, another restaurant and an even larger spa area. (Check out the blog post this week with a full audit interview to get the full scoop!)
The majority of my dislikes are just the pains of a new business trying to get themselves organized in a short period of time. (At the time of this writing, the hotel has only been re-opened for 49 days.)
The Cayo Levantado property across the bay just recently won the Tripadvisor Award for #1 All-Inclusive Resort In The World.
My prediction is that THIS new Bahia Principe just might be the award-winning one in the very near future.
---
Sensatori Resort Punta Cana
Carr
Uvero Alto, Punta Cana 23000
Dominican Republic
Website
Visited: August 2016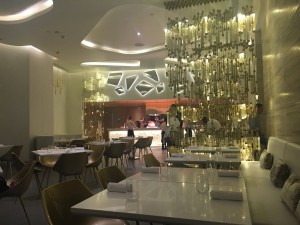 The Sensatori resort was supposedly opened in June 2016. Their staff are still learning the ropes and systems are still working themselves out.
This Karisma property is built next to the very popular Nickelodeon Hotel for families and shares a stunning strip of beach in the Ulvera Alta resort area.
What I Liked...
The hotel is located only a 35-minute drive from the Punta Cana International Airport (and that is inlcuidng a couple of drop-offs at other resorts along the way).
Check-in and check-out were both quick and friendly. We were upgraded to a swim-up version of the room we reserved since it wasn't very busy at this time of the year.
The beach is amazing! It might be because it is a new resort area and humans haven't decimated it yet, but the sand is soft, firm and almost free of vegetation - even in the water.
Just about every bite of food that I tasted was well-seasoned, cooked perfectly and well presented. Even if the selection was minimal on some days, what was there was delightful!
There were many local flavours and options for Dominican dishes at each meal and the daily lunch buffet at Lighthouse was a surprise for some families, I'm assuming, as there was not a chicken finger, french fry or other kids staple in sight!
Fresh juices, flavoured water and other good-for-you beverage options were everywhere.
Cleaning and maintenance were consistent and constant in common areas.
Our floors in our room were impeccably washed each day. It was so nice to be able to walk around a resort room in my bare feet without looking for slippers or my sandy flip flops.
Pools were maintained well. Our swim-up pool outside of our room was cleaned 2-3 times before noon!
Many high-tech and modern touches make for a tech-happy girl! Maid request, doorbell and do not disturb button by the front door was a clear and easy to use to control who comes to the door and when. My nightstand had one standard outlet with two USB-ports above the nightstand and another standard outlet underneath. The laptop-sized safe in the closet also had a built-in USB -port inside so you can charge your laptop or tablet while you are out of the room.
Wine selections throughout the resort were satisfactory. The house wines were usually a Chilean Sauvignon Blanc or Chardonnay and the reds were usually a Chilean CabSav or Carmenere - which is an unusual find as a resort house red. The "wine menu" for the wines not included in the all-inclusive package were the usual brands included on most North-American-focused wine lists - Kendall Jackson, Masi, Louis Latour, etc.
What I Didn't Like So Much...
I am not sure if it was the slower time of year or if it was because they are still too new to have everything fully-staffed and open, but only having 1 classic restaurant open for lunch each day (aside from the burger place and a fish stand by the Nickelodeon Hotel) could be a little boring by the third day and beyond. There are several other eating spots on the property but none were open during the lunch hour.
Open kitchen design concepts were fun for guests to view and showcased the skills of their talented kitchen teams.
Even when you request your room to be cleaned early in the morning (with the high-tech call button near the room door), our room was only cleaned after 3pm each day.
Their restaurant reservation system was unorganized and inconsistent. One concierge would say that reservations could only be made 2-3 days in advance (and not sooner), a brochure would state that we could make a reservation at the restaurant directly between 3pm and 5pm daily and in person, at the restaurant, some hostess would say they were fully booked for the next two evenings, but seemed to always "squeeze us in" into the half-empty dining rooms each night if we just arrived around 8pm.
Their Personal Concierges for the guests are set up in small buildings throughout the property and are assigned to specific buildings (or so we were told). Some concierges greeted us and invited us in to their buildings to offer assistance with reservations, offer us "welcome gifts" and make small talk. When we entered the concierge building that was assigned to us (according to our in-room guide), we were met with 3 concierges who seemed bored, annoyed at our visit and actually told us that they were concierges for the Premium building but were "told to take care of our building as well". Our building was an Adults Only building next door and we were in a Honeymoon Suite. Wonder what the "Premium" folks were like, if we were seemingly beneath them in status...
Vino Vino is marketed as an upscale wine bar, but wasn't REALLY a wine bar. The bar back was full of every other liquor and booze imaginable with only a handful or two of wines in between. Their by-the-glass selection was only the usual house wines found all over the resort with the exception of one French blend thrown into the mix. Their wine-based cocktails were so sweet-sounding that my blood sugar levels rose just reading their descriptions. (For those who have read my recent rant in my Wanderlust newsletter, I was saddened to see another bar serve a wine-based cocktail with orange soda and call it "sangria".)
And finally...I have to mention the kids.
I didn't want to include this part of the review in either "like" or "dislike" because I had two distinct views on this aspect during this resort visit.
I had read the online reviews from recent visitors and knew that the "adults only" section wasn't going to be completely isolated from the family-style areas around the rest of the Nickelodeon/Sensatori property.
I knew that the two resorts are essentially next door to each other and share many of the same restaurants and other amenities.
I knew that there were 1 or 2 other adult-only options/areas onsite as well.
The positives?
The main pool and beach were full of kids and families, but for the most part it was all just fun and laughter and I loved sitting and just watching them.
The kids were happy and fairly well-behaved in all of the restaurants, so even when we were quickly ushered to the "adults only" dining sections, I would have been OK with eating in the main areas as well.
Aside from the Burger place in the Gourmet Village, almost all of the other food services were far from fried and didn't treat kids' meals much different than the adult meal options. I have always been a fan of kids eating the same as the adults to show them healthy food looks and tastes like. Even on vacation, veggies and dip as a snack isn't a bad thing.
The negatives?
The swim-up bar at the main pool had more kids sitting at it than adults - which was a little disturbing and annoying. Although they were sipping orange soda or homemade chocolate milk, they took up all the seats and didn't move to let others in to order drinks. The parents seemed content with just getting out the pool and ordering from the other ground-level side.
I noticed a sign that Vino Vino used to be adults-only after a certain time of night and due to too many parents complaints, it is now family-friendly. I am not sure who NEEDS to bring their kids into a bar after 10pm at night, but I just feel sorry for the kids - who I doubt - want to be there that late anyhow. Most kids that I saw sitting on the sofas at night were not smiling - even when sipping their virgin piña coladas.
Some of the family suites are swim-up or had plunge pools on their patios and our adults-only room was just across the walk way so it was usually noisy - and sometimes to the extreme. We were woken up one night after midnight by some kids and their father pushing each other into our swim-up pool a few feet from the end of our bed. We almost called the front desk one afternoon when a child kept screaming like he was hurt for 20 minutes while his father sat outside and read, ignoring him.
As always, my comments and observations were based on my experiences only.
We, personally, have decided that Adults Only resorts will be our only choice for quiet vacations going forward.
Please use my reviews as a reference only in making your OWN decisions.
---
Galleries
Sugarcane Restaurant
Buildings, Pool and Beach
Lighthouse Restaurant
Honeymoon Suite # 8128 - Adults Only Building
The Food
Looking for a speaker for your next event or conference?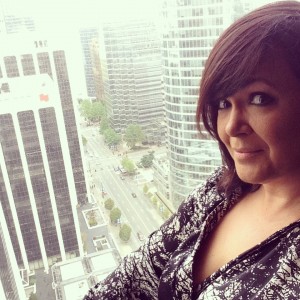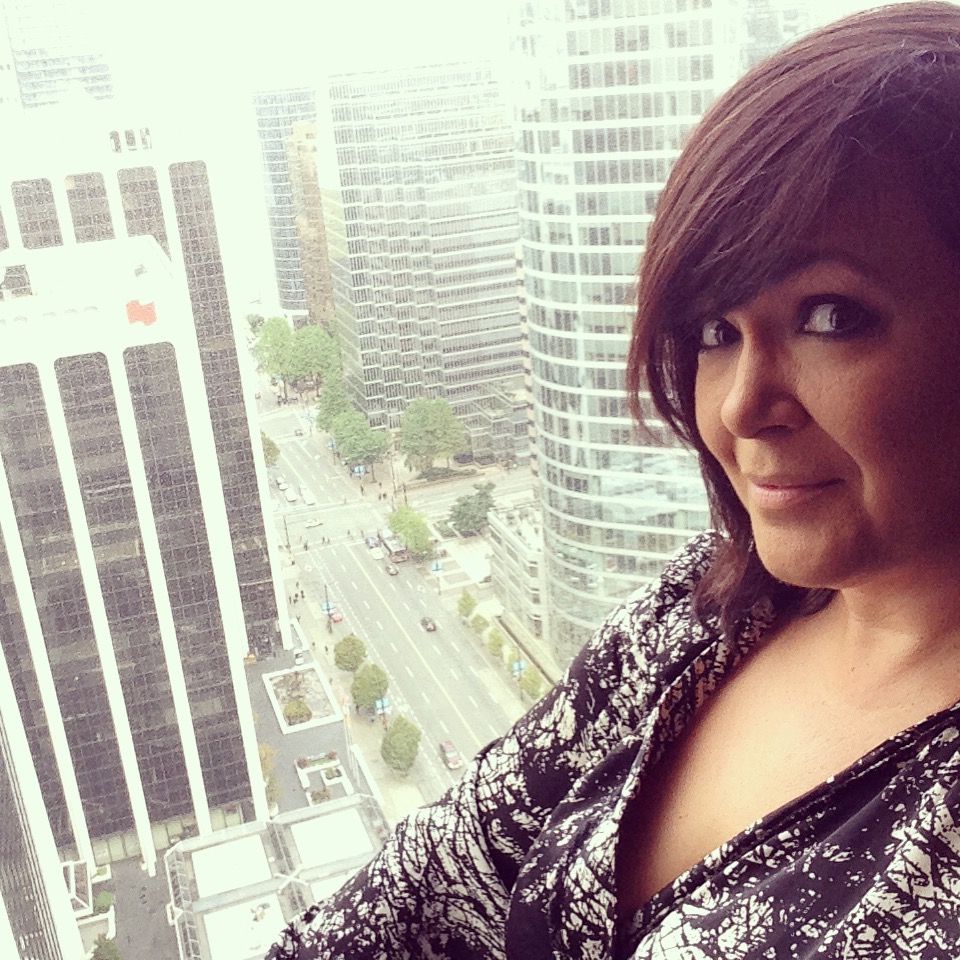 Cooking demonstrations, wine pairing events and lectures, travel talks and MORE...
She speaks with passion, insight and FLAVOUR!
To book an event or learn more, email us by clicking here