Loews Hotel Vogue
1425 Rue De La Montagne
Montreal, Quebec, H3G 1Z3
Phone: 514-285-5555
Reservations: 1 800 465-6654
https://www.loewshotels.com/montreal-hotel
Visited: February 2016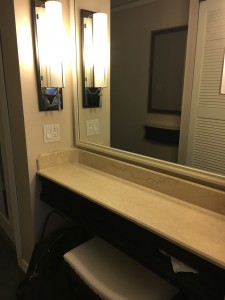 What I liked...
Room design and furniture! For two women, their premier room with two double beds had MORE than enough room for us, our luggage and clothing, our shopping bags, and a little more space to just 

breathe

. (Kudos to whoever chose the settees at the end of each bed. We each had own comfy space to watch a movie.) There was also a handy lit mirror and stool with an electrical outlet OUTSIDE of the bathroom...so no squabbling!
Check-in was quick and efficient. Although our room wasn't ready when we arrived, they kept our luggage and called my cellphone as soon as the room was ready.
Outlet by the bed (behind the center nightstand) and another built into the the desk (with USB charging ports as well). It is one of the first things I look for when I check in to a hotel room now so I don't have to rely on the in-room clock or a wake up call.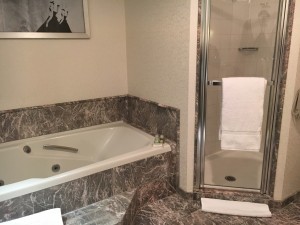 What I didn't like so much...
For such a large room, obviously designed for two guests, I still don't understand why hotels only leave a small number of coffee pods (including decaf).
Although wifi was free, it was for only 24 hours at a time. There was an option to set up the complimentary access for more time at once, but it didn't work. I had to log in each day during our stay.
Bathroom is very large...but doesn't have any storage. No drawers or baskets or shelves. With only limited counter space, two women do not leave much room around a sink. 😉
I loved the added touch of a free newspaper when I was at the Loews location in Santa Monica. I didn't see one in the hallway at all during this stay in Montreal...maybe only upon request? (A bit petty to mention, but it is a small touch that means a lot.)
Location was downtown and nearby great restaurants but it was a few blocks away from shopping. During nice weather - not an issue. With snow, slush and ice during our visit? We were aching for direct access to the Underground shopping network.
I loved our room and the hotel itself, but with the winter weather and the distance to the Underground shopping a few blocks away, I would choose another hotel for my next girls shopping trip. For just a luxury stay with my husband? Absolutely!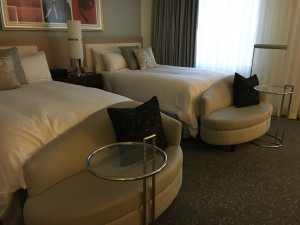 ---
Marriott Chateau Champlain
1 Place du Canada
Montreal, Quebec
http://www.montrealchateauchamplain.com
Visited: November 2016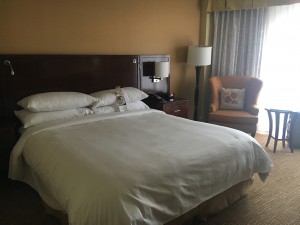 What I liked...
Rooms are spacious enough so you're not tripping over each other. Warm colours and traditional design.
Plenty of closet and shelf space in the room design.
Check-in was quick and efficient.
Lobby is very large and there are enough seats to sit and relax and read, if you like. Newspapers are available for guests nearby.
Starbucks in the lobby. It is a small location, but serves the needs well enough.
We didn't get to the bar during our stay, but I peeked in the windows before we left and I made myself a note to have a cocktail there at my next visit. Dark and luxurious!
Many elevators so you aren't waiting.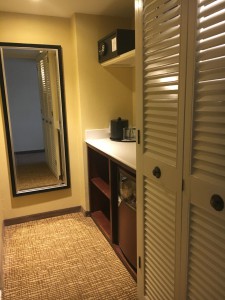 What I didn't like so much...
Bathroom was clean and traditional but only one sink and large enough to easily share.
I am not sure why, but this hotel also keeps the mini bar locked. Late night searches for bottled water shouldn't be so difficult. At least we could have been offered a key upon checkin.
Location was convenient to where we were going that evening, close enough to the downtown core for a quick walk to shopping and dining but far enough to be a little quieter than if it was right in the core of downtown Montreal.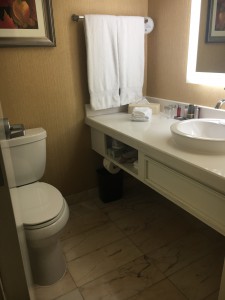 We were impressed with hotel, the value for the room that we booked through hotels.com, the attentive staff and location. We will be back for sure!
---
Looking for a speaker for your next event or conference?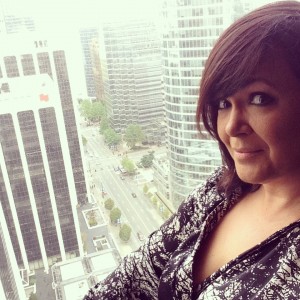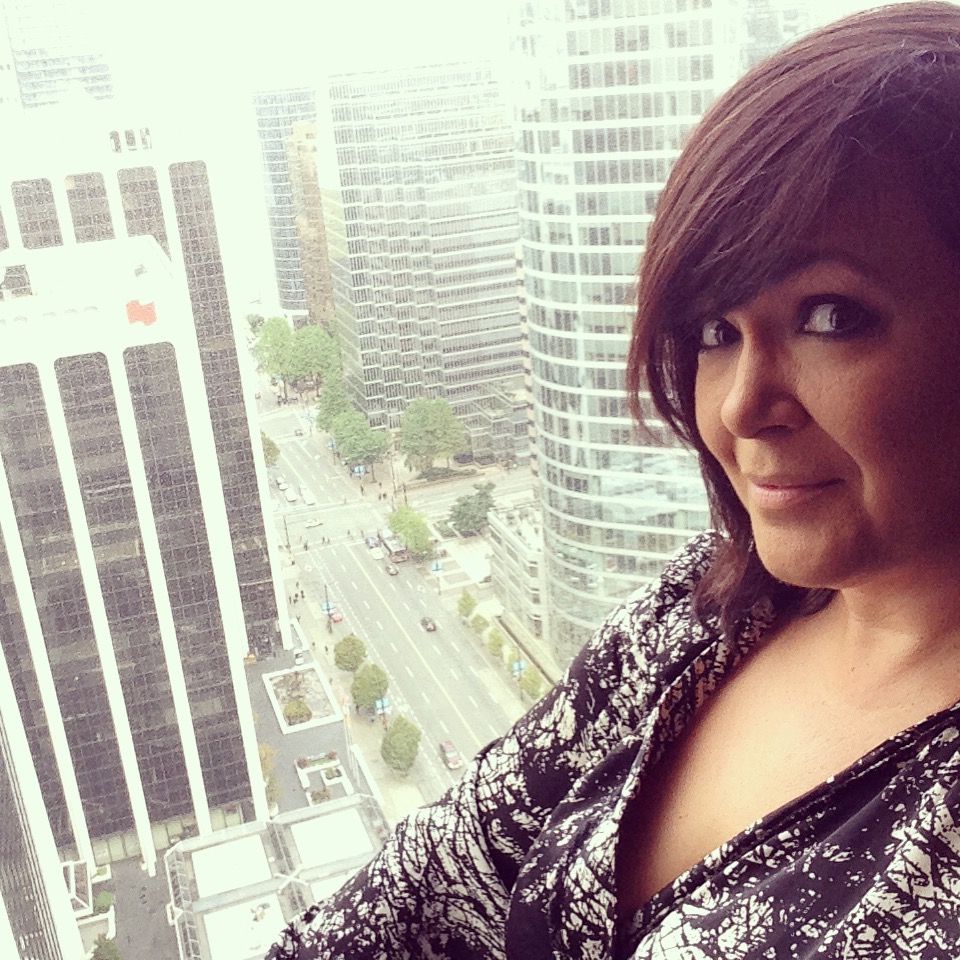 Cooking demonstrations, wine pairing events and lectures, travel talks and MORE...
She speaks with passion, insight and FLAVOUR!
To book an event or learn more, email us by clicking here