The Tuscany - A St. Giles Hotel
120 E. 39th St.
New York, NY   10016
website
1-212-686-1600
Visited: October 2015
NOTE: Changed rooms shortly after we checked in so I had a chance to see both the corner suite and studio king.
What I liked…
location is terrific! A couple blocks south of Grand Central Station and the heart of Midtown.
great size of rooms - unusual for a boutique hotel
Sushi Roxx (next door bar/resto) looked like an exciting place to visit - wish we had time to stop in for a drink
corner suite had more windows but didn't feel much bigger than the other room
bathroom was much larger in the corner suite - shower/tub combination with a wooden step to get in safely - but almost seemed like there was too much unused space? There could have been a whole shelving unit against the far wall for bathroom storage.
studio king's bathroom is long and narrow. enough room to maneuver safely in there, but just make sure to lock the bathroom door since your knees almost touch the back of it when sitting on the toilet.
What I didn't like so much...
no coffee machines - but I think that is common in New York hotels.
cleaning seemed to be a rush job - bottle of spray cleaner was left in the corner suite. Figured someone would miss it while we were out for the afternoon and retrieve it. It stayed. We also found a used contact lens sitting right in the center of one of the nightstands. Obviously it wasn't dusted or cleaned around there?
The baseboards around the hardwoods looked dusty and flaky.
We asked for another room and were moved upstairs to a studio king. Within 2 minutes, we decided to grab a bottle of water from the bar fridge and found a huge bag of cosmetic injectors and other paraphernalia that was obviously left behind by the previous guest. Guessing that the cleaners didn't check the fridge?
Two out of two rooms had minor issues but it all stemmed from lack of care from the cleaning staff.
Front desk staff were apologetic and offered us free breakfast vouchers.
We decided to change hotels since we hadn't prepaid for the entire stay, the cleaning mis-steps were a concern and we thought a location closer to our other destinations would be more suitable anyhow.
I wouldn't tell people NOT to come to The Tuscany, however. I think it was just bad timing and unfortunate circumstances.
---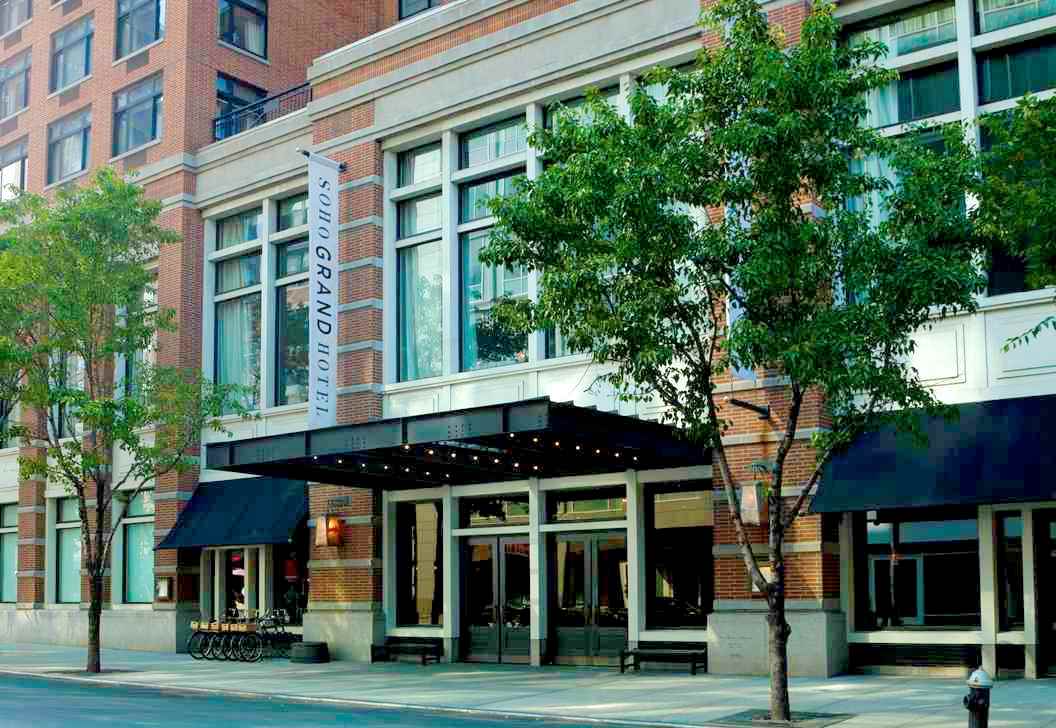 Soho Grand Hotel
310 W Broadway
New York, NY    10013
website
(212) 965 3000
Visited: October 2015
What I liked...
door men who work at the front entrance are friendly, knowledgeable, happy to help and great help hailing taxis (one of them even commiserated with me about the Jays' recent loss)
decor in the entire hotel is classic with a modern, trendy twist. Tiles, wallpaper, choice of furnishings are all tasteful, fun and comfortable
location is ideal for those who love shopping. It is located within a block of the busiest shopping area of the sought-after Soho (south of Houston) neighbourhood.
we booked online through hotels.com and chose it for its location and its discounted deal - and were more pleasantly surprised when the final bill came in. The room rate was even cheaper than planned. What a steal!
we only stopped into their Salon/Grand Bar for a nightcap but its obviously quite popular since it was always busy from morning until late at night
bed was super comfortable
What I didn't like so much...
Room size - including bathroom - was a little small for my taste. Once I set out a suitcase on a stand in a spare corner, I was walking sideways often to maneuver through the room. (It may also, honestly, be a bias since I just came from the comparably very large room at The Tuscany.)
The wardrobe unit in the room is handy for hanging clothes, but more drawers, baskets or bathroom storage would help for emptying a suitcase so it can be tucked away for the stay and therefore leave more space to enjoy the room.
bell men weren't easy to track down. Once we checked in (we arrived early), we went back to the front to have our luggage stored and had to wait in line for the concierge to call someone to come and assist. Other times (when we came back for our luggage or when we checked out), we saw them but were never asked if we  needed or wanted help with our luggage. We didn't have a ton, but it would have nice to be asked.
The Salon/Grand Bar has a small cocktail selection and small wine selection, but I was surprised that they didn't have anything such as port, dessert wines or other digestifs that guests could treat themselves after dinner.
If you aren't planning to spend too much time in your hotel room, it is an ideal spot to stay in New York for a shopping/dining weekend.
---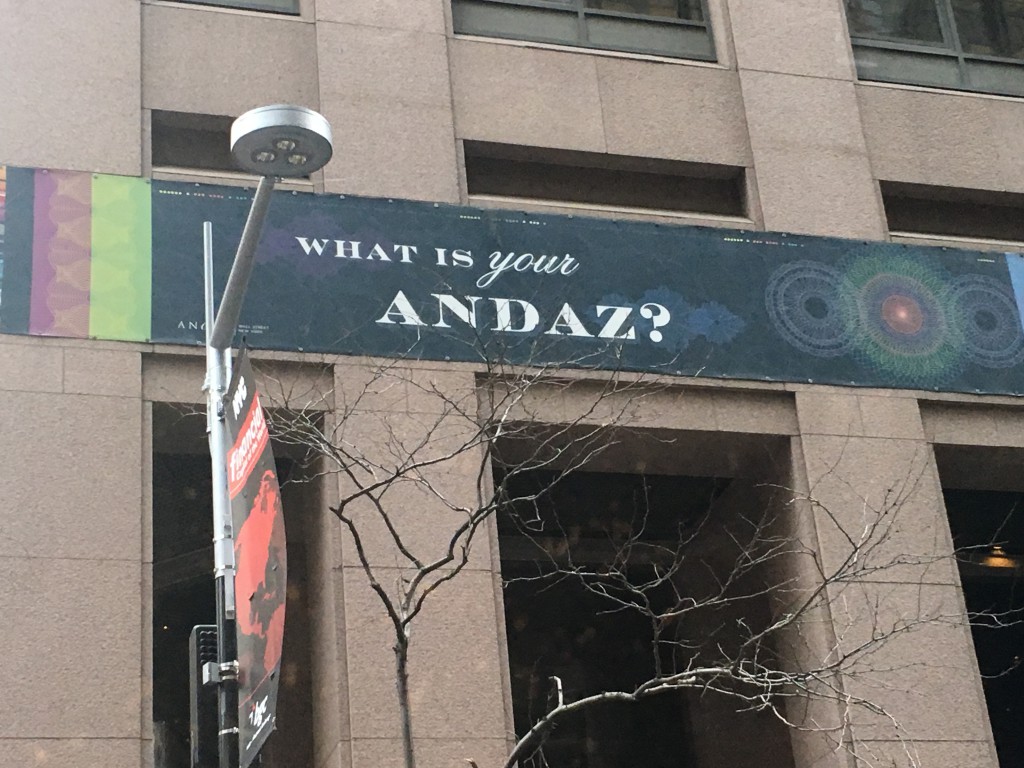 Andaz Wall Street
75 Wall Street
New York, New York, USA, 10005
Tel: +1 212 590 1234
website
Visited: March 2017
What I liked...
staff who work the front desk and lobby are friendly, knowledgeable, happy to help
after a quick check-in, guests are informed that there is free coffee and tea in the lobby 24-hours a day and free wine in the lobby from 5-7pm 🙂
decor in the entire hotel is classic with a subdued colour tone - so everything seems relaxing.
location is ideal for those who love shopping at Century 21, want to be near Wall Street, Battery Park and still a short cab ride to SoHo for more shopping and dining.
we booked online through hotels.com and chose it for its location and its discounted deal - for a full suite, it was less than $250 per night! (Keep checking for deals!)
the suite was outstanding! The living area was far enough away from the bed that one can't disturb the other, the closet in between helps buffer the sound as well.
The shower area is actually a full wet room...with a separate deep tub!
The separate shower and toilet stall as well as a large double-sink area stifles any bathroom squabbles and the desk/vanity table design should be in every hotel room! With plugs built in on one side, a vanity bench, plenty of light from the windows behind me and a mirror attached to the back of the TV facing the bed, I could take my time with hair and makeup and not take up the bathroom. Luxurious!
the mini bar is well-stocked with water, juices and soft drinks...and all FREE!!!
bed was super comfortable
wifi was included and the signal was strong throughout the building
What I didn't like so much...
Storage. Although their was a closet and a small open shelf on the other side of the same wall, I like to have drawers nearby for unpacking my suitcase.
the elevator gave us a little grief (went up instead of down, etc.) once or twice. Mentioned it to the front desk staff on our way out one night and it seems to have been fixed.
The lobby bar/lounge was large enough to seat most guests, but the decor seemed a little cold and didn't encourage me to stay longer. We stopped by for an after-dinner drink, but sat at the bar and could only watch XL TV's for so long before we got sleepy. The food menu looked ok...but with so many other options outside of the hotel...
Since I spend so much time outside of a hotel room usually on my visits to New York, I felt like it was a big splurge for this suite on this trip. BUT it did allow me to take my time in the morning and not race out for coffee or even take longer to get ready for an evening out. I will be checking for deals on the suites here on our next shopping/dining trip to New York - for sure!
---
The Gotham Hotel
16 E 46th St,
New York, NY 10017
Tel: +1 212-490-8500
website
Visited: September 2017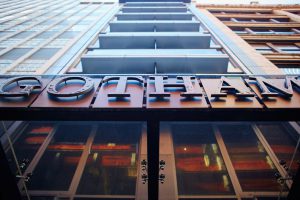 What I liked...
a small, boutique hotel located just a few blocks away from Times Square, Grand Central Station, the theatre district and plenty of shopping
it is located on a fairly quiet street
the porters and front desk staff were approachable, personable and happy to help. They asked to ensure we had plans for lunch and dinner when we arrived, as well.
There is a Wolfgang's Steakhouse located on the main floor for breakfast, lunch and dinner.
The room was pretty spacious for a Midtown hotel of this size.
I love the addition of small balconies to most of the rooms so guests can enjoy a beautiful sunny morning having a coffee outside.
The decor is clean, modern and seemed to be fairly new.
The bed was comfortable - love the addition of the cushioned mattress pad under the fitted sheet!
What I didn't like so much...
Bathroom storage. I barely had room to hang my bathroom bag in the bathroom and the tiny shelves nearby just had enough room for me to leave out one or two personal items.
The balcony was a nice touch, but the view was not a "courtyard" - just the roof of another hotel level and other windows to nearby rooms. I don't mind the lack of privacy, but would have preferred to see

something

- maybe some potted trees, a garden...anything!
With Wolfgang's downstairs, we were hoping to be able to have a coffee and work on our laptops late on a Saturday morning, but even though there were a few staff members sitting at the bar chatting, we were turned away because their breakfast service was "finished". Even when we asked to just have coffee, we were told that they wouldn't be open again for another hour or so and to "go next door" to the neighbouring coffee shop. Made me a little nervous about even stopping in for a late afternoon/early evening cocktail, in case you wanted to be there outside of their posted hours.
I chose this hotel because of two reasons-the price for the room and its proximity to the area of midtown where we wanted to be that weekend. It was clean, comfortable and hopefully, the next time we are in that area, I can get a room with a better view from my balcony.