Loews Santa Monica
1700 Ocean Avenue
Santa Monica, CA  USA 90401
Tel. 1.866.563.9792
http://www.santamonicaloewshotel.com/
Visited: January 2016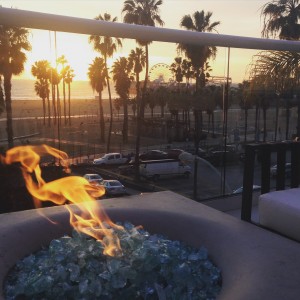 What I liked...
The room design for those with direct pool access. As a morning person, I loved waking up and walking out for a morning lap or two or some quiet time in the jacuzzi.
The fire pits. There was one on our private patio in our room (became my twice-daily treat) and several near the pool and patio area of the lounge with beautiful views of the ocean and the Santa Monica Pier.
The bed was so comfortable that we slept MUCH longer than we planned one day. Not sure if it was the bedding or the mattress, but it worked TOO well (if that's an actual problem) .
Hotel location is terrific for shoppers. It is only a few blocks from the downtown area, the Pier and the 3rd Avenue shopping district, but still far enough away that it stays relatively quiet.
Staff were pleasant and helpful. The porters and valets working the front were also quiet chipper and entertaining.
What I didn't like so much...
The rooms and hallways seemed a little dated for the current hotel rates...BUT they are working through renovations - section by section - so I am guessing visitors will see some improvements and added luxury within the next year.
I know that they were having renovations - and there were several signs apologizing for the disturbance, but it was SO loud that I was forced one morning to have coffee in the lobby just so I could hear myself think.
Ordered breakfast twice at the hotel during my stay. Once via room service - and the other at the restaurant and both were just OK. Portions were a bit heavy for what I expected from a health-consicous area of California, but they tasted alright. Room service was well set up (and pricey) but still just average and nothing unique. OK for business travellers who just to eat a bite while they are working in their room.
Although wifi was free, it was for only 24 hours at a time. There was an option to set up the complimentary access for more time at once, but it didn't work. I had to log in each day during our stay.
I may be heading back to the Santa Monica area later this year, so I may go back for another visit if there renovations are farther along.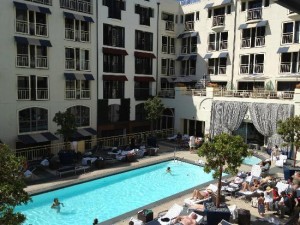 ---