This is

NOT

an easy list to make.
I have sampled wines at the wineries, in tasting rooms, at wine bars, in restaurants and at home.

I have more than 5 favourites, but I want to keep this list simple so I have a list to use for comparison, going forward.

Some of the wines do not have vintages listed unless it was significantly different compared to other vintages that I tasted - and/or enjoyed more or less.

If the wine is available through the LCBO/Vintages, I added the link and number for your reference.

If you come across any of these wines on your travels - or get a chance to sample one, let me know your thoughts!  travelqueen@stephaniepiche.ca
#1   J. Charpentier Champagne    jcharpentier.com
This was the little winery in Champagne that quickly had me forgetting the other "big houses" that I usually held in my cellar. I don't get to sample it often, however, since they do not export to North America, but I occasionally luck out and find it in a wine shop in Europe. Buttery, smooth and full of tiny bubbles. I can taste the passion this family has for its wine.
#2   Campo Viejo Reserva    campoviejo.com    LCBO # 137810
I first tasted this wine as a recommendation from a waiter on my honeymoon cruise in early 2005. By the end of the cruise, there was none left in their cellar. I made a point of finding it again once I returned home and I have been recommending to everyone ever since. It is a "regular listing" wine at the LCBO so you can find it just about anywhere.
#3   Elizabeth Spencer Chardonnay   elizabethspencerwines.com
My favourite tasting memory from my last visit to the Napa Valley. A small little winery with a small tasting room, I can still close my eyes and see the slightly foggy, golden liquid in the glass. It isn't allowed to go through malolactic fermentation so the mouth-feel is smooth, unique and gave me a new appreciation of California chardonnay.
#4   Château Guiraud Sauternes  chateauguiraud.fr   Vintages # 256347
Liquid gold! What brought me back to appreciating sweet wines. Not just for dessert, it pairs beautifully with many savoury dishes, too, so I can open a bottle and find an excuse to treat myself more often that I probably should.
#5   Château de Beaucastel Chateauneuf-du-Pape 1998  beaucastel.com     Vintages # 4838
I was always a fan of Beaucastel's wines, but a recent visit to a Famille Perrin tasting room gave me the opportunity to sample the 1998 vintage and I couldn't help but buy a bottle to take home. Smooth and well-rounded, I am holding off opening it until I can figure out exactly what dish I will pair it with...or what special occasion I can come up with to drink it all on its own - and all by myself. 🙂
---
Want to night out with great cuisine and a chance to learn a little about wine?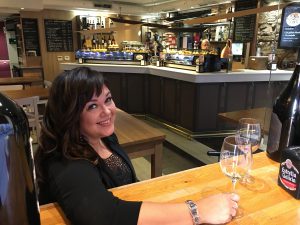 Why not join Stephanie at Wander Food & Wine for a wine tasting or class ?
OPENING FALL 2019!
CLICK HERE to see this season's schedule and for on-line registration.