November 2015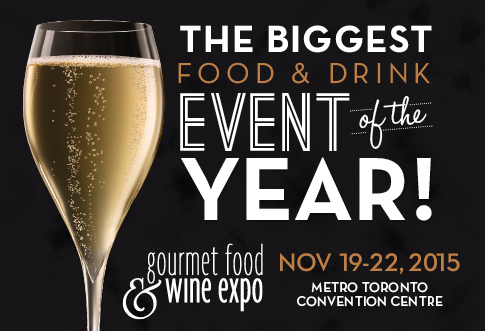 It was nice to be back to visit the show on the VIP Preview Night. Less crowds and more chances to chat with everyone.
If you haven't had a chance to visit this iconic show held annually at the Metro Toronto Convention Centre, here is the scoop...
You buy an entry ticket for a flat fee which allows you access to the show, cooking and other deos, entertainment and a souvenir tasting glass.
Entry ticket prices vary depending on the day, time of day (afternoon vs evening), if you need in/out privileges, etc.
Sample tickets are available for sale in sheets of 20 for $20 ($1 per ticket) and available at the entrance and in a couple of other booths inside the show
Samples at each booth can vary from 1 ticket to several - depending on the price of the sample the exhibitor is offering.
Both food and beverage samples use the ticket system.
There were over 1500 samples to test out at this year's show.
Here are some of my favourites (highlights) of this year's visit...(you will quickly notice that I was focusingon whites this year)...
Villa Maria Private Bin
Lightly Sparkling Sauvignon Blanc Marlborough 2014  (New Zealand ) LCBO#: 4
29969  $17.95   - SO lovely!
Argyros Assyrtiko 2013  (Greece) LCBO# 366450  $21.95  - One of my favourite white grapes and this is a stunning example!
Fasto Verdejo Rueda (Spain) LCBO #400200   $12.25 - Great value for a classic verdejo!
Boschendal The Pavillon Chenin Blanc (South Africa)  LCBO # 281311 $10.95  - So crisp!
Brazos de los Andes WhiteBlend (Argentina)  LCBO#369660  $13.90 - First time trying this blend and I can see it becoming someone's go-to white during the warmer months. Easy drinking!
Mumm Cuvée Napa Brut Prestige (USA) LCBO# 217213  $25.95 - One of my favourite sparkling wines - and I was told that night that it will be on sale in December - so stock up because I will be!
Grange of Prince Edward Estate Pinot Noir (Canada) LCBO#230227  $18.95 - One of my favourite pinots from Southern Ontario. Light, dry and fruity - just how I like it!
Garamvári Délidóló 2013 (Hungary) - this dry, late-harvest style Chardonnay is not showing on the LCBO site yet, but keep an eye out for it! It was this producer's first time at the show and were offering free samples on the VIP Night...but we would have EASILY paid several tickets for such a lovely white! My guests and I all agreed that night that is  one of the favourites of the night.
There seemed to be little food offerings this year - but 

many

 sweets - macarons, chocolate, etc. BUT I was thrilled to see Acadian Sturgeon back! I could have pulled up a chair to their booth!
It is a full weekend of fun - maybe I will see you there next year?
---
Looking for a speaker for your next event or conference?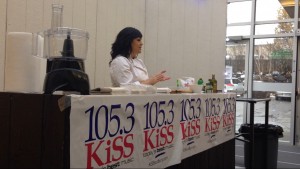 Cooking demonstrations, wine pairing events and lectures, travel talks and MORE...
She speaks with passion, insight and FLAVOUR!
To book an event or learn more, email us by clicking here