July 2016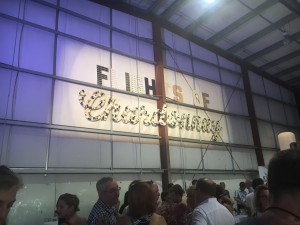 I heard that it was their 6th year for this event in the Niagara wine region.
A couple of months ago, I realized that I had to be in Toronto for an appointment on the Thursday before the weekend's event, so I rearranged my schedule so I can attend a few of the festival's events over that weekend.
Two months wasn't long enough to get things in order!
Hotels, inns and B&Bs around Niagara-on-the-Lake were mostly booked, and the only events left available for ticket purchase were the tutored tastings held in the classrooms at Niagara college. I managed to get two spots on a waiting list for the kick-off event, Flights of Chardonnay, to be held at the Niagara District Airport.
There were, however, several luncheons and tastings available for pre-purchase at certain wineries, but upon closer examination of the details of each event, they seemed to be little more than the usual tastings offered but with a short chat or tour with the winemaker added on.
So I decided to skip the chats and tours and book my own tastings, tours and meetings with wineries in the area and focused on smaller producers who wouldn't be bogged down by tour groups and festival goers.
For a full re-cap of the winery visits, check out the August 2016 issue of Wanderlust. If you haven't signed up to get all of the monthly details and articles, click here.
Flights of Chardonnay
THE I4C STORY:

Summer 2009: A handful of winemakers lounged in lawn chairs around a summer fire celebrating the success of one of their own. They gathered to raise a toast to the Canadian wine that had just triumphed at the 2009 Cellier Wine Awards in Montreal. In Canada's own version of Bottle Shock – a Niagara wine won the prestigious award, surpassing Burgundian and California Chardonnays in a blind taste test. (The wine: Claystone Terrace Chardonnay 2005 from Le Clos Jordanne.)

The significance of this win wasn't lost on those celebrating, and the wheels were turning as the glasses were swirling. These winemakers have long believed that Chardonnay – one of the most widely cultivated varietals in Ontario – is deserving of a renaissance… It's resilient and refined. It can be steely or floral, complex or focused. It expresses terroir better than any other grape we grow. And when Chardonnay is complemented with a bit of cool – cool by altitude, by latitude, by marine influence or by climatic conditions – and can create magical wines that can easily refute the already waning "ABC – Anything but Chardonnay" movement.

The outcome of that impromptu backyard celebration is a much bigger one – the International Cool Climate Chardonnay Celebration (the "i4C"). Twenty-eight Ontario wineries started the not-for-profit group in April 2010, devoted to reinstating the dignity of Chardonnay. Over the past three years, this group has invited premium cool climate Chardonnay producers from across the globe to join the cause, presenting some of the finest examples of cool climate Chardonnay in the world at the annual event. In this short time, the i4C has created a home for excellence in Chardonnay – a casual but in-depth weekend celebration of wine, food and learning, with an eye to reinvigorating a seriously cool wine.

It's time for Chardonnay to return to centre stage. It's time for the re-birth of Cool…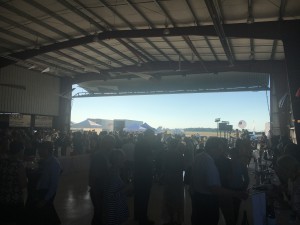 What I Liked...
The venue was unique! Using the word "flights" in a more literal sense of the word, the event was held in a hangar at the Niagara District Airport. The back wall was raised to allow the stage for music to be partially outside the building and picnic tables could be scattered just outside the area for guests to sit and sip their chardonnay samples.
Many of the food offerings were terrific for pairing with the chardonnays! Fire-roasted chicken, fresh oysters, ceviche, shrimp dumplings, squash blossom fritters and more... (but there were also many dishes that were more hearty for those who were holding out for the reds to arrive that evening...like pulled pork sandwiches...)  Shout out to Tide and Vine! My favourite booth of the night!
A huge variety of wines to choose from - and for a great all-in price of $45 per person. If you could pace yourself, you could sample all of them...close to 70!
Complimentary shuttle services - great idea to promote safe drinking - IF you were staying at White Oaks or Niagara College that weekend. The driver would be kind enough to drop you off at other locations en route to the two accommodations in the Niagara-on-the-Lake area, as well.
Staff "blue shirts" were friendly and upbeat. Even if they didn't have an answer to your question, they were smiling!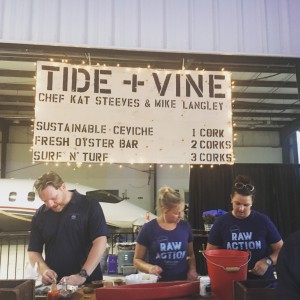 What I didn't like so much...
Many of the samples offered that evening were not available either in the LCBO or in Canada. Some winemakers were surprised to hear this, but I was more surprised that they wouldn't have brought along tasting notes or even the wines that would be available for purchase.
It was difficult to keep track of what I tried and what I liked. At other tasting events, there is usually a brochure, a flyer or a full sheet with the wineries' names and offerings for future reference. I noted a couple of people wandering with a small booklet, but it looked like part of weekend-pass package.
After 2 samples, we noticed that were no spitoons or water jugs anywhere. If we didn't like a wine sample or simply didn't want to finish one, we had no where to dump it. We inquired at certain tables and with a few "blue shirts" and within an hour or so, someone scrambled to bring spittoons to the tables. It could have made for a messy evening if everyone would have been forced to consume all of their full pours!
Shortly after 8:30pm, we noticed that certain wineries were out of wine and were closing up their booths. (The event was scheduled to run until 10pm!) I felt sorry for those who arrived later than planned.
The event promoted a separate booth area for cabernet franc samples. When we inquired about it shortly before 9pm, the "blue shirt" told us they were "on their way" and would be set up along one wall within the half hour. We decided not to stay and wait, but shortly before our taxi arrived, we saw bottles being opened and even a beer keg set up at one end. (We heard from another visitor the next day that the wines were just "random reds" that were opened to continue to offer samples to the guests who wanted to keep drinking until 10pm.)
As cute as it was to have slices of cork used as currency for the food stations, I had a quick feeling that it wasn't the only year that this was implemented. I spotted more than one ziplock bag full of corks at the event. 🙁
My favourite chardonnays of the evening were mostly un-oaked, but I could possibly attribute that to the intense heat of the evening and the outdoor, partially uncovered venue.
Here are the highlights...
Landmark 2014 Overlook Chardonnay (Sonoma County, USA)   I was told by the winemaker that it should be listed with the LCBO, but it isn't as of yet for some reason. I did, however, find the 2011 listed on the SAQ site. Click here to order or purchase.
Stoller "Dundee Hills" Unoaked Chardonnay (Oregon, USA)  The first un-oaked that I sampled that evening and I still enjoyed a second sample later in the evening. Crisp and cool, it can easily be a go-to for summer sipping. Unfortunately, I cannot find it in either the LCBO or SAQ currently.
Lightfoot & Wolfville (Nova Scotia, Canada) They have a 100% chardonnay blanc de blancs that was superb! Again, though, not in the LCBO or SAQ yet...but keep an eye out!
Gérard Bertrand Cuvée Thomas Jefferson Brut Crémant de Limoux 2013 Sparkling (France) My favourite sparkling of the night. Creamy and elegant - it should pair well with just about anything - or will do just fine on its own. 🙂  Click here for LCBO info.
Chardonnay PGI Achaia 2015 - Cavino Winery (Achaia, Greece) So crisp and clean - it would match with most Mediterranean flavours - or just seafood in general. It was my favourite with the fresh oysters that night! Soon to be arriving at the LCBO, I was told. Keep an eye out for #457937 (or their oaked version 457945).
Yes, surprisingly, with all of the offerings that evening, only 1 Canadian chardonnay stood out for me that evening. I do, usually, prefer our local rieslings in our whites.
I admit, though, that I avoided the tables of many wineries from the Niagara area that I would be visiting over the next couple of days.
The event, itself, was bustling enough to be fun and allowed visitors to compare our own local chardonnays with some of the best in the world - which was the overall intent.
I will just have to make a point of booking my weekend's plans a little sooner next year so I can take in the festival in all of its glory!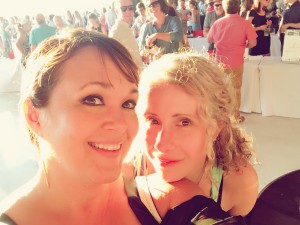 ---
Looking for a speaker for your next event or conference?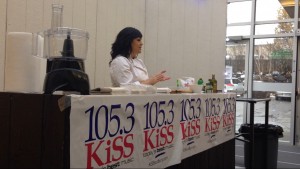 Cooking demonstrations, wine pairing events and lectures, travel talks and MORE...
She speaks with passion, insight and FLAVOUR!
To book an event or learn more, email us by clicking here