January 2017
208 Rodeo

208 N. Rodeo Drive
Beverly Hills, CA   90210
Website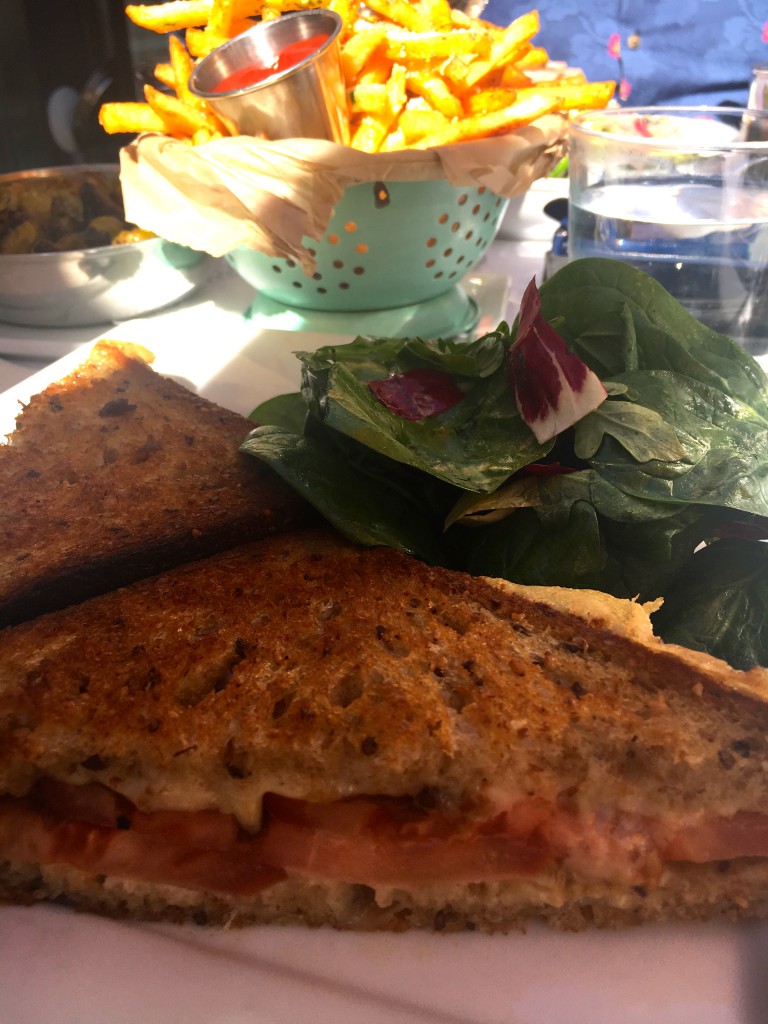 In one of the best locations around Rodeo Drive, it has a cute little terrace which is great for people watching and a handful of tables inside for those who want to escape the limelight.
Not overly fancy but with fairly high-end offerings, there is just about something the menu for everyone who visits.
The staff were warm and inviting - obviously love their jobs which is always a highlight for me.
I ordered the multigrain grilled cheese sandwich and was pleasantly surprised to see that there was a good balance between the cheese and tomato so I had room to finish off my side of fries before my husband beat me to it.
The only thing that I wasn't used to, that would count as a negative, was that my table for 2 on the terrace was so close to other tables that we were bumped into more often than not - sometimes by other guests but mostly by staff who were trying to service the tables next to us. It is an easy fix however. I will just make sure to choose a different table the next time I dine outside at that location.
FAV item?  The Parmesan Truffle Fries. They are available just about everywhere here, but these were super crispy, a little seasoned and highly addictive!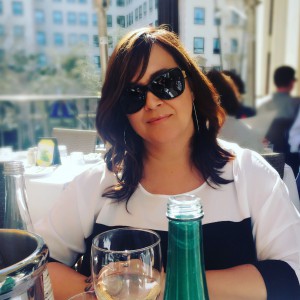 ---
Spago
176 North Canon Drive
Beverly Hills, CA
Website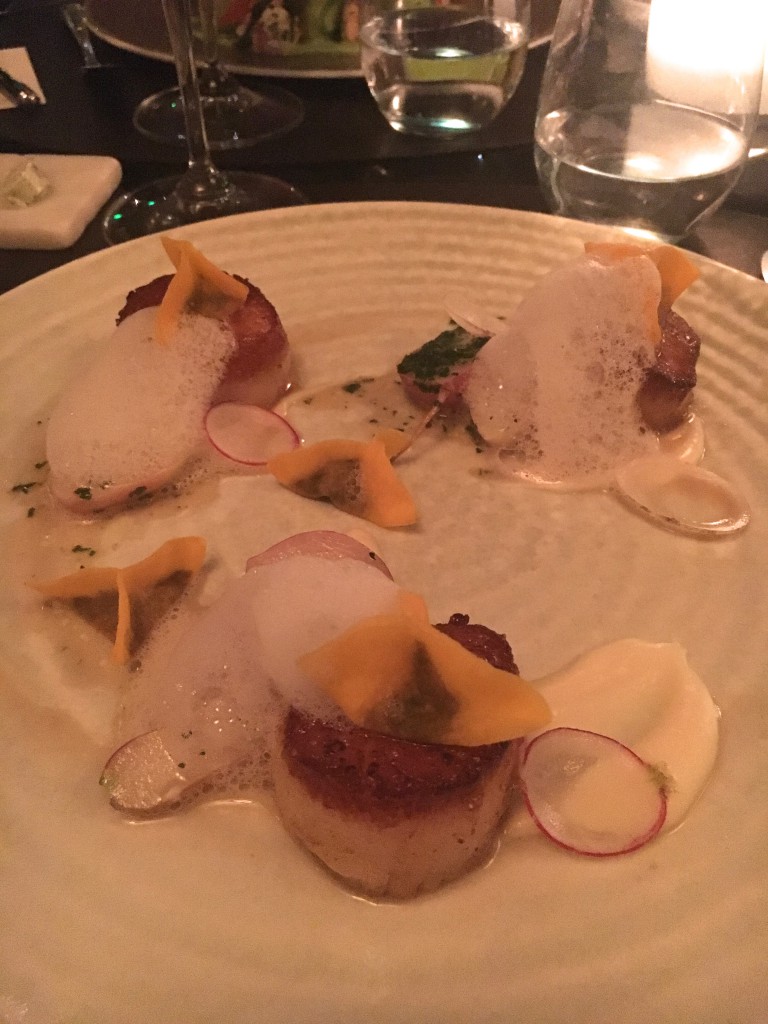 From the time you walk in the door of this landmark restaurant, you are made to feel like you are a VIP.
The waiting area and bar is relaxing enough to encourage visitors to come early for a pre-cocktail or spend a little more time finishing their after dinner tipple.
Although the restaurant is quite large, the design allows guests to feel cozy and uncrowded.
I appreciated the suggestion from our server to split a couple of courses before our main so we can try more from the menu. The half of the Belgian Endive Salad was more than enough and I couldn't imagine eating a whole portion as a starter course.
Entrees are simple and focus on the main protein. Sides can be ordered separately, but I wanted to focus my appetite on the other courses.
Wine list was great - and I especially loved the "Sommelier Picks" with a good and value-driven range of selections to please most guests.
My only negative comment would be the speed of the servers. It was a Saturday night and was obviously busy, but they moved so quickly that they were bumping into each other often which was a little nerve-wracking when it happened close to our table.
FAV item? The agnolotti were soft, luscious and middle sweet and nutty. If I wasn't so full from the salad course, I would NOT have split this order. 🙂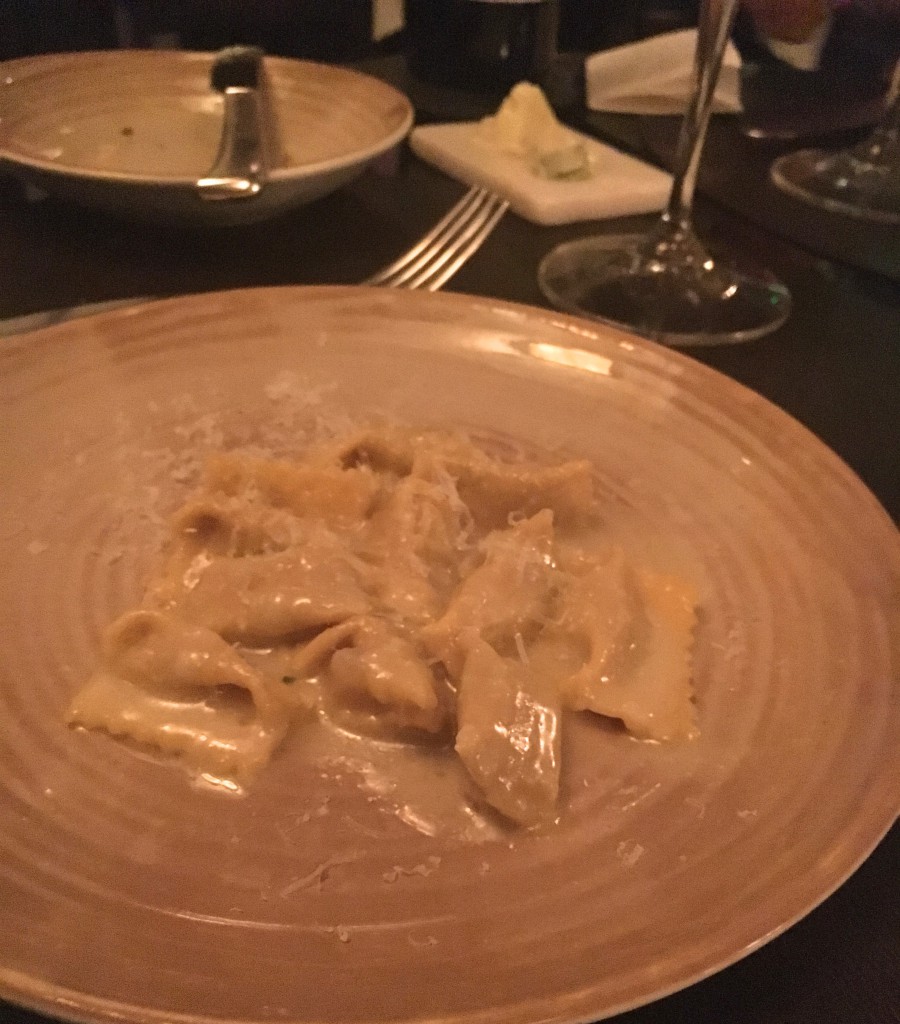 ---
The Blvd

9500 Wiltshire Blvd.
Beverly Hills, CA
Website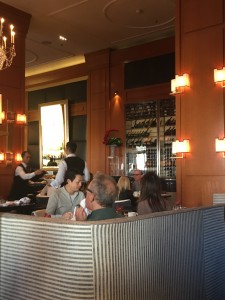 There is nothing more spectacular than splurging on Sunday brunch in Beverly Hills.
The smell of coffee and the glitzy decor spotted with orange - a sure sign that every table is hosting at least one mimosa.
Set in the front of the famed Beverly Wiltshire Hotel, The Blvd boasts an expansive dining room, a large patio and gleaming bar that is rarely empty.
The menu is full of the classics - but with a decadent twist. Pancakes called "fluffy pillows", a Benedict with added lobster and kale, a frittata with black truffle and squash and a smoked salmon plate topped with poached eggs and caviar. All perfectly cooked, seasoned well and on pretty plates.
A busy brunch requires many staff at all levels and we rarely spent a few moments without someone arriving at our table. (That can be positive or negative, depending on who you are dining with - and what mood you are in.)
With all of the bustle, there were a few miscommunications - the wrong juice, 1 mimosa instead of two...nothing ever critical, but just little misses that could have been avoided if one person handled each table.
I think I could be very happy there each morning - with the daily paper, a mimosa, a hot coffee and a perfect people-watching seat.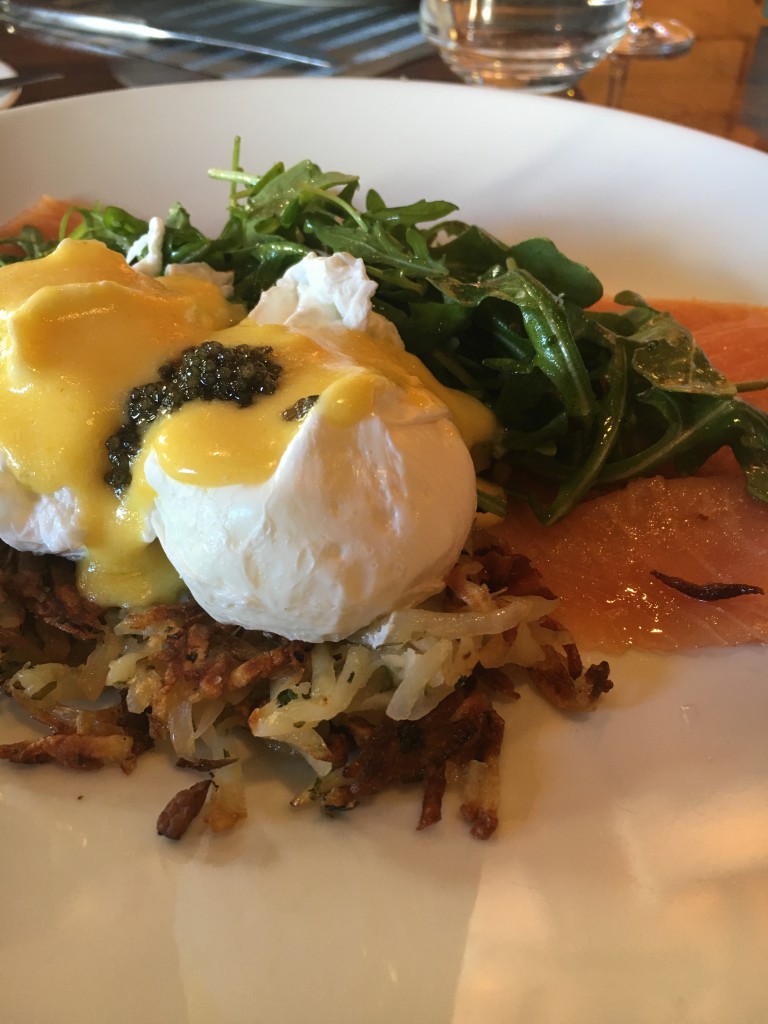 FAV item? The Norwegian is European luxury on a plate. I think caviar belongs on every brunch dish in my future.
---
Ocean Prime
9595 Wilshire Boulevard
Beverly Hills, CA 90212
Website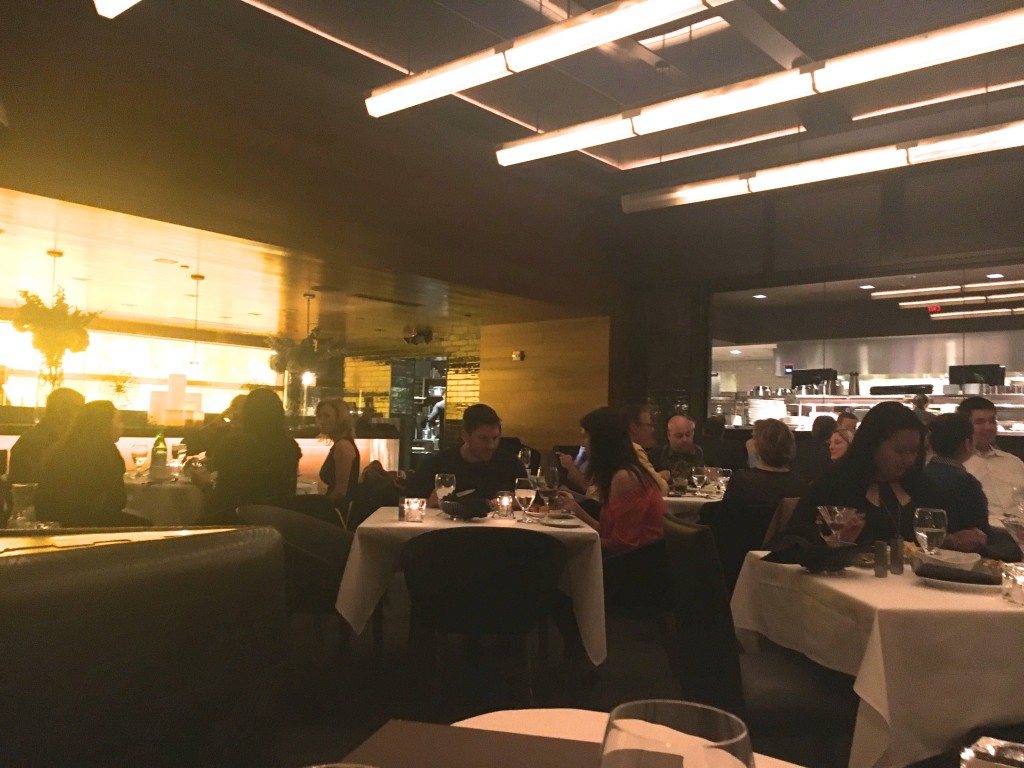 Sunday nights at Ocean Prime is Surf & Turf night!
Two hearty courses for $60 + tax is a great deal for a surf and turf meal. First course is a choice of soups or salad (ask about an upgrade - for an extra fee of course...my hubby chose a lobster bisque instead and was SO pleased!)
The salads were decent-sized...a little larger than a classic "starter" size, but smaller than an entree portion. Light enough to save you room for your Sunday night entree.
Service was polite, professional and efficient. Michael cleared our table, found us water and bread. Earl was cheerful, knowledgable and helpful.
The wine selection is large and broad - something for everyone. BUT even better? Sunday nights means half price bottles (for anything regularly priced under $100.)
The dining room is very large with several sections tucked away for private parties. This place could easily handle a large crowd and I am sure that a table for two would rarely need a reservation.
My only critique was an overall "ashy" nose and flavour to both my caesar salad and entree. It was like some of the ingredients were cooked in a pan that was burnt at one time and hadn't lost its odour. I normally like a smoky note or two, but this was a little overkill.
It brags about being a "hot spot" in Beverly Hills. I don't usually look around at tables, but I couldn't help hearing David Spade's distinct laugh at the next table. Now THAT is Beverly Hills!
FAV item?  The filets were cooked so perfectly, I regret finishing my entire salad so I could have finished the piece of beef loveliness without hurting myself.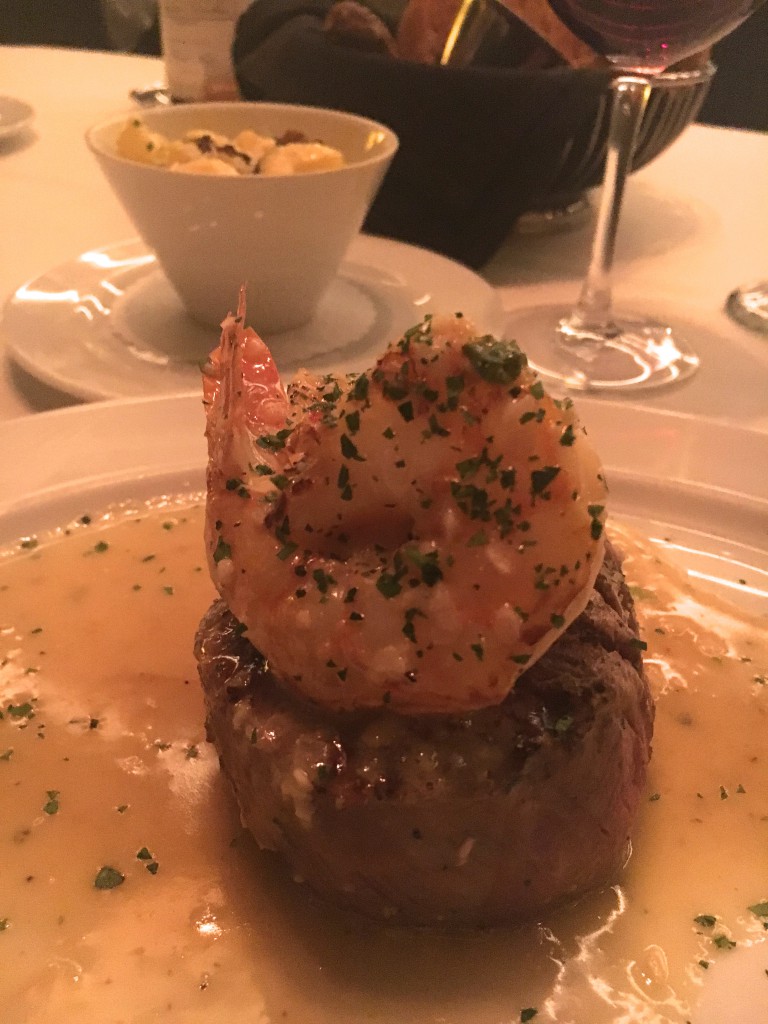 ---
La Scala

434 N Canon Dr
Beverly Hills, CA
Website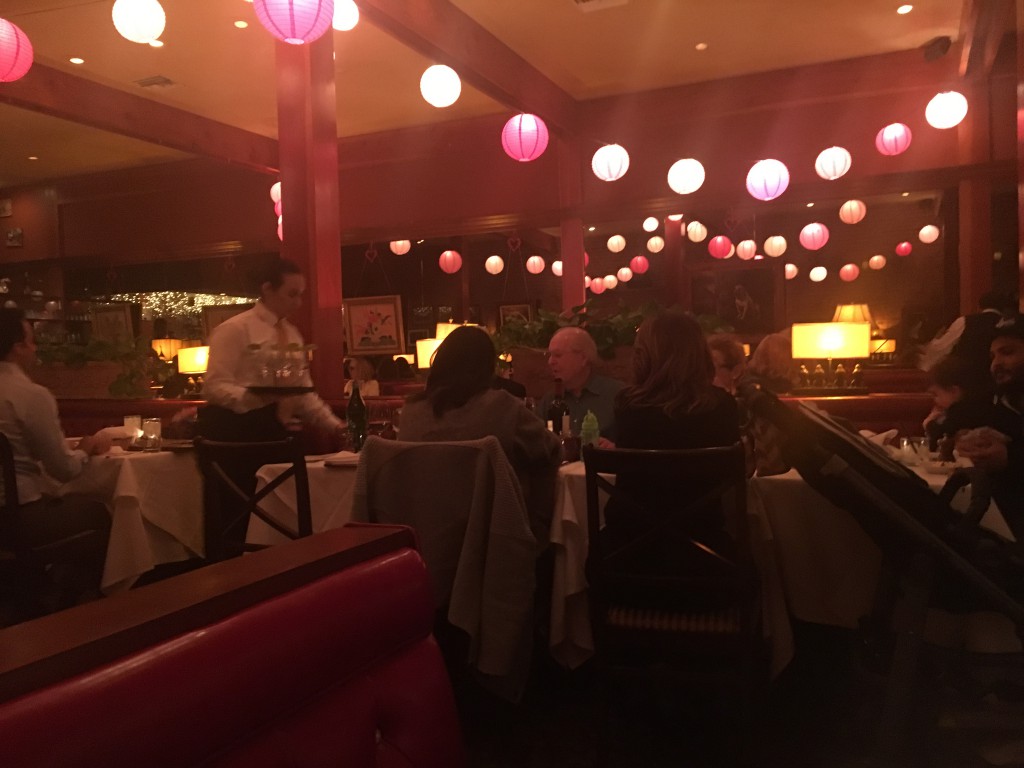 A true landmark in Beverly Hills, La Scala instantly reminded me of Sardi's in New York. Caricatures on the walls, dark red leather booths...exactly what you would expect.
The menu is "old school" Italian. Soups, salads, pastas, "secondis" and "dolce" courses were familiar and comforting.
Wine selections were OK but nothing spectacular. Prices were reasonable.
The plating was OK as well - but again, nothing fancy.
The caesar salad was heavy on the anchovy (which I loved) but was mostly lettuce...very few croutons, no bacon or cheese.
Lobster ravioli was light and so full of lobster! The sage butter sauce was a lighter touch that didn't overwhelm.
The rib eye was well-seasoned and cooked well. I loved the mashed potatoes, too, but they were a little over seasoned for most palates.
Our server was the highlight...she was obviously super-busy but was always smiling and professional. I just wish I had caught her name to give her a proper "shout out".
FAV item? Lobster ravioli.   That dish and a glass of prosecco can be called "heaven" in my book!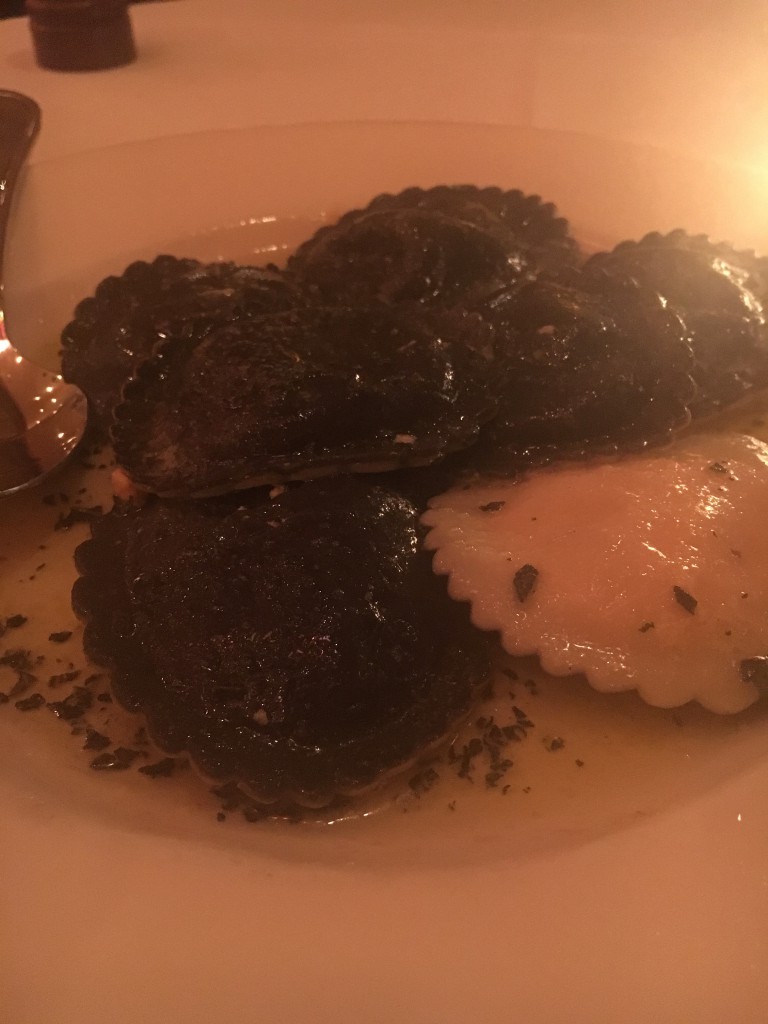 ---
Georgie

225 N. Canon Drive
Beverly Hills, CA 90210
Website
A new restaurant by the extraordinary and ultra-classy Geoffrey Zakarian, Georgie is the newest "place to be" and is conveniently located within the Montage Beverly Hills hotel.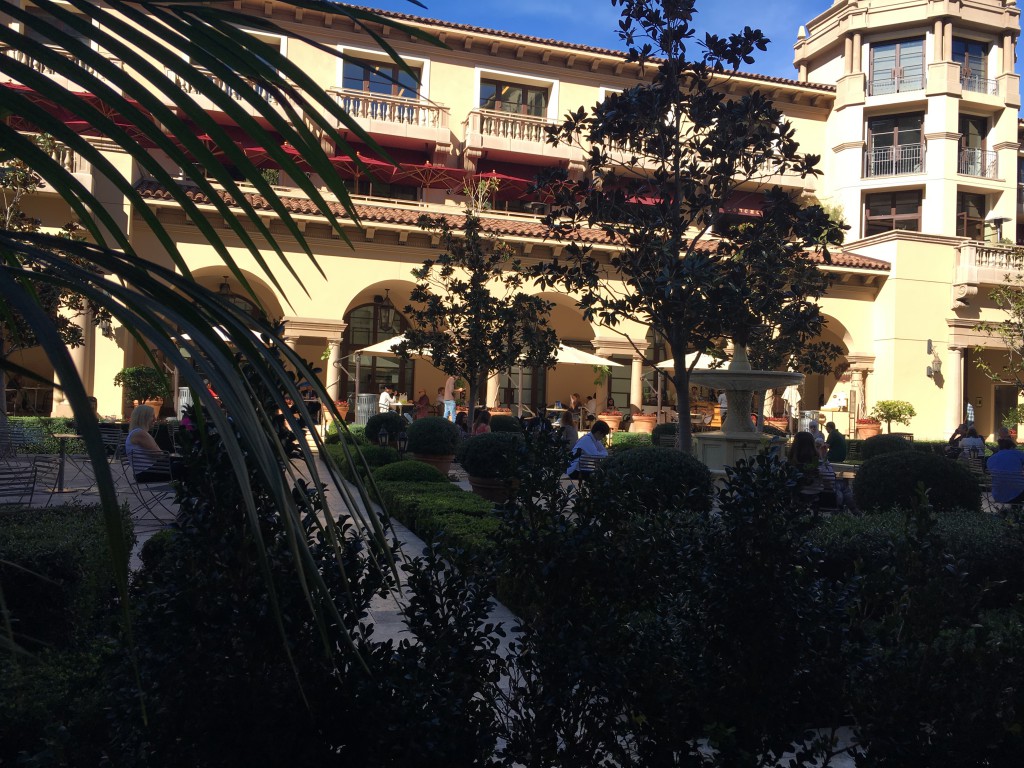 The view from the patio into the center courtyard outside of Georgie was a perfect spot for me to have lunch solo...watching the crowds and taking in the warm, fresh air.
Although the restaurant's website describes Georgie's concept as "approachable Modern American cuisine", with the music, decor and ambiance, I felt more like I was on a terrace in Paris (which is NOT a bad thing).
Service was quick, professional and a little indulgent - but that is obviously because they want everyone to feel special and a little pampered.
Offered a paper of my choice to read while I ate, offered a switch-up from the regular side offering to their super-crispy fingerlings, and was honest about the portion sizes so I don't over-order (unless I intended it as such...and then they happily boxed up my leftovers for me to enjoy later).
My only regret was not having room to try one of their desserts. Those mini spiced doughnuts were definitely calling to me!
FAV item? The "Foraged Mushrooms" side is a perfect example of how a simple side of mixed mushrooms can be elevated to something so sublime that it should be moved to the entree part of the menu. Perfection!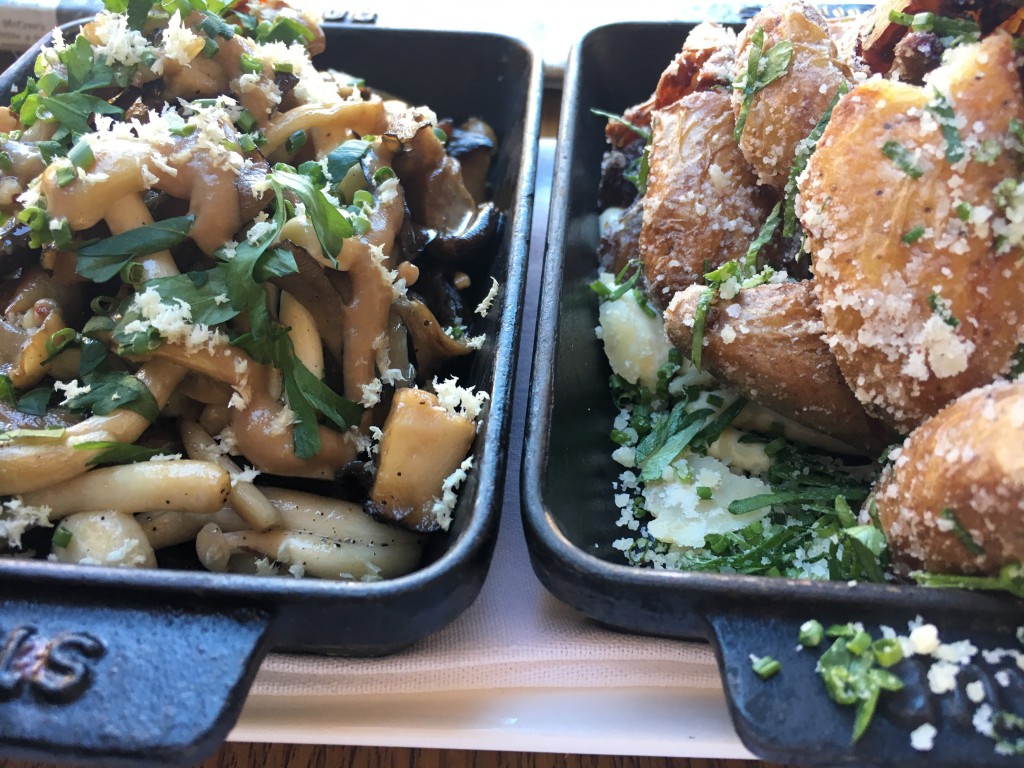 ---
Mr. Chow

344 N. Camden Drive
Beverly Hills, CA 90210
Website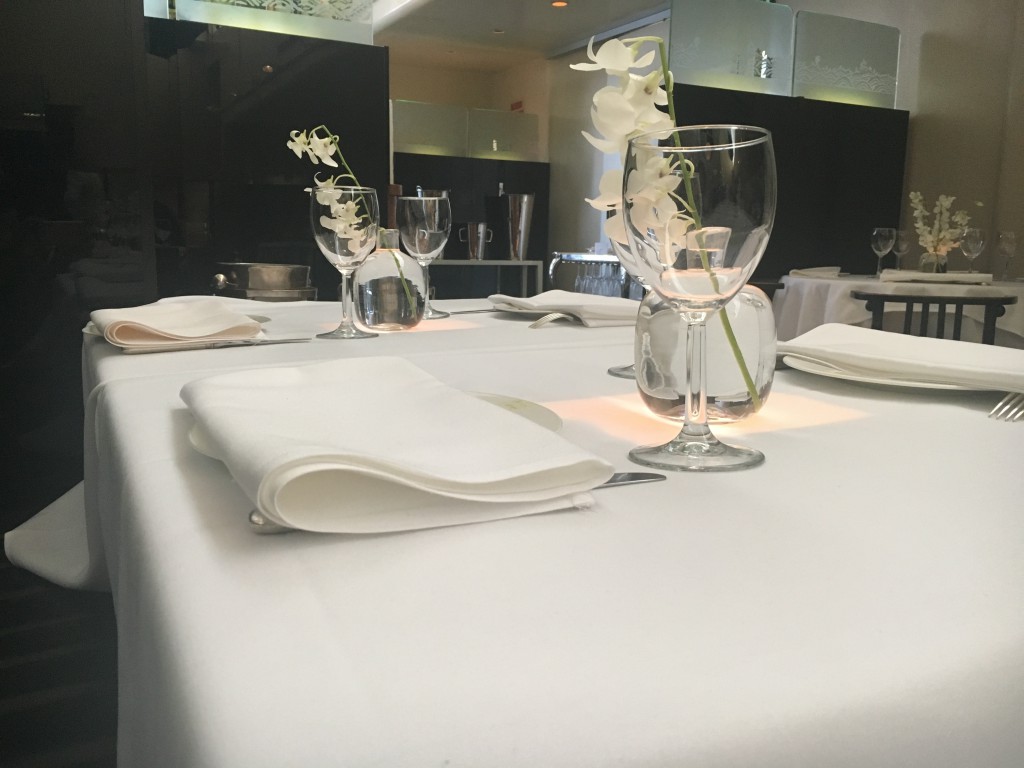 Opened in 1974, Mr. Chow is the goal of most modern Chinese and Asian chefs who has convincing combined the art and glamour of fine dining with authentic cuisine and simple flavours.
Crisp white linens and sleek decor is glamorous, but the well-dressed staff makes you feel welcome and relaxed.
Classic fine dining service - a team takes care of you - instead of a single waiter. (I think I counted 5 for my lunch service...not including the hostess?)
Service was quick, professional and a little cheeky...which subdued the formality a bit...which was very welcome.
There menu is not too large, but surprisingly, they asked if I "needed" a menu...from the time I arrived, I noticed that I was the only one who referred to one. Obviously a place for regulars!
The steamed dumplings I ordered were light, airy and flavourful. I only wish they were served with another dipping sauce besides the heavy chili sauce that arrived at the table. It was spicy overkill!
FAV item? The "Gamblers Duck" is not to be missed! Roast duck, dark plum sauce, fresh scallions and mini pancakes. With a glass of chilled Rosé, it is my idea of a perfect meal!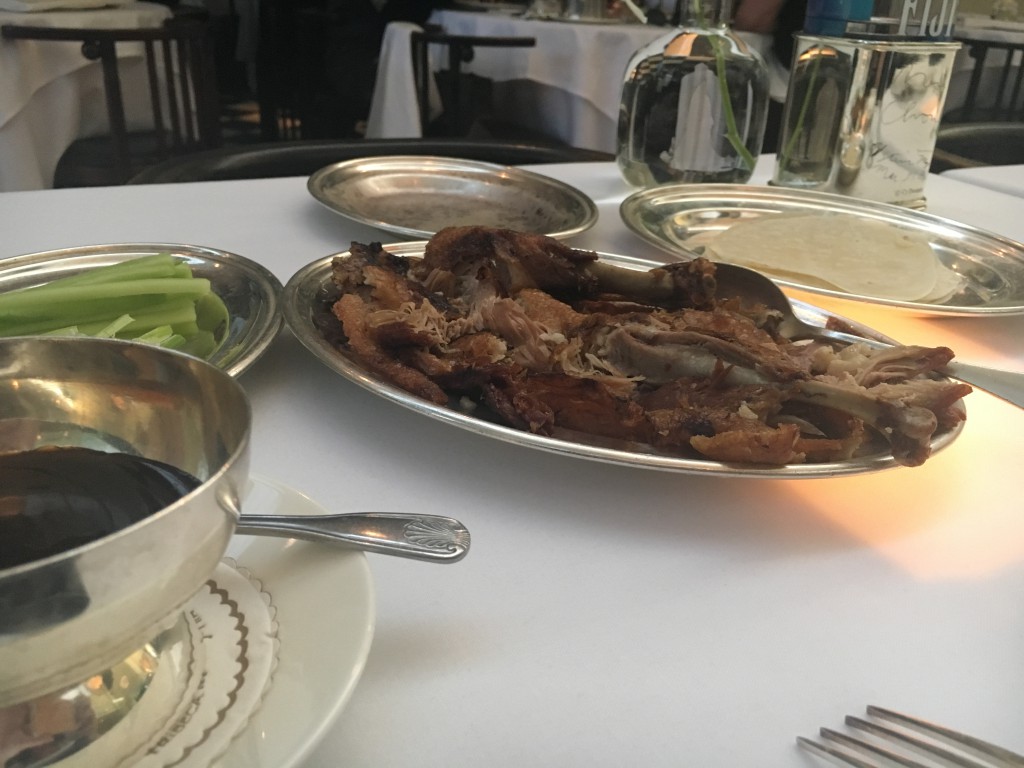 ---
Bouchon Bistro
235 North Canon Drive
Beverly Hills, CA
Website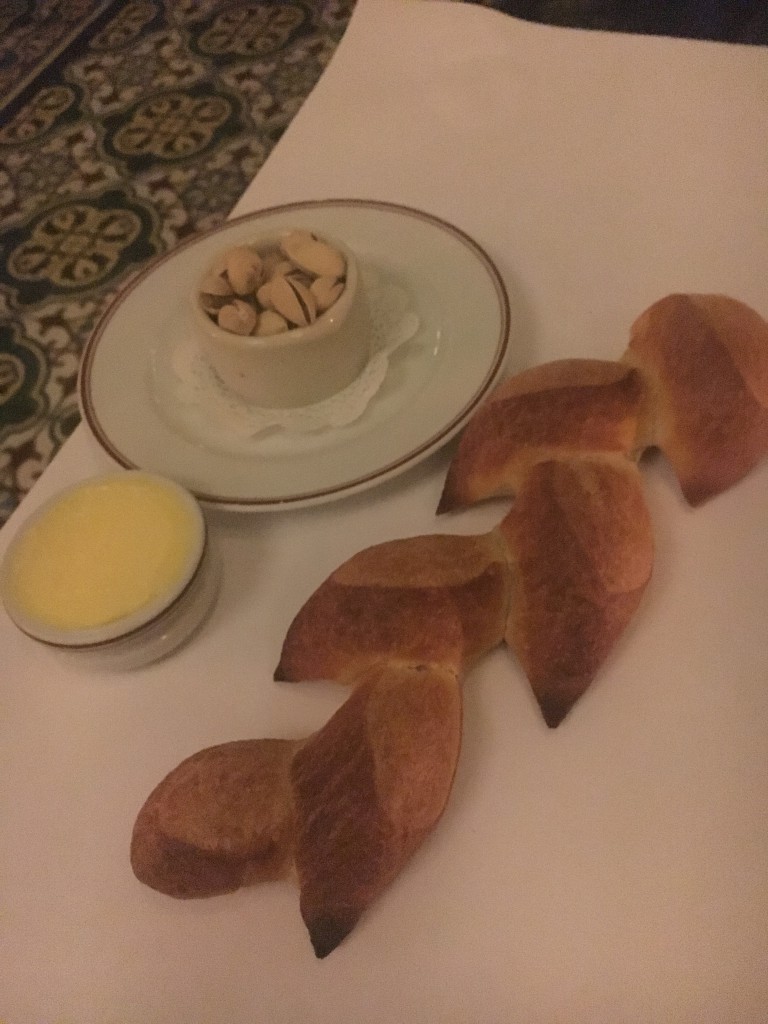 The bistro is set up on the second floor of the building and it takes up the entire floor (and then some, I believe...private dining upstairs?). Huge!
Felt more like a fine-dining establishment than a classic bistro.
The bar area that welcomes you as you enter is warmly lit, expansive and rich and was bustling that night - as I am are it is every night.
The tables are evenly spaced and separate enough that we didn't feel like we were too close to anyone else.
The tables are covered in white paper (which I found a little less "fine-dining" at first) but then realized that they like to place the woven bread directly onto to the table in front of the guests without having to resort to a board or tray (see pic above).
Many classic French bistro-style options on the menu...fresh seafood, including caviar and oysters, salads, soups and classic roasts mingle among the list of staples such as Boudin Noir and Steak Frites.
Our server was prompt, professional without being too stuffy and formal and was a great help as navigating the menu choices, portion sizes and what should arrive to the table and when.
My only critique would be that I felt the restaurant area a bit dark for a "bistro". Even with the white table covers and white menus, I still found myself squinting a little.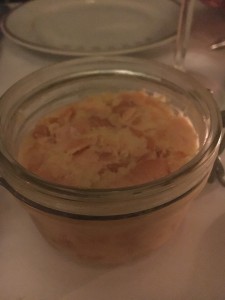 FAV item? *Rillettes aux Deux Saumons was such a treat! It reminds me of the salmon "pâté" my mom used to make us for lunch in the summer.
---
The Polo Lounge
9641 Sunset Blvd
Beverly Hills, CA
Website
Located in the INFAMOUS Beverly Hills Hotel, The Polo Lounge is the Old Hollywood spot for star-sightings, afternoon cocktails, Sunday brunch and glamorous patio lounging.
The lunch menu isn't overly extensive but offers enough choice for every diner - from light salads to a classic burger or pasta.
BUT it also surprises with some over-the-top luxurious treats like Russian Caviar, Oysters and a light cocktail named after Marilyn Monroe.
I chose the traditional Chicken Paillard for a light lunch entree because I KNEW that I was in order for a dessert...being my last day in Beverly Hills and all.
Our server was chatty, humorous and very knowledgable about the menu. He knew how to be attentive without interrupting us...and allowed us to linger while we finished our wine to soak up the last bit of sunshine we would see for a while that day.
I plan to go back on my next visit and have dinner in the rich-looking dining room...and MAYBE even spend the night in the hotel.
SO Beverly Hills!
FAV item? The Carrot Cake sounded so good that I HAD to order it (even though I never usually treat myself to dessert at lunch). It was so good that I regret offering to share it with Norm. 🙁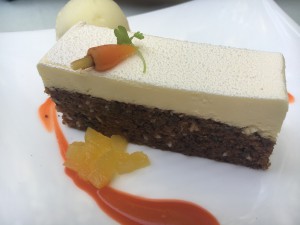 ---
The Bazaar by José Andrés
465 La Cienega Blvd. Beverly Hills, CA
Website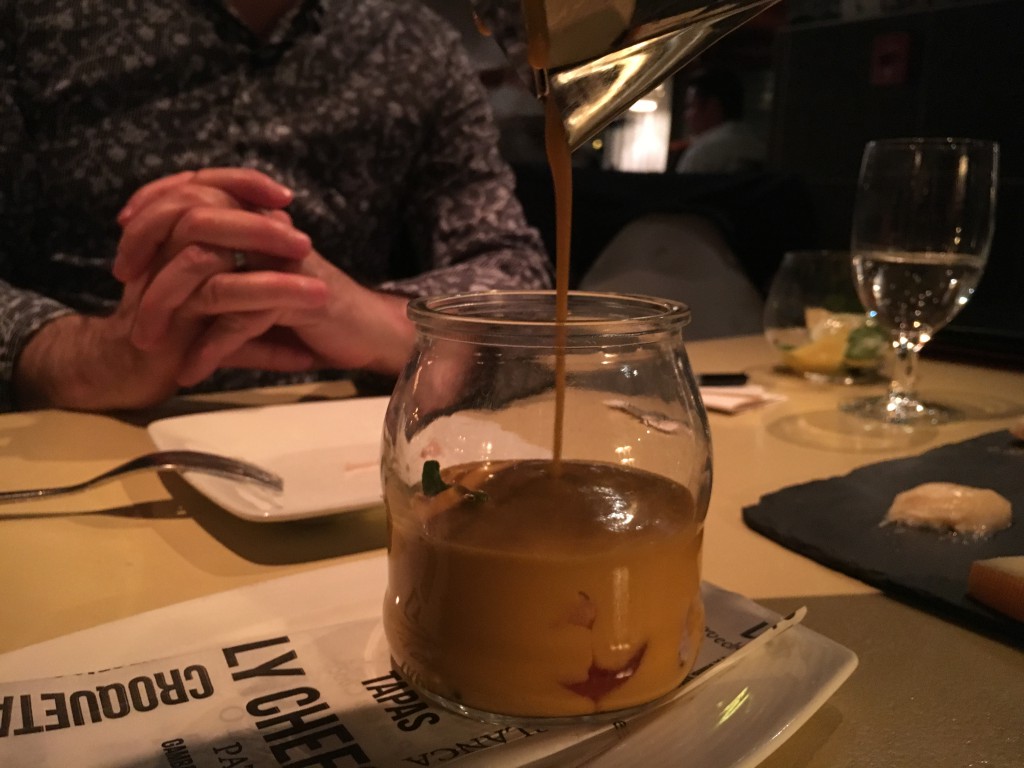 Located in the SLS Beverly Hills Hotel, The Bazaar is an eye-popping, high fashion nosedive of Spanish dining.
The cocktail bar in the center of the space. It is glitzy, dark and sexy - encouraging chatter with those sitting nearby at the communal table or lounging in a long banquet with a few close friends.
The main dining room is set to one side of the center bar. With the view of a portion of the kitchen, diners can sit at a bar to eat or choose a classic table.
The dinner menu is quite large but is cleverly divided into sections based on portion sizes and simplicity to help the diner choose from so many delicious-sounding choices.
Our server was helpful since it was our first visit - and steered us towards a number of menu items that will satisfy and yet still surprise us a little.
Some dishes are designed for sharing and others are single bites - so it was easy for us to choose a few platters to share and still get a few tastes of dishes that are unique to our own palates.
After dinner, we are asked if we are interested in dessert or after-dinner drinks - and upon accepting the invitation, we are led into the spacious and glamorous Patisserie on the other side of the bar. Filled with vintage and eclectic chairs, loveseats and tables and surrounded by glass showcases of art and gift items for sale, it still does not distract from the showstopping display of sweets and open kitchen where guests can eye each menu item up close before placing their order. From spicy chocolates to light-as-air pastries, there are so many bite-size options that it is easy to enjoy a few then and there and order a dozen of your favourites to take with you for indulging later.
The entire concept of this dining space, its design and most of all  - the food - has made The Bazaar join my honorary list of Favourite Restaurants.
I am now just thinking up a reason to go back to LA - pronto!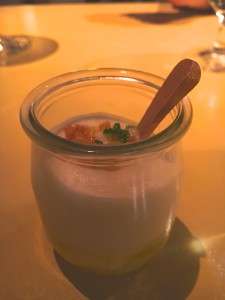 FAV item? Tortilla De Patatas "New Way" was so etherial, it stopped me in my tracks! It is like a little bowl of whipped potatoes with a perfectly poached egg with all of the classic flavour of a traditional tortilla. Superb!
UPDATE - Spring 2018 - Another stellar meal and I had the opportunity to bring my son along for the dinner of his dreams. A visit to The Bazaar is one that you block most of the evening off so you don't rush through anything and can save room for the patisserie - or at the very least, take a box of sweet treats home.
---
Looking for a speaker for your next event or conference?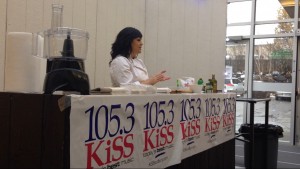 Cooking demonstrations, wine pairing events and lectures, travel talks and MORE...
She speaks with passion, insight and FLAVOUR!
To book an event or learn more, email us by clicking here